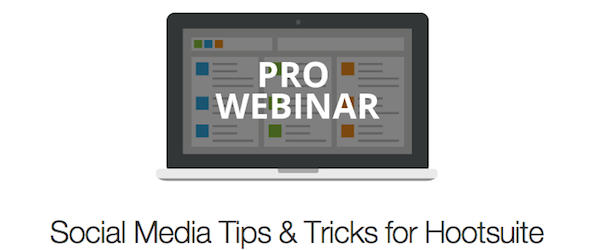 [Webinar] Social Media Tips and Tricks For Hootsuite
As Hootsuite Social Media Coaches, we are experts on the Hootsuite Pro dashboard, and we love helping our users achieve that 'aha!' moment— the moment when they know they're really getting the most out of our products. That's why we've put together a webinar full of great social media hacks, that will help you make the most of your Hootsuite experience.
We teach users the basic and advanced functionalities through live and on-demand webinars, training sessions, and blog posts. We help Hootsuite users maximize their social media strategy by using Hootsuite in over 5 different languages. Through our firsthand experience, we have developed some awesome hacks to make your experience on Hootsuite even better.
This webinar will be focused on showing you the often overlooked or unknown functionalities of Hootsuite. We will go from engagement tips, to searching and monitoring hacks and then to some of our favorite tricks!
Here is what you can expect to discover during this webinar:
Twitter engagement hacks that will highlight country targeting
Searching hacks with the Hootlet Chrome extension
Monitoring tricks that will highlight Twitter Lists
Some of our favourite Hootsuite best kept secrets
Sign up for this webinar, and we'll make sure these social media tips and tricks will save you time and help you optimize your work on the Hootsuite dashboard.
Not yet a Hootsuite Pro user? Sign up for a 30 Day Trial today!