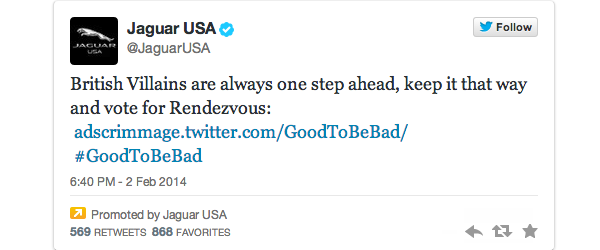 Social Media Trends That Are Sticking Around In 2014
At the beginning of every year, thought leaders, businesses and analysts make predictions as to what social media trends will emerge and rule over the next 12 months. Often a few of these predictions hold true, but many peter out along the way.
In 2014, new technologies, wearable tech and anonymous apps have been the talk of the social media world. All the while, the following 5 social media trends have been sticking around in the background and making a huge impact on social media for business.
1) Social Video
So far, 2014 has been a huge year for social video.
At the start of this year, Jeanette Gibson, VP Customer Success & Community at HootSuite, predicted the explosion of social video saying "because short, shared, online video is so popular amongst younger generations, many brands are also embracing it as a powerful marketing tool." We got the sense that this was coming with the launch of Vine and of Instagram's video capabilities in 2013, but the trend has only picked up steam.
In addition to the widespread use of Instagram video by businesses, brands like HBO, Taco Bell and McDonalds have run campaigns on Snapchat, the popular app which lets users share short, disappearing video clips or combine them to create 'stories.' The Snapchat user base is very young, and brands have recognized the importance of meeting this audience— the first generation of social media natives— on their new favourite platforms.
Facebook showed a commitment to the future of social video in their purchase of Oculus Rift, a virtual reality platform, this past March. Of the acquisition, Facebook said they planned "to extend Oculus' existing advantage in gaming to new verticals, including communications, media and entertainment, education and other areas," adding "Given these broad potential applications, virtual reality technology is a strong candidate to emerge as the next social and communications platform." Facebook is so convinced of the importance of social video, they purchased a technology whose applications they weren't even sure of yet.
Finally, businesses have continued to make powerful and engaging social videos built for sharing, from Budweiser's successful Super Bowl Campaigns to the continued dominance of GoPro on YouTube. Here at HootSuite, we saw incredible success with our Game of Social Thrones video, which has garnered over 750,000 views to date.
2) Social Media Education
Social media education has become an important trend in 2014. Last year, an Internships.com survey revealed that employers care least about what college or university an applicant attended and care most about the candidate's relevant experience and interview performance when evaluating who to hire.
Employers care about skills. Since the purpose of higher education is to prepare students to enter the workforce, more and more institutions are beginning to accept that they need to change and adapt and teach the most relevant, up-to-date skills. At the forefront of these is social media.
Thankfully, many marketing, journalism, public relations and other programs have begun to incorporate social media into their core curriculums. We have a first hand look at this social media trend as over 50,000 success-minded social media professionals have obtained accredited training, education and certification from HootSuite University. One of America's top communications schools, the Newhouse School at Syracuse University, partnered with HootSuite to offer students a full program in social media training—a first-of-its-kind initiative. After completion, they'll walk away with an Advanced Social Media Strategy Certificate.
And the trend towards social media education isn't just for those entering the workforce. Internal social media education has become an incredibly important part of business growth. According to Jeremiah Owyang of Altimeter, "76% of social media crises could have been diminished, or altogether prevented, had companies been prepared internally with the right training, processes, roles, and software." Clearly, training has major implications for social media security which, as a recent US Airways blunder illustrates, is always a risk.
3) Tying Social Media to Revenue
There has been a fundamental shift in how social media is perceived within the business. Far from just a marketing tactic, social media is increasingly being recognized for its income-generating potential. This is because more businesses are starting to actually tie their social efforts back to revenue.
This social media trend is a massively important one, as so many business owners made the mistake of not measuring social media ROI. As long as they weren't measuring, they didn't understand how social media benefitted their bottom line, leading to the skewed perspective of social as unimportant.
Rather than focusing on 'likes,' 'retweets' and other vanity metrics, businesses are beginning to track metrics like leads, website traffic, conversions and revenue generated. They're doing so by building in measurement into every action, and using more advanced tracking tools like Salesforce and Google Analytics.
4) Social Media Advertising
All the major social media platforms (Facebook, Twitter and LinkedIn) now offer paid advertising, and they continue to work to improve it (while organic reach is largely declining). As time goes by, social ads will become more and more refined and less obnoxious. Already Twitter ads have become an accepted and easily ignored part of our timelines.
The statistics clearly show the value of these advertising options. Brands that use the retargeted ads in Facebook users' newsfeeds report 49 times more clicks than right-hand sidebar ads. LinkedIn Sponsored Updates see a 45% higher engagement than posts on Facebook or Twitter.
And the most important statistic of all? It's an industry already worth billions and accelerating fast, expected to hit $11 billion in revenues by 2017. Social advertising revenue is expected to grow 31% in 2014 alone.
The move to mobile when it comes to social media is also helping the future of social media advertising. Social ads work better on mobile devices because they take up less space. When you consider that, according to Statista, over two-thirds of the time Facebook users spend on the service happened on a mobile device, the potential of these ads is plain to see. For Twitter, the number was over 85%.
5) The Social Business
Social media is a great tool for marketing. It's also a great tool for sales… and HR, and customer support, and community. You get the idea. The concept of the 'social business' is coming to light with the proliferation of social media across every department and position. But it's important to look at how it's being used internally as well as externally.
At the beginning of the year, HootSuite's VP of Talent Ambrosia Humphrey predicted that innovative businesses would adopt social media talent strategies internally, to help their employees communicate, work better and generally embody the idea of a 'Social Business.' "In 2014, innovative companies will use social media to gain valuable real-time insight into what's happening inside their walls, so they can work with their employees to make better business decisions for tomorrow," she said.
This prediction is holding true as more and more companies adopt social media for internal purposes. Social media collaboration has become a go-to means of resolving issues, coming up with the next big idea, or generally accomplishing day-to-day work with colleagues. This has been helped along by the ongoing success of internal social networks like Yammer and newer tools like 7geese. Getting feedback from customers is crucial to good business, why should it be new for your employees to give you real-time feedback on social networks?
Additional resources:
Interested in using video marketing to tell powerful stories? Check out our 10 Tips for Social Video Success.
Want to see your options for social media education? Click here.
Learn more about How to Measure Social Media ROI for Your Business.
Turn your business into a social business.
Sign up for a 30-day Free trial of Hootsuite Pro!