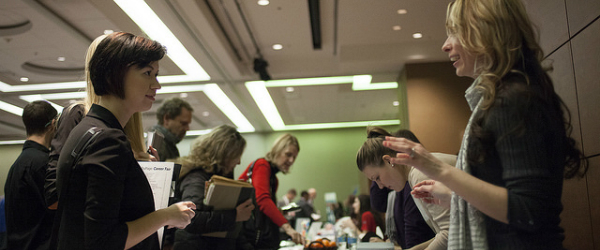 Empower Your HR Team With Social Recruitment to Target Your Job-Seeking Community
Hootsuite and Glassdoor have partnered to empower recruitment professionals and marketing teams to manage social recruitment and employer branding all from one platform.
On March 31 at 11 AM Pacific (2 PM Eastern Time), industry experts from Glassdoor, and Hootsuite will be hosting a webinar to discuss the impact social media is having on recruiting and branding. Sign up for Leveraging Social Media for Recruiting and Employer Branding webinar today.
Today, studies show that 96% of job seekers are likely to read company reviews on social media before accepting a job offer. And even if they were unemployed, 69% of job seekers would not take a job with a company that had a bad reputation.
But while job candidates have turned to social media to research potential jobs and employers, companies have been slower to adopt social tools. It is essential for companies to harness this opportunity by managing their employer brand reputation, sharing new products and company culture, and having a voice on social recruitment channels like Glassdoor.
To help companies engage with today's digital workforce, Glassdoor is launching Company Updates on March 18th. Over 36,000 Glassdoor Employers will now be able to communicate with millions of active and passive job candidates across the marketplace. Employers can now log in and post updates that will be featured on their company profile pages, mobile updates, and in weekly emails to all-company followers.
Coinciding with the Company Updates release is the Glassdoor Company Updates app for Hootsuite, available to all Hootsuite users.
Amplify your new Company Updates right from Hootsuite
This app integration streamlines the social HR process, allowing recruitment, talent, and marketing teams to easily post and manage Glassdoor Company Updates, share and amplify across social channels, and track success and reach—all from one centralized dashboard. The Glassdoor Company Updates app for Hootsuite key features include:
Post and schedule Company Updates to multiple company or brand employer profiles without leaving the Hootsuite dashboard.
Amplify your Company Updates across social channels to reach other potential job seekers and drive engagement with your Glassdoor employer profile within the Hootsuite dashboard.
View your Company Updates alongside social streams for quick reference, streamlining all your social recruitment efforts in one centralized dashboard.
Track success to monitor brand reputation and view how many candidates have engaged with your posts with metrics on impressions, clicks, and "helpful votes" per post.
Download Glassdoor Company Updates app for Hootsuite
The Glassdoor Company Updates app for Hootsuite will not only streamline your social employer branding efforts, but will also help build and nurture a community of job seekers who have signaled interest in your company.
We've made the integration frictionless, so that you can easily post Company Updates right from Hootsuite and amplify messages across other social networks. From promoting immediate hiring needs to sharing company culture and events, you now have a dedicated social media outlet—via mobile and web—for recruitment and employer branding.
"On average, Glassdoor company profiles receive three to ten times the traffic as company pages on LinkedIn and often more than a company's own career site," said Steve Roop, SVP and General Manager of Glassdoor for Employers. "Giving employers the ability to provide real-time messages that can quickly reach millions of job seekers is proving extremely valuable for recruiting and direct engagement with targeted recruits."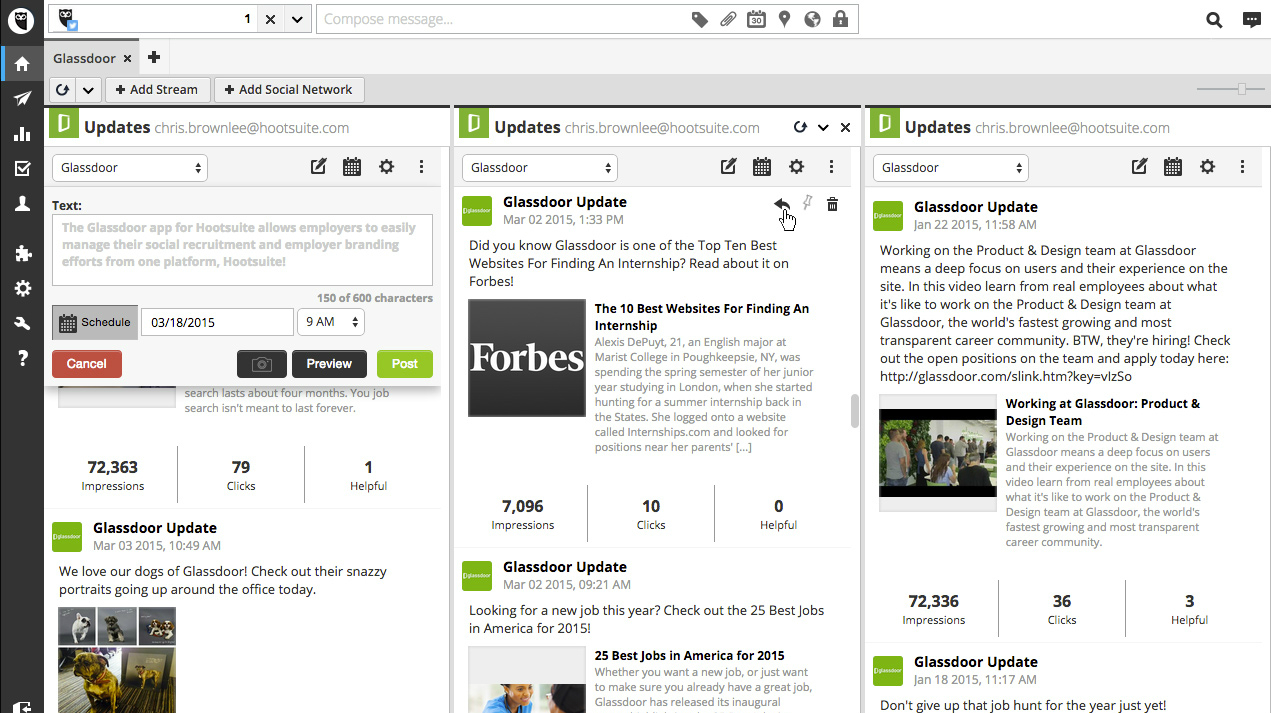 "Hootsuite is excited to partner with Glassdoor to power social recruiting for talent and HR teams," said Kevin Zellmer, global director of enterprise business development at Hootsuite. "Social media is a powerful tool for employer branding and recruiting, and our partnership with Glassdoor allows us to continue to meet our customers' needs and empower their use of social throughout their entire organization."
The Glassdoor Company Updates app for Hootsuite is available in the Hootsuite App Directory for all Hootsuite users and Glassdoor Enhanced Employer Profiles customers.
Leveraging Social Media for Recruiting and Employer Branding
Join the webinar to discover how HR can take advantage of social channels and start connecting with today's workforce.