Social Selling in B2B Sales ~ White Paper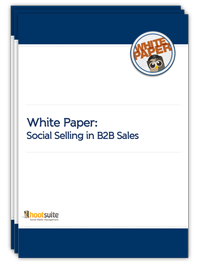 B2B buyers are on social media every day, arming themselves with deep and detailed knowledge about your company and your competitors. Is your sales organization keeping up?
HootSuite's white paper for sales leaders, Social Selling in B2B Sales, explains how your entire sales organization can leverage social media, methodically and at scale. Implement a social selling strategy and equip your sales teams with sound policy, procedures and platforms.

[clear]
In this white paper, you'll find out:
How your sellers can use social media to establish credibility in your space and earn trust.
What makes social media uniquely valuable in opening up warm relationships with prospects and recognizing buying signals.
The current state of social selling in B2B sales, and the crucial areas where you can gain strategic advantage over the competition.
How social media is empowering B2B purchasing teams but creating demand for a new kind of sales professional, the social seller.
Why a deliberate, organization-wide approach to social selling is critical.
The number of stakeholders involved in the typical B2B purchasing decision is growing, and the sales cycle is lengthening. Complicating matters further, buyers are contacting sales representatives later and later in their sales process – often not until they've already chosen a vendor. How can sellers break through to buyers at the critical early stages, without being met with a dial tone? And how can sales leaders ensure that their sales reps spend more time closing deals, and less time cold-calling?
Social media is a vital sales tool for this new environment, allowing sellers to fill the funnel and build relationships more rapidly than ever before, without wasting time for themselves or their prospects. It gives sales professionals insight into buyers' needs and the trigger events that signal a purchasing decision can be made. Then, in the late stages of the sales cycle, social media connects the entire network of decision makers and subject knowledge experts on both sides of the B2B transaction, speeding the deal to completion.
However, getting your sellers active on Linkedin or Twitter isn't enough to ensure social selling success. Your sales organization needs a plan for integrating social media into your existing platforms, policies and procedures. In addition, you need to be able to measure social selling efforts against established objectives to make sure social media is filling your funnel and contributing to quotas. That's why taking a strategic, organized approach to social selling matters. Download Social Selling in B2B Sales and learn how.