HootSuite Launches Solution Partners Program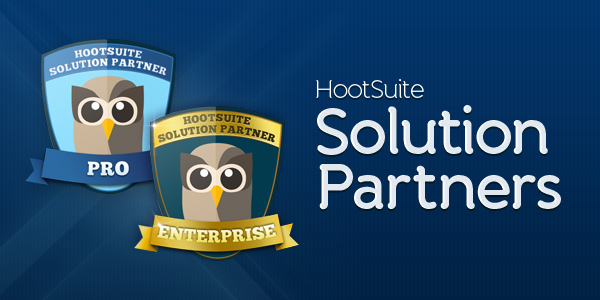 Calling all partner owls! HootSuite is now offering two new Partner Programs – the Pro Solution Partner Program and the Enterprise Solution Partner Program.
Designed for agencies, consultants, associations and value-added resellers, both programs allow Solution Partners to demonstrate social leadership and generate revenue streams by offering HootSuite Pro and Enterprise to their customers.
Learn more about the program and apply to become a HootSuite Solution Partner at: hootsuite.com/partner/solution
Benefits of the Program
There are numerous benefits that come along with the HootSuite Solution Partner Program, including defined revenue streams and brand association.
Demonstrate Social Leadership – Solution Partners gain credibility by partnering with HootSuite, differentiating themselves from their competitors and demonstrating an increasingly important competency in the social media space.
Streamline Operations – By standardizing clients on one social media management system, Solution Partners are able to better advise clients as they grow their social media activities.
Drive Recurring Revenue – Solution Partners are able to generate new revenue streams by offering HootSuite Pro and Enterprise.
Pro or Enterprise?

Pro Solution Partner Program
Positioned for small agencies, consultants, and associations interested in offering HootSuite Pro to individuals and SMBs

Enterprise Solution Partner Program
Positioned for larger agencies, system integrators, and value-added resellers interested in offering HootSuite Enterprise to social media teams, corporations and other large organizations
Supporting Our Partners
Solution Partners will have access to HootSuite branded promotional materials and learning pieces to ensure success.
HootSuite Solution Partner Portal – A website for Solution Partners to access all materials necessary to ensure success of the program.
Partner Badges – Accredited partners can display HootSuite Certified Solution Partner badges on their website.
Partner Resources – Educational and marketing materials to help partners better position and sell HootSuite products and services.
Learn More
With market research firm Forrester predicting that enterprise social software will become a $6.4 billion market by 2016, HootSuite's Solution Partner Programs will provide Solution Partners with a best-of-breed tool and support materials allowing them to capitalize on this growing market while increasing their social media credibility.

If you have question or feedback about the program, contact us at prosolutionpartners (at) hootsuite.com.
For general media information about HootSuite, stop by our online media kit. There you will find logos, contact information and additional resources.