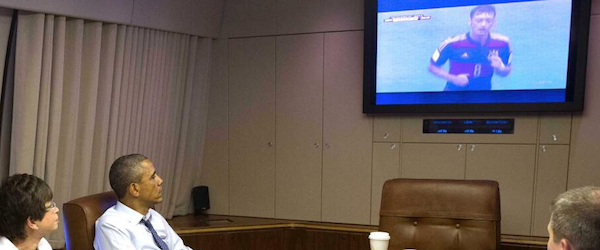 A Yankees fan in Boston?! Sports Fandom in the Age of Social Media
As a kid growing up, more often than not we root for the home team. We root for the team that plays in our city, wears our town's name and dominates the talk among friends and family. But in the age of social media, sports fandom is no longer quite so determined by geographic boundaries. Even though most of us are still rooting for our childhood teams, many of us are doing so from new cities, countries and even continents.
While you may not see many Yankees caps on the streets of Boston, you can be sure the Bronx Bombers faithful are there. Now social media allows them to connect with fellow fans in New York and across the globe—you can always feel at home. Here are 3 ways social media is changing sports fandom.
Watching the Game With Friends and Fellow Fans, Wherever You Are
The 2014 World Cup is underway and the US finally made it to the elimination rounds. Americans in Europe, Africa, Asia and South America are getting up at all hours to watch and support their team. And while some of them may be celebrating with fellow Americans in bars or basement, many will be watching the game from their bedrooms or living rooms, alone… but not really.
Social media has made it incredibly easy to watch the big game with your friends from wherever you are in the world. People post and engage on Facebook for every big goal or bad call, and that conversation runs from kickoff to the final whistle. Each team and each game has a hashtag to help fans and friends engage on Twitter.
For me personally, reddit has become an incredible addition to my sports fandom. As a Montreal Canadiens fan living in Vancouver, I experienced our recent playoff run alongside hundreds of Canadiens fans who shared their joy and anguish on daily hockey threads posted to both the Hockey and Habs subreddits.
On another level, streaming sites themselves have become social networks for the masses who can't watch the game on TV. Most of these sites come with chat windows where all people viewing the stream can discuss and comment on the game. These forums do see opposing sides smack talk with one another, but friendly fans also enjoy the game in each other's company.
Showing Your Team Pride Without Isolating Yourself
At times, being a vocal fan in a different city can be a trying experience. Wearing a Pittsburgh Steelers jersey in Baltimore is a great way to earn yourself unwanted attention. The same can be said about wearing a Vancouver Canucks jersey in Boston.
Thankfully, social media is opening up new avenues that allow us to show our sporting pride without being concerned of how others will take it. From Facebook profile pictures to Twitter backgrounds, there are countless opportunities to show the world who you cheer for using social networks.
In fact, for the 2014 World Cup Twitter introduced a series of features to help users show their team pride. These include the easy selection of team flags and logos for you profile picture as well as the reintroduction of hashflags— a small flag emoji that appears when you hashtag the three-letter code of your country.
Even though you might not wear your team's jersey on the bus, you can proudly Tweet about their most recent win and make your fandom public, even global.
Making Sports Events a Work-Friendly Activity
The dreaded moment for many global sports fans— the big game right in the middle of your work day. During the Sochi Olympics this past winter, North Americans often found themselves one or two hours into the work day when their favourite athletes were vying for a medal. I'm lucky enough to work in a company of sports fans who united to watch Canada win hockey gold while hammering away on laptops, but most people aren't so fortunate.
Well social media is helping many of those people stay on top of the action, even while at work. The real-time nature of social media means you can now follow games and competitions on networks that many of us are using for work anyways (and if you're not, you should be!).
During this World Cup, for example, Twitter has introduced Match Timelines, a special feature that "shows Tweets about specific matches that are happening in real time to help you keep up with the latest goals, saves, fouls and more — even if you're not near a TV." Similarly, professional sports teams have begun live-Tweeting their own games. We saw this on display with the New York Rangers and L.A. Kings in the 2014 Stanley Cup final.
Social media may not pack the same punch as watching the game unfold live on television, but that's kind of the point. At work, you can't sacrifice your productivity to watch sports. Social media presents these activities in a quickly digestible way, so you can savour the victories and continue on with your project.
For more on how social media is changing sports, check out 3 Ways Sports Organizations Use Social Media to Increase Fan Loyalty.