SugarCon 2014: Leverage Social Media for CRM
Businesses looking to build stronger relationships with clients need to be using social media for CRM purposes throughout customer lifecycle. Marketing, sales, and customer service teams can share social insights and apply them to every interaction, driving revenue through deeper customer engagement. When integrated effectively across teams and departments, social media and CRM can deliver a significant, measurable impact to the bottom line.
The future of social media and CRM will be put onstage at SugarCon 2014, an event featuring over 1000+ customers and employees of SugarCRM.  Located at the Hilton in Union Square in San Francisco, SugarCon is the premier event for SugarCRM customers, users and partners to experience a rare glimpse of CRM's future.
HootSuite will be in attendance at SugarCon 2014 as a Platinum sponsor, showing off our Sugar CRM app integration. This powerful integration is helping both sales and customer service teams at major organizations connect with clients on social media in order to improve their operations and meet business goals.
Sales Teams
The public forums of Twitter, Facebook, and other social networks have become prime channels for lead generation and prospecting. Leads found on social media are typically much warmer, and of a higher quality, than leads found on other channels as they are based on real-time insights and personalized conversations. With integrated technologies for social media and CRM, businesses can empower sales teams with better leads and deeper customer intelligence.
Generate more leads by expanding traditional sales channels and tapping into opportunities discovered on social media

Qualify leads faster with real-time insights from social activity and conversations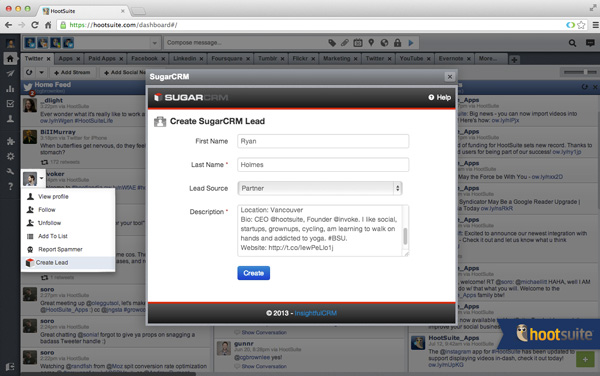 Customer Service Teams
Customers are increasingly turning to social media for customer service, challenging organizations to provide consistent and rapid assistance. Businesses that do not have the platforms and strategies in place to field comments and complaints are at a significant disadvantage. Using HootSuite, teams can proactively identify customer service issues voiced on social networks, create cases in SugarCRM, and follow up as necessary.
Increase customer satisfaction levels by quickly identifying and resolving customer questions and complaints discovered on social media

Enrich customer records with social activity and data to deepen customer relationshipHoots
HootSuite Director of Platform Mark Holder will be speaking on this topic at the event on April 29: "Social Media can benefit your entire Organization." CRM and social media are critical for every organization that don't only affect sales and customer service but also all the entire organization.  This is going to be a great event, so come find us at exhibit #14 or attend the track session below.
When: Tuesday, April 29, 2014 from 4:05-4:50 PM PT
Where: Continental 7
Learn More About the HootSuite-SugarCRM Integration
Already a HootSuite Pro or Enterprise Customer? Download the App and get started.
New to HootSuite and SugarCRM? Get a demo of the solution today!