New SugarCRM App Engages Sales and Customer Service Teams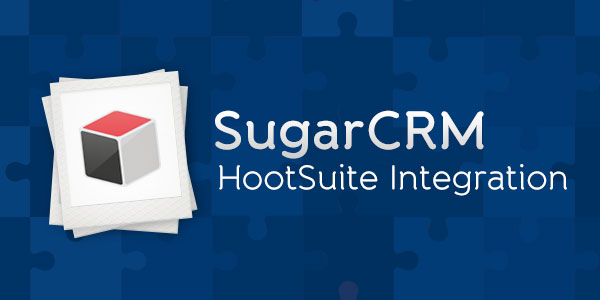 We've expanded our App Directory once again, this time adding market-leading customer relationship management (CRM) tool SugarCRM. This new app helps Sales and Customer Service teams to easily engage and create new leads and cases directly from social media messages and profiles, all from within the HootSuite dashboard.
SugarCRM, which recently received $40 million in private equity funding from Goldman Sachs, further helps organizations by increasing efficiency and control of the sales and customer service pipeline. With social media becoming an integral component of business strategy, the market has been requesting a product that combines social media with CRM. HootSuite's SugarCRM integration offers a great solution to fulfill this market need.
How to Utilize the SugarCRM App
After creating SugarCRM Leads and Cases based on unique social media messages using the app, sales and customer support personnel can share them with their appropriate teams for quick action and follow up. In doing so, teams can enrich their SugarCRM database with social insight for Lead Generation and Case Creation in the following ways:
Sales Teams: Users who engage in social selling and lead generation can quickly identify and create Leads with SugarCRM, from social profiles in HootSuite. As a result, teams will generate larger quantities of leads and expand traditional sales channels by tapping into opportunities they discover on social. Leads are warmer and of higher-quality since they're based on real-time insights and conversations with prospects.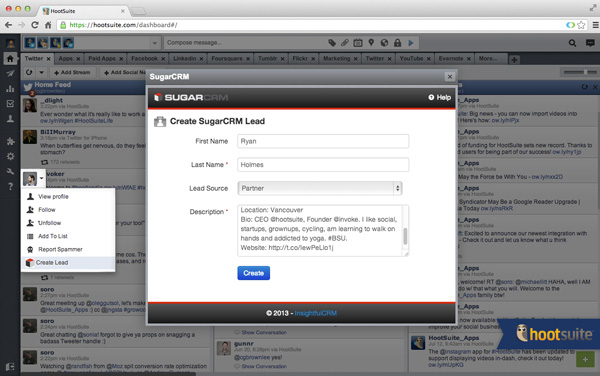 Customer Service Teams: Users who engage in social service, including help desks, call centers, and social media communities, can quickly create Cases in SugarCRM from social media messages found on social channels. Teams can increase customer satisfaction levels because they can quickly address and resolve customer complaints they discover on social.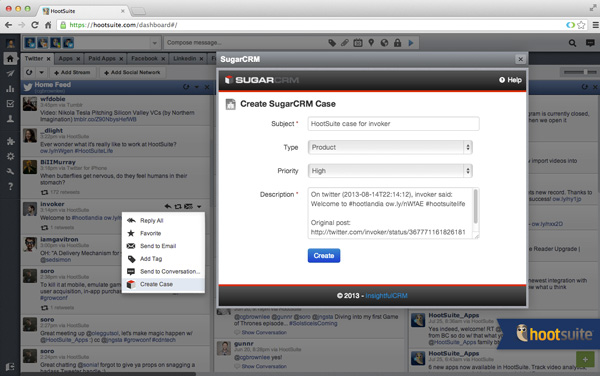 The SugarCRM app was developed by InsightfulCRM, a SugarCRM preferred partner, who helps organizations better engage with clients through customer-centric strategies for lead generation, loyalty, experience, and sales processes.
SugarCRM joins HootSuite's existing enterprise-focused apps such as Salesforce and Yammer, to help companies manage social marketing, social customer service, and social selling. This new app is available immediately to HootSuite's seven million users and is free for all HootSuite Enterprise clients. Visit the App Directory now to install the new SugarCRM Premium App today.