Super Bowl Twitter Lists For Your Game Day Second Screen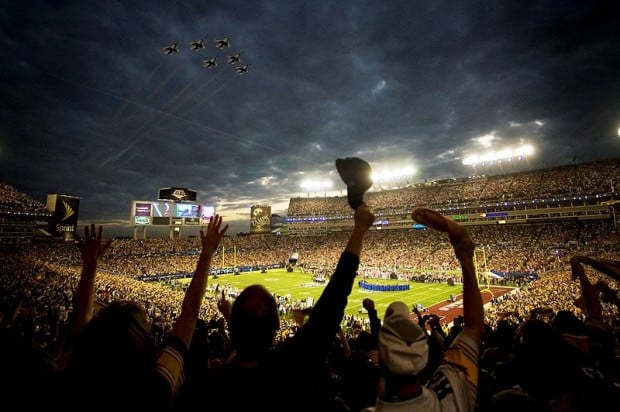 Super Bowl XLVIII is just days away and football fans on Twitter are busy making predictions and sharing excitement about the big game. As you gear up for your party this Sunday, we thought we'd help you prepare your Super Bowl second screen. Don't worry about whether to follow #SuperBowlXLVII, #SuperBowl48, #SuperBowl2014, #SB48 or some other hashtag creation—we've gathered the best Super Bowl Twitter lists to help you stay on top of the action on the ground, and on the turf.
The Players
The players on both the Denver Broncos and Seattle Seahawks are preparing for what will likely be the biggest game of their lives. Unless they're HootSuite users and have a bunch of Tweets scheduled (that would be amazing), odds are the players won't be tweeting too much this weekend. That said, you can be sure they'll have lots to say, win or lose, after the game is over.
Unfortunately Peyton Manning isn't on Twitter (every Tweet would probably just be "Omaha!" anyways), but a number of other Broncos are on the social network, including Chris Harris Junior.
They be driving reckless out here lol

— Chris Harris (@ChrisHarrisJr) January 31, 2014
For more football insight you can follow the Bronco players with this Twitter list.
Marshawn Lynch and the Seahawks are on Twitter in bigger numbers than their Super Bowl foes. They've already provided us with a steady stream of great Tweets like this one:
Wow the nerve of some people, I tell you smh. Mad cause their watching the Big Show at home, instead of live. Sounds pretty childish

— walter thurmond III (@WaltThurm3) January 31, 2014
You tell them, Walter! Follow the Seahawks players with this Twitter List.
The Reporters
While the players' Twitter activity will likely drop this weekend, the Twitter activity of football reporters will likely grow exponentially. These journalists will be tweeting all day, all weekend, providing insight and details you may not get just from watching the game on TV.
We've built a Twitter list full of Seahawks and Broncos reporters who will be covering the big game. If you're looking for the most up-to-date Super Bowl information, these are the Twitter accounts to follow. Find that list here. And if we're missing anyone on the list, let us know in the comments below.
The Advertisers

You can't talk about the Super Bowl without talking about ads and commercials. We've already seen a blossoming friendship between a dog and a horse, and we know that the Full House guys have reunited, but there is going to be a lot more ad talk throughout the day on Sunday.
Our friends at Marketing Land have put together a helpful list of 48 Super Bowl advertisers. These include AXE, Doritos, Pepsi, Cheerios and Toyota,  to name a few of the brands that will be spending big bucks for 30 seconds of your time. You can bet that most of the advertisers will incorporate social media into their campaigns, and you can easily follow along with the help of this list.
HootSuite has also partnered up with Marketing Land to bring you the Third Annual #Hashtag Bowl. They'll be tracking how social networks compare to each other in Super Bowl ad mentions. Find out more here.
How to Add a Twitter List to HootSuite
Choose a tab, or create a new tab, that you would like to stream your lists in.

In the Add-Stream Helper click the Lists button under the Networks tab.

Select the appropriate list from your existing Twitter Lists by clicking the '+' sign. Your Twitter List will automatically occupy a new stream.

To create a new list, click Create new list in the bottom of the Add-Stream Helper. Enter a name for your new List, a description (optional), and select whether your List will be public or private. Click Save list.
Now that you've created Twitter Lists for different contacts, it's time to add them.
To the left of your dash, click on the human icon for your Contacts page. Once there, use the drop-down menus to select Twitter profiles and which List you'd like to add contacts to. And then simply drag and drop people that follow you—or people that you follow—into those Lists.
Enjoy your social Super Bowl, and let us know who you think won the for best social media ad.