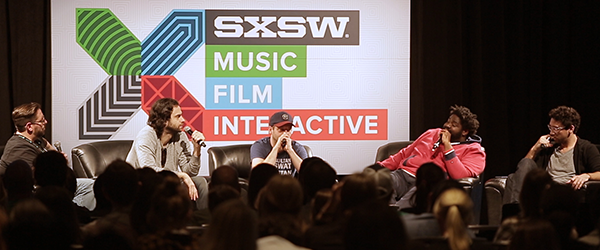 The Most Social Festival in the World: Behind the Scenes at SXSW
"We didn't actually launch Twitter at SXSW—SXSW just chose to blow it up."
Twitter co-founder Evan Williams doesn't mince words describing the role Austin's famous technology and ideas festival played in his product's breakout success in 2007. Responding to a Quora question about how other entrepreneurs might try to follow in Twitter's footsteps, he wrote that it was all about connecting with the right crowd at the right time: "By the time SXSW 2007 rolled around, we were starting to grow finally and it seemed like all of our users (which were probably in the thousands) were going to Austin that year."
The Twitter story is now the stuff legend, but it's taken 22 years of thinking, sharing, discovering (and, yes, partying) for SXSW to become "The Most Social Festival in the World." Hootsuite's original documentary goes behind the scenes:
The Twitter team did everything they could to spark interest at the conference. When they negotiated with organizers to show visualizations on displays in the hallways, the $11,000 bill was, at  the time, the only money they had ever spent on marketing. And it seems it was worth every dime—over the course of the 10-day event Twitter's message volume tripled, from only 20,000 to 60,000 messages per day. The real-time information network we have today had yet to go mainstream, but Twitter caught on like wildfire among the ultimate early-adopter crowd at SXSW.
Twitter is far from the only example of the Austin crowd catapulting a new social technology from irrelevance to 'next-big-thing' status. In 2009 it was the location-based network Foursquare. In 2012 Pinterest won the coveted "Breakout Digital Trend" award. That same year, Instagram's Kevin Systrom was a featured speaker. He sold his photo-sharing app to Facebook two weeks later for $2 billion. The most recent addition to this pantheon of social media success was Meerkat, which fascinated registrants in 2015 and, along with its Twitter twin Periscope, has left marketers scrambling for a streaming video strategy since.
It's now almost an article of faith among influencers, entrepreneurs, media, and the rest of the American technology intelligentsia that SXSW is the ultimate proving ground for new social media tools and products. According to self-described technology evangelist Guy Kawasaki, "if you can be useful and handle things at South by Southwest, you have a shot at the rest of the year." Why? Again, it comes down to the crowd: "It's a uniquely social event because there are so many people with common interests, speaking the same language, using the same tools," he says.
South by Southwest and social media have interwoven stories because they're driven by the same things: the desire to connect, discover, share, and learn. The festival is a fundamentally social space—in the way participants connect with each other, the way speakers connect with crowds, and the way organizers and staff keep it all humming along for ten days. Who knows what 2016 will bring, but it will be big. And it will be social.