Owls in Austin ~ Hang with #HootSuite at #SXSW
Are you ready for SXSW Intreractive 2011? At HootSuite, we are – though some of us are still getting over the one last year!
We want to meet as many Hootfans as possible so here's a round-up everything we have planned. So here's how you can get in touch with HootSuite team and our mascot Owly in Austin between March 11th and 15th.
Big in Japan Panel
Ryan Holmes (CEO) will be hosting the "Big in Japan: Outreaching to a Unique Market" panel featuring Fumi Yamazaki, Robert Laing, Hiroki Eda of and moderator Steve Mock. Block Sunday March 13 at 12:30 on your calendar to be at Salon D in the Hilton hotel.
Here's an overview:
Web and mobile technology have developed differently in Japan than any other country with hardware, features and social communities which are completely unique to this singular market. But Japanese companies are now realizing this introverted market position isn't sustainable and are now looking towards technology from outside and exploring way to create technology for outside of their country. Japan has ubiquitous high-speed coverage and a voracious appetite for tech gadgets, however, their tools have developed with entirely different features than other countries.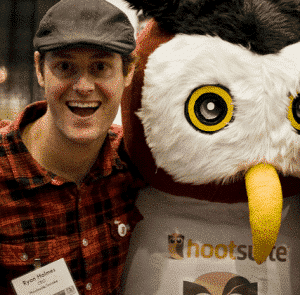 Trust us, you don't wanna miss this! And if you're taking Japan as seriously as we do, you should also go to the other 2 Japan-themed panels: "Japanese Mobile Leaders Forum" and "Japan Web: A New Beginning or the Galapagos," plus follow #SXJapan & #BigJapan hashtags.
After the panel, we'll keep the conversation going at the Maple Leaf Digital Lounge (at Paradise Cafe on Sixth) with a Japan Social Tech meet-up. Sign-up to chat with Nihon-o-philes – Kanpai!.
Ryan is also sharing his thoughts on a entrepreneurial and funding-focused panel called, "What? Those Guys are Canadian?" on Saturday March 12, 4:30–5:15pm at Maple Leaf Digital Lounge along with the CEOs from Syncapse and Kiip.
It's Business Time
Ryan isn't the only Owl on the ground. Greg and Katie from the HootSuite Business team are arranging client meetings, providing demos and showing how our social media plans can help you rock the social web. You'll find them holding court at the Hilton hotel – which is part of the SXSW campus.
Schedule some 1-on-1 time with these Owls:
Owl Spotting
Talking about the owls… If you ever wanted to meet Owly in person, SX is your chance. Find our beloved spokes-raptor flying around with community wrangler Dave Olson sharing treats, giving away famous HootKits (now stocked with fresh SXSW specific swag), and even some special prizes:
Follow @HootUp and @daveohoots for more information about the giveaways and to find Owly available for photo ops. Here's where to start looking for Dave and Owly:
He'll also be at riding along with Bikehugger's "Built" talks and mobile social rides, visiting Mashable's 4 day party house, the Etsy community builder's meet-up and Black Angels gig, and catching "Das Stilletto" panel with Nadia and Grace, plus front-and-center for Bruce Sterling's annual rant.
For more details, check out @daveohoots SXSW calendar – If you need some Hoot knowledge or want the Owl at your party, just give Dave a ping to arrange a time/place.
SXSurvival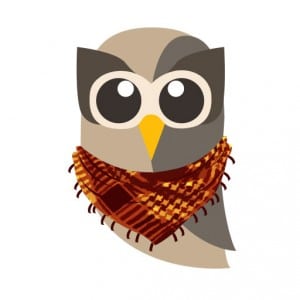 We know you are all responsible adults but… we just care too much to leave you without some tips:
And here's a #HootTip: remove noise and increase signal by setting up a geo-located search on your mobile HootSuite so you only hear from people in Austin. And please, have fun and be safe.
Follow Along
Keep up with everything about HootSuite at SXSW 2011 by following @HootUp and/or #HootSX. We look forward to meeting all of you in Austin this month! Finally, thanks to @SXSW for using HootSuite for their Twittering.