#SXSWi 2013 Panel Picker ~ Social Ads & Earned Media
Woodstock for Tech Geeks?
In March of each year, Austin, Texas undergoes a transformation as music, film and tech all converge into the cultural extravaganza known as SXSW. SXSWi (i-= Interactive) is the paramount event for tech geeks, so-called industry thought leaders, gurus and aspiring startups sporting T-shirts pitching the next "big thing."
For us at HootSuite – it provides opportunities to spread our wings amongst our peers plus make friends and share our stories – basically getting to know our users.
This coming year, we'll shake things up as CEO Ryan Holmes links up a few other huge names to deliver an insightful panel: The Evolution of Social Ads and Earned Media. That is, if we can gain your vote in the SXSW #PanelPicker. More info about the panel pitch below the fold.
2013 Panel Time: The Owl Signal
HootSuite CEO, Ryan Holmes shined the Owl signal, three bright and respected tech-industry minds answered the call: Jeremiah Owyang of Altimeter, Adam Bain of Twitter and David Armano of Edelman Digital. One of these four is worth the price of admission alone – together they just might take over Austin.
What's this panel all about? As evidenced by the panel title: The Evolution of Social Ads and Earned Media, the panelists will discuss the changing landscape of  content previously called "owned and earned" and how brands can tell their own story but owning and supporting paid media with social outreach.
They'll delve into how maturing social platforms are blurring lines between paid, earned and owned media by providing insights about:
Content strategies between paid, earned and owned media
How different media types can complement social campaigns
Unconventional methods to amplify campaigns and measure success
The Wow Factor
Last year, we delivered the 'wow factor' to the SX faithful. The proverbial bombs began dropping with the unveiling of the infamous #HootBus – which quickly became the talk of the town – as industry pundits, media and confused locals all vied for a ride.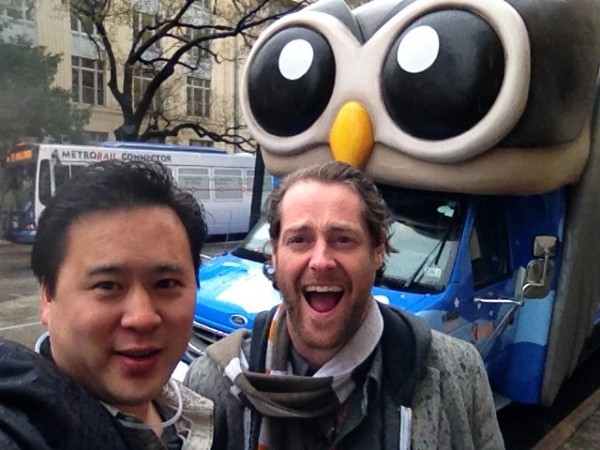 Owl-Mentary
Cameras were rolling throughout SXSW, as filmmaker Andrew Lavigne captured the skull-duggery for a documentary titled Generation Social which recently aired on CBC. The film explores how the changing landscape of social media impacts our culture and society. Ryan and Dave are featured, candidly speaking to HootSuite's progression from bootstrapped startup to premier social media management system used by top global brands. Plus Ryan chats with Mashable's nattily-attired chief, Pete Cashmore.
Included are rare glimpses into VP and resident community wrangler, Dave Olson's pre-game routine before he stoically entertained his audience whilst delivering his core convo: Crowdsourcing Projects like Tom Sawyer.
Remember, You Pick the Panels
Help the Owls by voting the panel up in the SXSW Panel Picker. Your support ensures this panel is a success. Also – feel free to plug your own panel in the comments!
What's in store?
HootSuite has more awesomeness planned for SXSWi 2013, of course we're keeping things under-wraps for now but if you're heading down to Austin this year, we'd love to hear from you  in the comments!