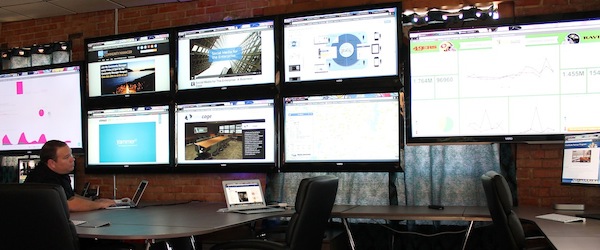 Taking Command of Your Social Data
Data visualization is rapidly becoming an important communications tool for many organizations as they surface and showcase their social data. In social media this is especially important as micro and macro trends take off and settle as quickly as the weather.
Early adopters immediately understood the advantages of displaying their key business metrics in a command center dashboard. It empowers digital teams to be directly connected to the information that matters most, and direct access to KPIs makes it possible to see social trends develop in real-time.
Reporting dashboards aren't a new phenomenon, and Business Intelligence (BI) applications have focused on this space for many years. What is new is the ability to surface real-time social customer data and combine that with business metrics (customer service metrics, sales data, web conversions, etc.) to paint a more complete picture of customers as they interact with a business.
Instead of focusing on granular message-level engagement, a command center enables executives to pull back the focus and see cumulative social trends as they develop. It's exciting to "see" a marketing campaign take off as the data starts plotting. It's even more incredible to see the impact on the bottom line.
As major brands lead the pack and drive interest with major investments in command center deployments (Australia Post, IBM, Wells Fargo, etc.), momentum is building across all sectors to better utilize social data.
Based on the feedback of our customers, we launched the HootSuite Command Center 18 months ago and we have seen increasing demand for the product across our Enterprise customer base. In fact, the Command Center is now part of our default Enterprise package.
It's another example of the value we provide our customers as their social needs mature and grow. Whatever your needs, we're here to support you along your journey to becoming a social organization.
What is your company doing to take advantage of your social data? Learn more about the HootSuite command center.