HootSuite VP Marketing Ben Watson at TEDxWestmount, Montreal
Update: Check out Ben's complete TEDxWestmount talk below.
HootSuite's VP of Marketing, Ben Watson, is speaking at TEDxWestmount on May 12, 2012. Taking place in the Westmount neighborhood of Montreal, Quebec – the event focuses on "discussing, spreading and celebrating success." Ben will be sharing his experience and insights from a life spent in media, tech and advertising.
Not limited to simply sharing success stories, the event strives to provide the background leading up to and following success. Given the diverse lineup of speakers, attendees can expect various perspectives on achieving both personal and professional success, including stories of starting from meager beginnings, maintaining success and failure in the context of success.
 Success! Now What?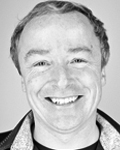 At TEDxWestmount, Ben will explore the end of the road to success and some best laid plans that can make or break that last potential point of failure on the mission – success itself. He's been fortunate to work around the world on a host of learning opportunities/failures, finding success in a variety of industries.
Armed with a map, a compass and a communications device, Ben can provide marketing, user experience and R&D knowledge that will help your business be better prepared to start a revolution, tear down silos, change the world and maybe even help someone else succeed.
Hosting Success

After speaking with Event Organizer, Hicham Amrani, it's clear that what makes TEDxWestmount unique is its theme of success. There are a number of TEDx events and while many give inspirational or success oriented speeches, there were none completely dedicated to the theme of success. Hicham believes the event will inject some positivity and help offset some of the negativity often found in the media's coverage of world events.
HootSuite recently had the opportunity to ask Hicham some questions about the event…
What kinds of success were you looking for in speaker candidates?
Personal success. Stories, experiences, and real examples of self-development journeys that took the speakers from the brink of breaking down to the top of their personal performance.

Professional success. Stories and examples about success and failures in the business world. What are the factors that determined or caused both? What lessons can we take away, and how can businesses move forward?
Which stories of failure interest you?
The ones that give us a better insight on the working of the human psyche especially when failure is followed by a success.

For example, I have studied Walt Disney and Abraham Lincoln closely just to understand how they think and feel. Disney was bankrupt 7 times in his life, and Lincoln lost more than 5 elections in various political contests, and then he went on to become one of the greatest US and world leaders.
What can attendees expect to take away from the talks?
The speakers are not going to just display their stories of success, but rather the Whys and the Hows. The audience will walk away with some serious and profound strategies that will changes their personal and professional lives.
TEDxAlumnus
To get you excited for what's to come, check out these talks by HootSuite CEO, Ryan Holmes, and VP Community, Dave Olson, who spoke at TEDxSFU and TEDxCapU.
TEDxSFU – Ryan Holmes -#Revolution
TEDxCapU – Dave Olson – On the Road to Creativity

See you in Montreal
At HootSuite HQ, we're looking forward to seeing what Ben and the other speakers bring to the talks and encourage those lucky enough to be in the area to come check it out. To learn more about the event, be sure to visit the TEDxWestmount website and follow @TEDxWestmount on Twitter.

Tickets can be purchased via EventBrite.