HootSuite and Hootlet for Chrome: Great Tools for Small Businesses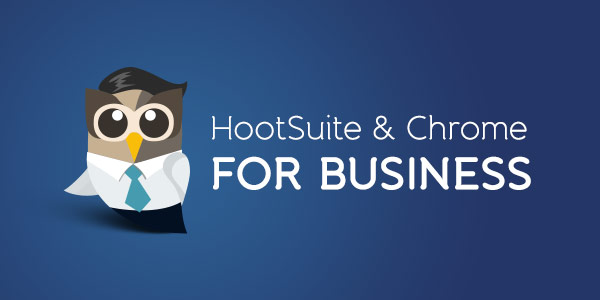 In celebration of National Small Business Week in the U.S., Chrome for Business has released a curated list of some of their favorite apps and extensions. This app collection is designed for flexibility and scalability, and addresses the many business challenges entrepreneurs face today.
We're very happy to have our HootSuite app and Hootlet Chrome extension included on that list. HootSuite is the perfect tool for small to medium businesses that need a quick and easy way to manage their social media presence. With HootSuite available across all mobile platforms, you can easily stay close to your business' social activity at any time, from any place.
The Hootlet Chrome extension allows you to post directly or schedule posts while surfing the web, ensuring you never miss an opportunity to engage customers and followers with the latest news. Hootlet includes AutoSchedule, a powerful link sharing functionality that enables smart, automatic scheduling of messages to help you maximize your reach and impact.
How Web Tools Can Impact Small Business
When startup tech company Hubba was looking to build a following, they used HootSuite to monitor, listen, track and engage on networks like Twitter, Facebook, Google+, LinkedIn, Mailchimp and Instagram. Hubba provides shoppers with the information they need to become buyers. By monitoring relevant hashtags like #tech and #retail, HootSuite helped this small business – which was recognized as a "Best New Startup" – curate valuable content, interact with other companies and people in their industry.
Small business owners and entrepreneurs need intuitive and cost effective tools that make their jobs easier. Innovative web apps like HootSuite and the Hootlet for Chrome extension are just what they need to grow their business and stay ahead of the competition.
For a full list of Chrome's business apps, visit the Chrome For Business webpage. Or download the HootSuite app or Hootlet Chrome extension today.