Ad Age and HootSuite's Top 10 Twitter Trends of the Week, Volume 25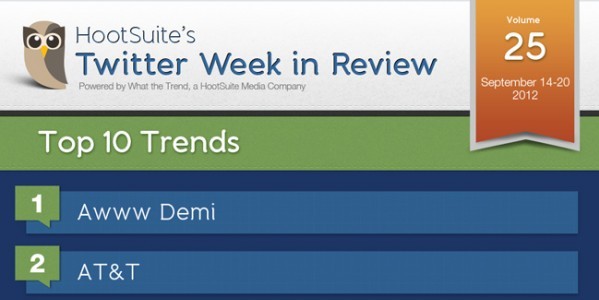 The Twitterverse moves fast. It's a world that measures time in seconds versus hours. Nonetheless, important things are constantly happening, and interesting trends are always emerging that can be missed in the blink of an eye (or a busy Twitter-less day on the job).
So each week, stay in the loop and take a look at the Twitter Week in Review chart that we publish in partnership with Ad Age. The top terms and hashtags from the past week are highlighted, and reveal some major things that people all over the world were talking about in the recent past.
Last week's chart is right over here.
So what were some reasons behind these trends last week?
Ad Age Twitter Trends of the Week, Volume 25
AT&T
The reason behind AT&T at number 2: last week's much-hyped iPhone 5 release. While Apple's latest smartphone is also carried by Verizon and Sprint in the US, AT&T is a popular carrier for its ability to simultaneously process data and make voice calls, which the others don't support.
Jimi Hendrix
Meanwhile, the anniversary of Jimi Hendrix' death came on a Wednesday, and the number of Tweets shared by fans was enough to push his name into the top 10 trends for the whole week. It's been over 40 years since his untimely end, and it's interesting to think that decades later, his name and legacy is being heralded over an entity like the Internet.
VIVA MEXICO
As for VIVA MEXICO at number 4, September 16 is a huge holiday in the country, that in Mexico is marked by parades, special TV programs, concerts, and more. Viva!
ByeChrisMoylesShow
ByeChrisMoylesShow at number 8 might stir up mixed sentiment from those involved. The Chris Moyles Show was the longest running Radio 1 breakfast show in the history of BBC Radio that came to an end September 14.While many fans are reeling from the shock of losing their favorite morning companion, like Chloe Spinks who lamented, "Not even bothering to put my radio on this morning #byeChrisMoylesShow," Moyles himself seems to be adjusting well to his new gig on Broadway…

#AbsWednesday
Finally, #AbsWednesday? A daunting phrase for most of us that took our number 10 spot last week was a result of people en-mass tweeting photos of their abs to others via Twitter. (Thanks @hungryforDO, for the explanation.)
Help HootSuite's What the Trend define trends by following WTT: Define Now (@whatthetrend).