Top 10 Twitter Trends of the Week by Ad Age and HootSuite, Volume 28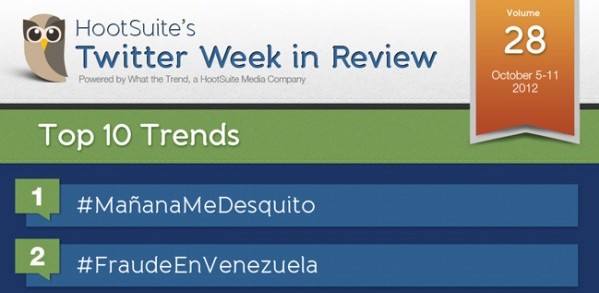 When I say trend, do you think fashion? Maybe, maybe not. With the proliferation of social media, the concept of a trend is no longer specific to whether or not tearaway pants and old sneakers are in style. So let's talk about last week's Twitter trends based on our Ad Age Trends of the Week chart.
We are living in #revolutionary times, my friends. Remember when social media was one of the key tools available for Egyptian citizens to communicate with the world, during the overthrowing of the Egyptian government? Or during the #Occupy protests? Protesters are armed with more than just handmade signs these days; they're a new generation of media, readily sharing news and collaborating to help change the world, one hashtag at a time.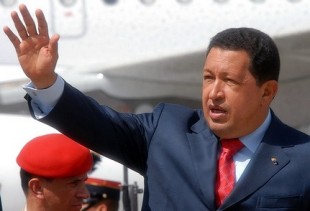 #MañanaMeDesquito, which roughly translates to "Tomorrow I get even", was trending prior to the Venezuelan presidential elections that took place on October 7. The Tweet represents a divided population, half of which planned to vote against the incumbent, Hugo Chávez.
Since then, Chávez was re-elected with a majority vote. "There is corruption, there's plenty of bureaucracy, but the people have never had a leader who cared about this country," Pro-Chávez voter Carlos Julio Silva said to The Huffington Post. "That's why the people are going to re-elect Hugo Rafael Chavez Frias."
Post Chávez election, #FraudeEnVenezuela was ironically trending. After winning the Venezuelan presidential elections for the fourth time in a row, guess what? Some people thought the vote smelled of electoral fraud. "Retweet if you think there is #FraudInVenezuela" was retweeted over 1,400 times.
Conversely, #ElMundoConChávez was trending by Chávez supporters. "The world with Chávez"… seems to be one with a strong social media campaign. Venezuela is pumping out trends like no other country.
On a less political trend front, October 4th was UK's #NationalPoetryDay. From the poetry corner, here's one of my favorite poem's, The Red Wheelbarrow by American (Sorry UK) poet William Carlos Williams:
so much depends
upon
a red wheel
barrow
glazed with rain
water
beside the white
chickens.
Stay tuned for weekly Twitter fun with our Twitter Week in Review chart that we publish in partnership with Ad Age.