Top 10 Twitter Trends of the Week by Ad Age and HootSuite, Volume 29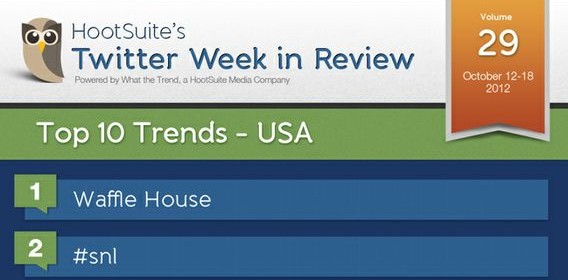 From jumping from the edge of space to the US presidential election's spoofs and controversies, find out more about some of America's top social buzzwords last week.
Ads Falling from Space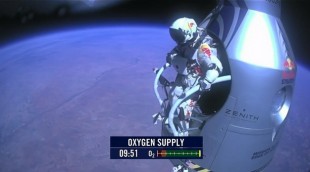 It's no wonder that #spacejump was trending last week. On Sunday October 14, Red Bull launched their Stratos space jump mission—taking more than just one giant leap forward for advertising campaigns. Daredevil Felix Baumgartner jumped out of his space capsule from over 128,000 ft and landed straight into several world record books. Baumgartner broke three records including the highest free fall jump, highest manned balloon flight, and fastest free fall. Flying through the atmosphere at 834 mph, his body actually broke the sound barrier.
The success of the space jump mission proves that sometimes Red Bull does, in fact, give you wings.
Twitter Politics
#snl
Over to politics… With every presidential debate comes an expected wave of beloved election spoofs. And this week, people trended toward Saturday Night Live's comedic versions of the US debates. The hashtag #snl was at number 2 on the Twitter charts, more popular than the political figureheads themselves.
[clear]


#bindersfullofwomen
By now there is likely an SNL skit poking fun at the gaff Mitt Romney walked right into during last week's presidential debate. When asked about equality for women in the workplace, Romney stated that as a governor he's sought out qualified female applicants for his cabinet and was handed "binders full of women." Oops.
On the other side of the debate, Joe Biden has been trending after his somewhat controversial vice presidential debate with GOP nominee Paul Ryan. As in all political debates, the US population is divided over Biden's "victory." Biden's aggressive but confident performance left behind mixed feelings.
Apparently Biden's style resonated with most Democrats and swayed many swing voters who believe that his style is genuine and "drove a shot of adrenaline into the heart into the Democratic party." Conversely, the other half of the population believe Biden "embarrassed himself" in the face-off by interrupting Ryan and laughing openly.
Stay tuned for weekly Twitter fun with our Twitter Week in Review chart that we publish in partnership with Ad Age.
Images: Space jump by kansirnet, Biden Vs. Ryan by donkeyhotey