Top 10 International Twitter Trends of the Week, Volume 52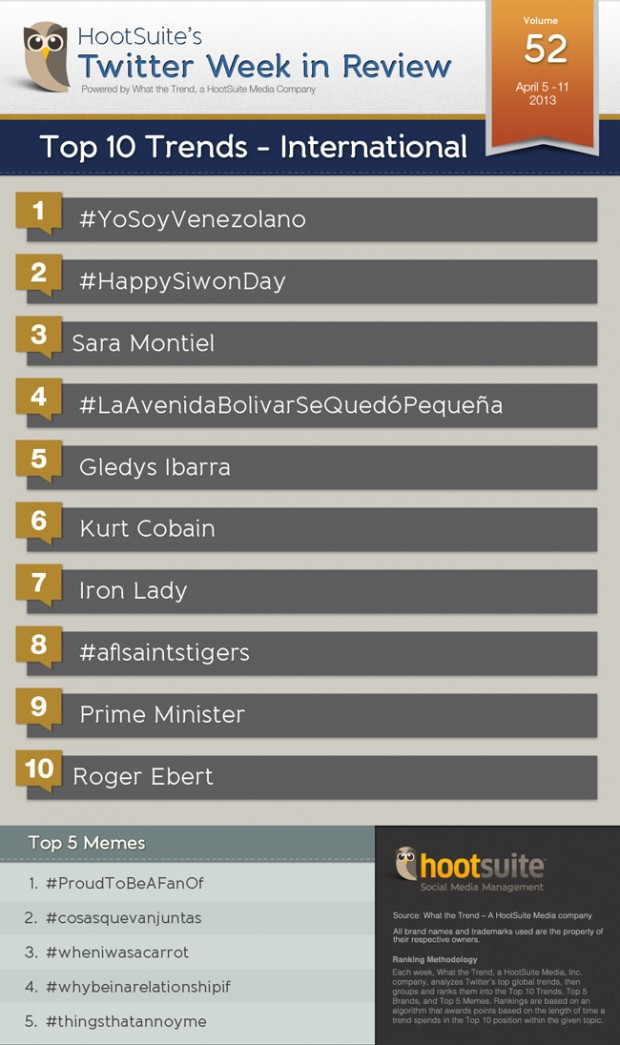 Twitterers were big sentimentalists this week. Most of this week's international trends paid respects to the passing of several celebrities in popular culture and not-so-popular politicians. Likewise Venezuelan democracy is being tested this week – and trended across the globe. Without further adieu…
Venezuela's Democratic White Knight?
Since the death of the widely popular and controversial Venezuelan President, Hugo Chavez Frias (1954 – 2013), Venezuela's political divide is at an all-time high. And although the country has been oppressed under Chavez's "fake democracy," sources suggest that his socialist successor will pick up where Chavez left off. For the country's socialist majority who voted in Hugo with 8.1 million votes (55%) back in the 2012 election, the Interim President Nicolas Maduro is their obvious candidate. However, the US-backed opposition and right-wing politician, Henrique Capriles Radonski, is gaining swift popularity by those who seek change.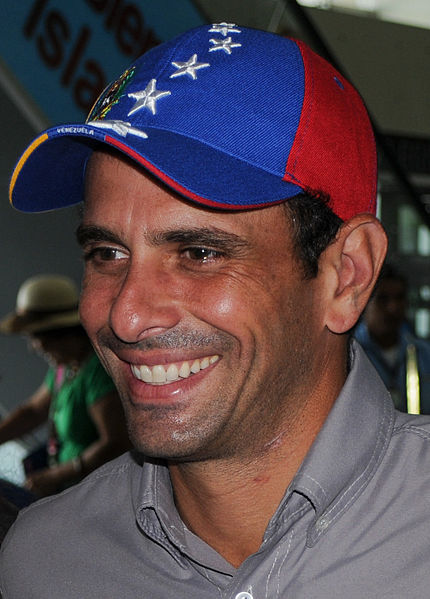 On April 14, Venezuela's democracy will be tested, as voters decide who is to be President from now until 2019. Right-wing Henrique Capriles Radonski's followers are clearly more prominent in Twitter – as they have him trending (and with good reason) under three international hashtags. Having lost to Chavez by over a million votes in 2012, Capriles is now running his campaign against the divided pro-Chavez supporters, while discrediting the country's democratic institutions – extreme poverty being one of them.
The hashtag #YoSoyVenezolano, which is Spanish for "I am Venezuelan" is our no.1 international trend, after Capriles tweeted this as part of his campaign. His supporters continued to use the hashtag in Twitter – in public support of his candidacy.
Our no.4 trend, #LaAvenidaBolivarSeQuedóPequeña refers to a giant rally Capriles attended this last Sunday on Bolivar Avenue in Caracas. Despite a general expectation that Maduro will win the election, hundreds of thousands of Venezuelans' spirits were not dampened as they marched alongside him. Apparently, the streets were so full of supporters before his speech, that there wasn't enough space for them all. This was the largest gathering Venezuela's capital has seen since 1999.
Another supporter in Twitter, famed Venezuelan actress Gledys Ibarra, gave a moving speech to show her support for Capriles at a rally that featured several prominent Venezuelan artists – and then she trended on Twitter at no.5.
KPop Bday
Fans of Korean pop music group "Super Junior" and its sub-group band called "Super Junior-M" wished its lead singer, Choi Siwon, a happy birthday on April 6th with the hashtag #HappySiwonDay. Because of the band's extreme popularity amongst Tweens ruling the Twittersphere, this hashtag came in at no.2 internationally.
 International Mourning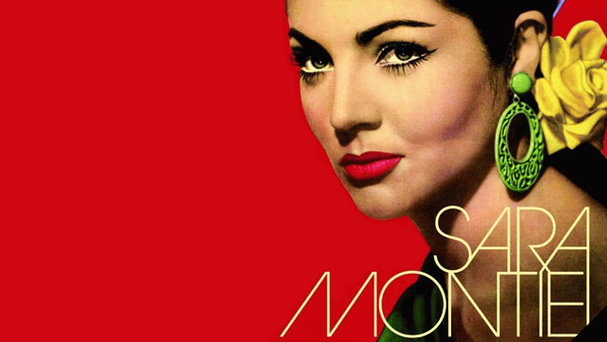 One of Spain's most beloved actresses, Sara Montiel, sadly passed away on April 8, 2013 in Madrid, at the age of 85. Best known for her role in the 1955 hit entitled "Vera Cruz," she was featured in over 50 films in her 30-year successful career. Montiel broke into Hollywood back in the 50s with a new sense of Spanish sensuality as a singer and actress.
Likewise Kurt Cobain fans tweeted their annual tributes to the late renowned rock musician, who passed away 19 years ago on April 5, 1994.
One of the most renowned American film critics, Roger Ebert, sadly passed away from his battle with cancer on April 4, 2013, at age 70. After leaving behind a 46-year legacy of helping determine the fate of films, he left the public with a "Leave of Presence" – a goodbye and thank you letter (blog post) to all the readers who supported his work over the years. The post was widely circulated across the internet in support of his final words when his voice failed him.
The Iron Lady Passes
Margaret Thatcher, the former and first female Prime Minister of Britain from 1979-1990, passed away on April 8, 2013 of a stroke. A Soviet journalist once nicknamed Thatcher the "Iron Lady" (which stuck with her forever after), because of her uncompromising politics and tough leadership style, known as Thatcherism. Though disliked by many, thousands of both respects and disrespects were paid to Thatcher – hence why "Iron Lady" and Prime Minister are trending in Twitter.
First, let's hear what English big-mouth, Russell Brand has to say on the passing of Margaret Thatcher in his 'I always felt sorry for her children…'
"I can't articulate with the skill of either of "the Marks" – Steel or Thomas – why Thatcher and Thatcherism were so bad for Britain but I do recall that even to a child her demeanour and every discernible action seemed to be to the detriment of our national spirit and identity. Her refusal to stand against apartheid, her civil war against the unions, her aggression towards our neighbors in Ireland and a taxation system that was devised in the dark ages, the bombing of a retreating ship – it's just not British."
"I do not yet know what effect Margaret Thatcher has had on me as an individual or on the character of our country as we continue to evolve. As a child she unnerved me but we are not children now and we are free to choose our own ethical codes and leaders that reflect them" – Russell Brand, the Guardian.
While his opinion as one of "Thatcher's children" holds more credit than others, clearly this sensitive subject has gained its share of backlash from those who think they knew her better.
Here's what one Twitterer predicted would happen back in December 2012 when "Maggie" passed away:
@fieldproducer @jamesrbuk "What Twitter will look like on the day that Thatcher dies" – twitter.com/currybet/statu…

— Martin Belam (@MartinBelam) December 28, 2012
And what really happened? Besides the obvious back and forth opinions, there's a frenzy of tweets revolving around #nowthatchersdead, which funnily enough sparked a controversy that Cher died. Maybe next time you create a #, double check the spelling.. #trendsoftheweak
Check out what trended in the States this week (hint: less politics, more sports).