Top 10 International Twitter Trends of the Week, Volume 53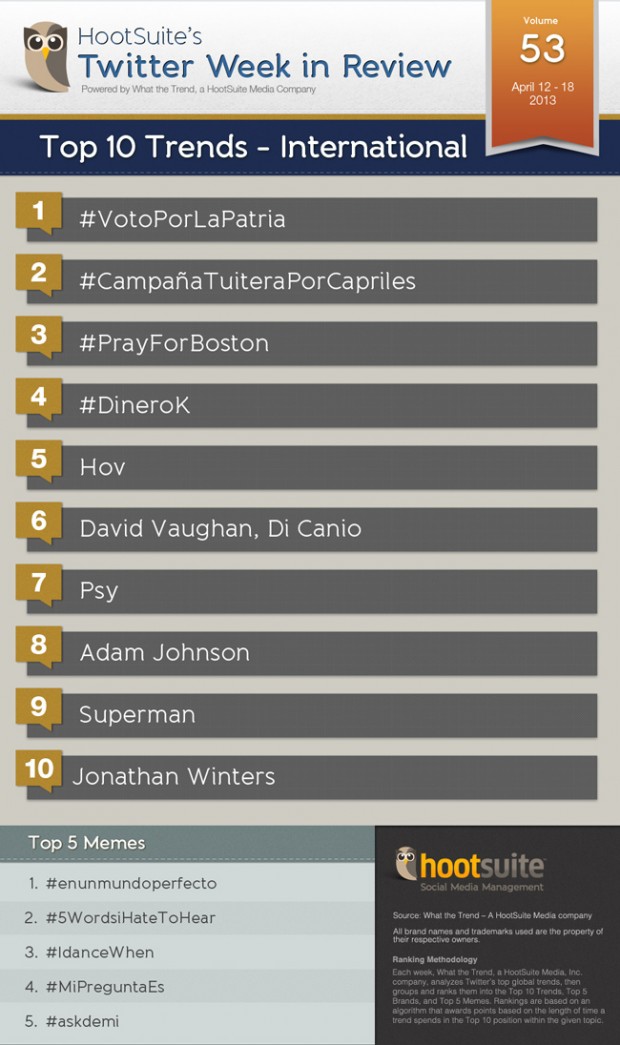 This week's top international trends shed light on just how influential social media's role is during elections, tragedies, controversies, disasters, world events and other big news. People flood social channels with messages of hope, inspiration and information. This week was a big week for global news and our top Twitter trends reflect that.
Venezuelan Election
Venezuela remains in a delicate state after Sunday's presidential elections. Hugo Chavez's handpicked successor, Nicolas Maduro won by a narrow margin of 300,000 votes over US-supported opposition candidate Henrique Capriles. With such a close election, Capriles and his supporters (both in Venezuela and abroad) are demanding a recount.
Capriles and his supporters organized a protest on Wednesday but it was forced to cancel after President Maduro accused Capriles of trying to stage a coup. Venezuela's post-election violence was sparked because a large portion of the population believe that the election was rigged due to thousands of irregularities on voting day – such as armed thugs at voting stations and mismatching tally sheets. Surprisingly, as of Friday morning, Venezuelan officials have promised a full audit of the election's results, which will hopefully help calm the situation.
Our number one international top trend this week #VotoPorLaPatria means "Vote for the Motherland," which basically just asked Venezuelans to come out and vote prior to the elections. Battling for our second international trend are the hashtags #CampañaTuiteraPorCapriles, #CaprilesEnGlobovision, #CaprilesGanóTibisayMintió and #MaduroILEGITIMOVenezuelaNOTEQUIERE, which were pushed by Capriles' Twitter supporters.
#PrayForBoston
One of six World Marathon Majors, the Boston Marathon attracts over 500,000 spectators and approximately 30,000 participants every April. This year's 117th Boston Marathon quickly turned into a tragedy. On April 15th, two bombs went off near the finish line of the marathon and tragically killed three people and injured over 150 others.
The tragic events immediately trended on Twitter as people used social media to try and find loved ones, offer their condolences, and even try and help the investigation by sharing police requests and video links. This hashtag was used widely across the globe by those offering their support and condolences to everyone in Boston following the tragic attack at the marathon.
"What the world saw yesterday in the aftermath of the explosions were stories of heroism & kindness, generosity & love." —President Obama

— Barack Obama (@BarackObama) April 16, 2013
Statement from Thomas Grilk, Executive Director of the Boston Athletic Association:
"[…] Boston is strong. Boston is resilient. Boston is our home. And Boston has made us enormously proud. The Boston Marathon is a deeply held tradition – an integral part of the fabric and history of our community. We are committed to continuing that tradition with the running of the 118th Boston Marathon in 2014."
All about the Carters
Hov is one of rapper Jay-Z's nicknames. Jay-Z trended this past week for several reasons. The most trivial of them all being that Jay-Z and his wife Beyonce went to Cuba for their 5th wedding anniversary. Because of the US's embargo with Cuba, it is illegal for Americans to visit the country. This celebrity visit stirred up so much controversy that President Obama "finally" stepped in to say "my understanding is, I think they went through a group that organizes these educational trips down to Cuba. This is not something the White House was involved with. We've got better things to do," like stopping North Korea from launching nukes and investigating the bombings in Boston to name a few…
Another reason Hov was in the news is because he was selected as one of TIME Magazine's 100 most influential people in the world, earning him a spot on the cover of the magazine as well. NYC's Mayor Michael Bloomberg wrote in Time Mag, "Jay Z embodies so much of what makes New York New York. A kid from a tough neighborhood who grows up in public housing, overcomes lots of bad influences on the street, never lets go of his dream, makes it to the top — and then keeps going, pursuing new outlets for his creativity and ambition."
Sunderland Football Club
Sunderland Football Club's new coach Paolo Di Canio has provided much entertainment with his touchline antics, especially after their victory over Newcastle in the Tyne-Wear derby last Sunday. Sunderland midfielder David Vaughan said "you can definitely see what the qualities of the new manager are. He's very enthusiastic and fiery, but he's also got good tactical knowledge and gets us well organised, which we saw at Newcastle." Both midfielder David Vaughan, who scored against rival team Newcastle on Sunday, and his new animated coach Di Canio trended this week.
Here's a look at Di Canio's fist-pumping goal celebration on Sunday:

South Korean Gentlemen
Earlier this week international sensation Psy released his second major single and video for "Gentleman," which of course quickly trended the same way "Gangnam Style" did last year. The clip already has over 160 million views and tied the record set by a video of the Russian meteor for fastest clip to hit 100 million views, taking only 3 days to accomplish that feat. Ironically the music video for "Gentleman" is banned in Psy's home country of South Korea – because of his "ungentlemanly" gestures toward public property and basically everything around Psy.
Here's the video:
Footballing Writer
The name Adam Johnson trended internationally this week for two reasons. One Adam Johnson is an associate professor of English at Stanford and has been awarded the 2013 Pulitzer Prize for Fiction for his novel "The Orphan Master's Son." His novel is set in North Korea and revolves around a young man who becomes a threat to the dictator Kim Jong-il and then tries to escape the country.
The other Adam Johnson is Sunderland's English winger football player who helped his new coach Di Canio trend this week. Johnson was purchased for Sunderland last summer for 10 million pounds and some are questioning whether their previous manager's decision was a shrewd move or not.
Let's see what trended over in the United States' Twittersphere, shall we?