Top 10 International Twitter Trends of the Week, Volume 55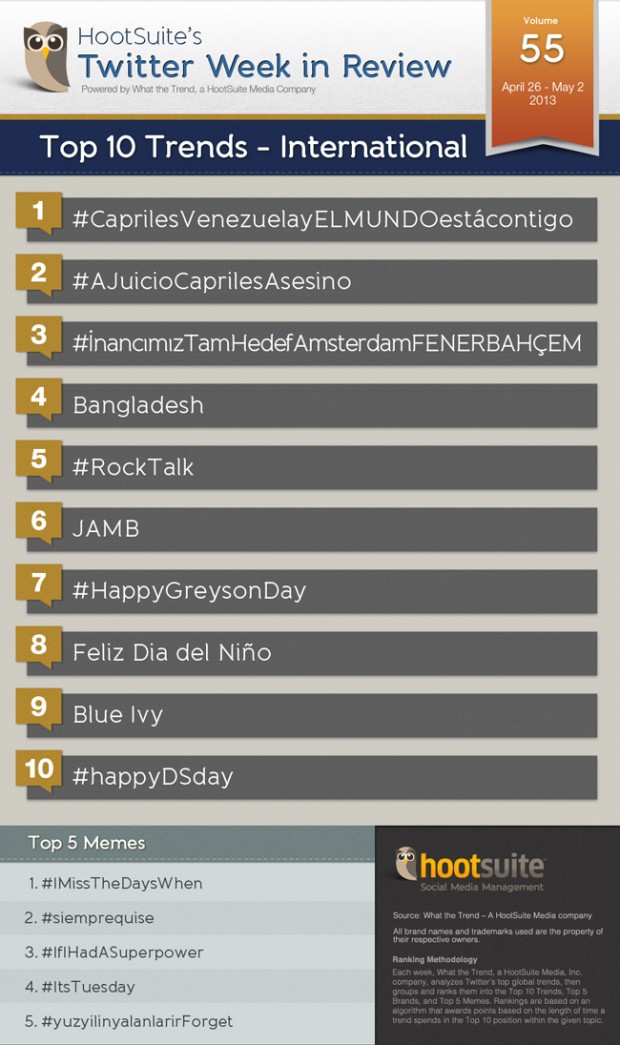 From Venezuela to Turkey, Bangladesh, Nigeria and Spain, find out what Twitterers from all corners of the globe were tweeting about this week.
Venezuelan Politics
Number one international trend this week is the hashtag,  #CaprilesVenezuelayELMUNDOestácontigo, which is Spanish for "Capriles, Venezuela and the world is with you." On April 14th, Venezuelan opposition leader Henrique Capriles lost the presidential vote to Hugo Chavez's hand-picked successor, Nicolas Maduro by less than 2%. After weeks of protests and unsuccessful demands to Maduro's new government to recount the votes, both Capriles supporters and opposers have him trending.
In contrast, the hashtag #AJuicioCaprilesAsesino, coming in at number two on our charts, refers to those against Capriles' unrest who want a "trial with Capriles for murder." To those Tweeters, Capriles is to blame for the post-election violence that took place injuring more than 78 people and killing 9 people. Many Venezuelans took to Twitter to discuss their country's current political unrest, thus pushing these opposing trends to the top.
Europa Football
European footy fans were on the edge of their seat this past week as Turkish Fenerbahçe battled it out with Portugal's Benfica team for the 2013 Uefa Europa League. The freakishly long Turkish hashtag, #İnancımızTamHedefAmsterdamFENERBAHÇEM, basically says "we have faith and our objective is to win the Uefa Europa League 2013" for Fenerbahce. Unfortunately for the trending fans, Benfica won the final game 3-1 to seal a 3-2 aggregate success in a "breathtaking semi-final second leg at Estadio da Luz." Benfica will play against Chelsea at the Europa League finals.
Bangladesh's Deadliest Industrial Disaster
Savar, Bangladesh is chalk full of decrepit old buildings housing hundreds of garment-factory workers. Rana Plaza, owned by the now most-hated Bangladeshi Sohel Rana, was one of those unsafe buildings (housing five factories in its 8-storeys). Until it collapsed on April 24th, killing more than 500 workers and counting.
The day before it collapsed, workers heard a loud crack and frightening rumble. Evacuating much of the building, Rana was forced to have the Rana Plaza inspected. When inspector Abdur Razzak Khan came in to check the building, he ran out in fright, predicting that it would collapse from decay. Here's the catch: Rana, being a shady businessman, didn't close the building.
The next day it collapsed on top of hundreds of factory workers. While bodies are still being recovered from the rubble, thousands mourn the death of loved ones. It has yet to be determined what will happen to Rana (and the many other shady buildings in Savar). Meanwhile Western fashion labels like J.C. Penny struggle with whether to pull business out of Bangladesh or not.
Nigeria's School Board Trends
JAMB, which stands for the Joint Admissions and Matriculations Board, is the school board in West Africa who is responsible for holding the University Tertiary Matriculation Examinations (UTME) every year. These exams, held last Saturday, have caused quite the international stir for a few reasons.
Nigeria's federal government stated that of the 1.7M candidates that wrote the exam, only 500,000 of them will be admitted into University due to a lack of space. Likewise, JAMB trended in the news because some candidates who wrote the exam were accused of malpractice and were arrested. This has caused Nigeria's government to question these exams, and other's like it.
#HappyGreysonDay
Young American pop star Greyson Chance celebrated himself with his fans on April 28th… Apparently, two years ago Greyson uploaded Gaga's "Paparazzi" on YouTube and now it has over 50M views and launched his career.
Feliz Dia del Niño
Countries around the globe celebrate Children's Day on a variety of dates. In Spain, this date is celebrated on the 2nd Sunday of May, and is called "Día del Niño," hence why it trended this week.
Find out what trended this week across America's Twittersphere.