Top 10 Twitter Trends of the Week by Ad Age and HootSuite (USA), Volume 58

When disaster strikes close to home, everything else takes a backseat. Twitterers around the globe sent their support to Oklahoma this week, making the hashtag #PrayForOklahoma an instant trend, both globally and nationally. Lets see why and take a look at other trends that rose to the surface of the Twittersphere.
#PrayForOklahoma
Both number one globally and across the United States' Twittersphere is the hashtag #PrayForOklahoma. People around the world are doing just that this week.
Those living in the Southern States are no stranger to tornadoes. However, nothing could have prepared them for Monday's giant tornado – the biggest the Oklahoma's seen in decades. This devastating monster hit Moore, Oklahoma, just south of Oklahoma City the hardest with winds of up to 200mph (320km/h).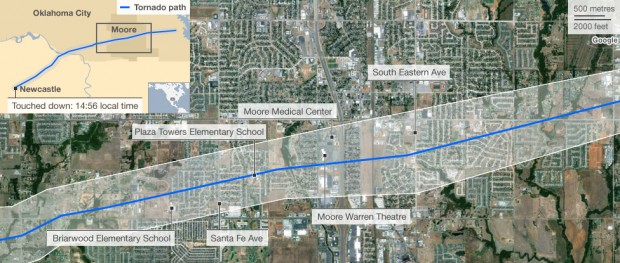 The worst of the tornado absolutely flattened everything in its vast path in Moore. Thousands of homes, several schools and the city's hospital were destroyed, while cars and trees were sent flying across the neighborhood. Those who were fortunate enough to have underground shelters for the most part went unharmed. When they emerged after the storm passed, many were shocked to see war-zone-like destruction in replace of their homes.
While numbers are still coming in as Red Cross and Oklahoma National Guardsmen help with search and rescue, earlier reports suggested that 120 people were injured and 24 killed (10 of them children). Obama stepped in earlier this week to offer condolences and say that Oklahoma was not alone. He is scheduled to visit disaster areas this weekend. Likewise new shelter laws are in the mix for when tornadoes hit the region again.
The hashtag #PrayForOklahoma reminds us that when disaster strikes, the world reacts by coming together as one. Offering support and condolences, people came together in every way they know how – including on Twitter and Red Cross support. REDCROSS to 90999 trended on Twitter to encourage people to donate $10 to tornado help by texting REDCROSS to 90999.
Tony Parker's on Fire
The San Antonio Spurs are in the Western Conference Finals and are leading the series 2-0. Tony Parker, the team's top scorer, has cemented himself as an elite point guard this season, leading his team to the western conference finals. Parker's been trending across Twitter for various reasons.
Not only are fans getting pumped for Friday's Game 3, but the NBA announced that Spurs forward Tim Duncan and guard Tony Parker were both named to the league's All-NBA Teams. Parker was named to the All-NBA Second Team, which is the third All-NBA honor in his career.
Xbox One's Unveiling
Need I really say more? Xbox One was announced on May 21st by Microsoft and Twitterers are buzzing over it. Claiming a "new generation of gaming," Xbox combines the passion of gaming with the entire television experience. What do you think about Microsoft's latest product release?
During Xbox One's unveiling, Bonnie Ross, GM and studio head of 343 Industries, Microsoft's Game Studios, had a big announcement as well. Combing the "storytelling magic of television with the interactive innovation of Xbox One" is the live-action television series for Xbox One, based on the Halo game universe. And who better to help shape Halo's new video game than the ultimate storyteller, Steven Spielberg? No wonder Bonnie Ross and her announcement trended. Gamers rejoice!
Zach Randolph Dropped the Ball
Just as Tony Parker trended this week, so did the Memphis Grizzlies' All-Star player Zach Randolph. Playing against the San Antonio Spurs this week, some say that the Grizzlies have the energy but lack the efficiency of their game. After the Western Conference finals first two games ended in a loss, Zach Randolph took the brunt of the blame, telling teammates that he's "got to be better." While it's unfair to blame the loss on one teammate, he definitely hasn't been on his A-game and his team is taking a hit because of it.
Rapper's De-Lite
Lil Wayne, Nicki Minaj, Drake and… Paris Hilton? Yes, it's true. Our beloved blonde is dusting off her windpipes and trying her hand at rapping.
Earlier this week it was announced that Paris signed a deal with Birdman's Cash Money record label. Apparently, she'll release a house music album later this year and a single with rapper Lil Wayne. While Twitterers had her trending with mockery, that clearly went over her head as she thanked Twitterers for all their "support."
Love all you guys so much! So proud I have been Trending Worldwide all day & night because of you all.I have the best fans in the world! ❤

— Paris Hilton (@ParisHilton) May 23, 2013
Maybe her pink-outfitted chihuahua will make an appearance in her rap video…
Star Trek Mania is Back
Trekkies rejoice! What more could I say that the trailer hasn't already? Star Trek Into Darkness was released in theatres on May 16th, and since then Twitter has been buzzing.
Kanye West
Besides being Kim Kardashian's baby's daddy, Kanye West's been trending for his own reasons this week. He released his new single entitled "New Slaves" on SNL this week and it's got people talking since.
New and Improved Google Maps
Google released many new features and updates at their conference this past week, including big changes to Google Maps. Making the maps more user friendly, the new Google Maps allows you to save your favorite map locations and tailor your very own interactive map. Likewise they've added multiple modes of transportation and routes to get you from point A to B in a way that suits you best.
The most exciting new features that has Twitter chatting are the 3D city street-views, better 360 degree street-views of local shops and landmarks and underwater views. Travel the world before you even leave your home.
Here's a look at Google's underwater exploration:
Smell ya later. Check out what tended to trend globally this week.
Want to keep your finger on the pulse too? Never miss another tweet or trend with HootSuite's social media management skillz.