Top 10 USA Twitter Trends of the Week by Ad Age and HootSuite, Volume 59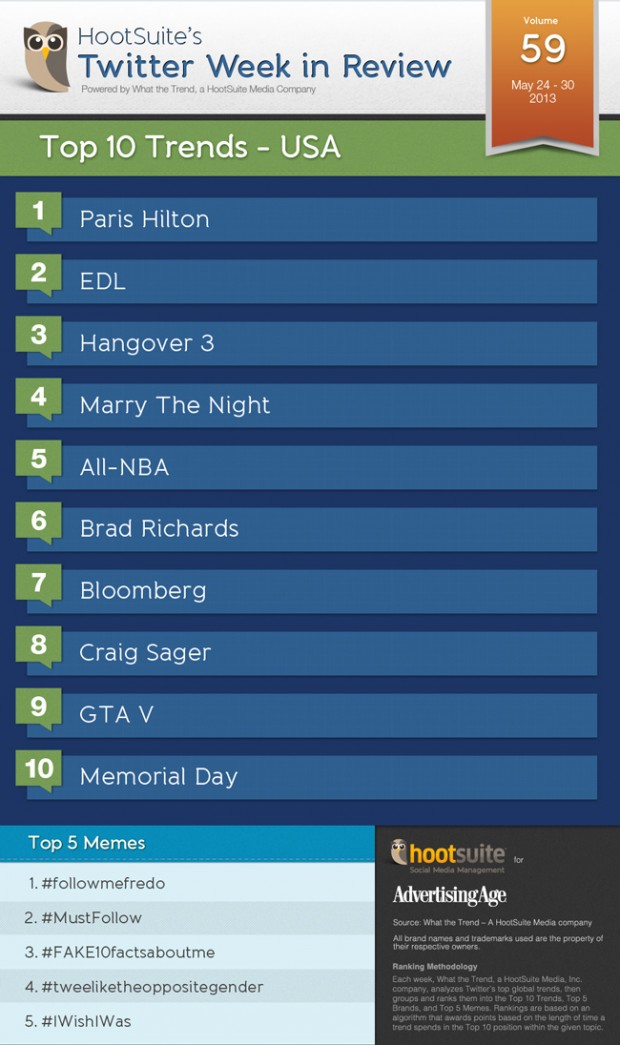 This week Twitter released visualization maps of geolocated tweets. Just thought we'd include this tweet map of Manhattan, New York, and say that we know what you tweeted about this week. We're listening. Here's what America had to say:
Paris Hilton's Dusting Off the Cobwebs
Paris Hilton's trended across North America for nearly two weeks now since her big announcement. The blonde heiress will be rapping her way back into the spotlight. Whether the release of her rap album goes boom or bust seems irrelevant at this point, because she certainly has a knack for getting people talking.
After the blonde heiress almost entirely fell off the map, this announcement's spurred two weeks of Twitter chatter. While the majority of tweets poke fun at her, they're only fueling her trend more. Last week it was her rap album. This week tweenie twitterers are following Paris' every move: Cannes Film Festival, flight delays and beach vacays with her boyfriend (aptly named River).
English Defense League
EDL, short for the English Defense League, is controversially trending around the world this week. The EDL are an activist group that has helped fuel an anti-Muslim backlash after the public murder of a British soldier in the UK last week. This past week they've been preparing for a massive protest and news push. This movement has stirred up controversies on both sides, including anti-racism groups.
On Wednesday, a list was posted online by hackers claiming to be a part of UK Anonymous, that showed the names, addresses and phone numbers of more than 200 supposed EDL members. Tensions on the subject are rising this week as more related incidents happen across the UK.
The Ultimate Hangover
Nothing like a trailer to sum up an entire trend. Put the hilarious Zach Galifianakis and handsome Bradley Cooper together in one final Hangover movie and people are bound to talk. After its release to the masses across North America this week, the Hangover 3's been widely discussed in the Twittersphere.
I'm Gonna Marry The Night
One of the world's favorite divas, Lady Gaga performed her catchy "Marry the Night" hit on UK's X Factor this week. The song landed in North American tweets almost like a meme. People tweeted about how they would marry the night and what the phrase meant to them.

All-NBA Team Picks
Making one of the three All-NBA Teams is one of the biggest honors an NBA player can receive in his basketball career. Earlier this week the NBA announced which all star players made the cut for each of the three 2012-2013 All-NBA Teams (First and Second Teams comprising of the most sought after players).
The Miami Heat's LeBron James, was the only player to receive all 119 First Team votes. On top of that, he won 2012-13 Kia NBA Most Valuable Player and winner of four of the previous five MVP awards. Joining James on the First Team is Kobe Bryant, Kevin Durant, Tim Duncan and Chris Paul.
Brad Richards Benched
Brad Richards, who is considered a skilled player in the NHL and plays for the New York Rangers, was benched during an elimination game in the playoffs. Rangers coach John Tortorella made the call, saying that Richards was underperforming. The Rangers subsequently lost Game 4 against the Boston Bruins on Thursday night, and are now out of the playoffs. This move came as a major surprise to everyone. The bigger surprise for coach Jon Tortorellla, was that he was fired from the Ranger's organization after their Game 4 loss. Coincidence?
Bloomberg's Deadly Letter
As New York Mayor Michael R. Bloomberg continues to push a new gun control law in the United States, resistance apparently comes with the territory. On Wednesday it was announced that two threatening letters addressed to Bloomberg and a lobbyist who works on his gun control campaign, tested positive for the deadly poison ricin. Bloomberg shrugs in the face of danger saying that "there's always threats, unfortunately. That comes with the job."
Later this week the Secret Service announced that a similar letter had been sent to President Obama. So far there are no suspects, but the FBI are looking into the letters.
Craig Sager's Suits
Craig Sager is often nicknamed "America's Sideline Reporter." But he's known for more than just sports reporting on TNT, TBS, CBS and CNN… Just like Canada's Don Cherry, Craig Sager's suits have been in the spotlight more than once. Whether or not his reporting is any good seems to take second banana to his choice of outfit each night. Could Craig Sager's outrageous suits be his smoke and mirrors?

GTA V
Gamers rev your engines (or controllers) because Grand Theft Auto 5 is coming in hot. Fans have the game trending because of their pre-ordering mania, which includes the hashtag #GTAV. According to a report from the GTA Forums this week, the "open-world action-adventure title will feature 460 cars." Plus the Playstation 3 and Xbox 360 game has created their biggest map yet… There goes date night.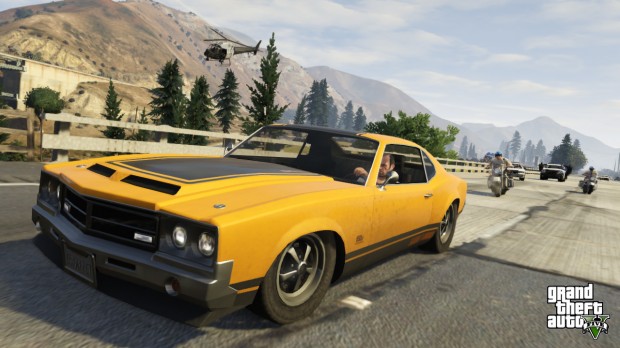 See ya later alligators. Stay tuned for more USA Twitter trends next week!