Top 10 Twitter Trends of the Week by Ad Age and HootSuite (USA), Volume 65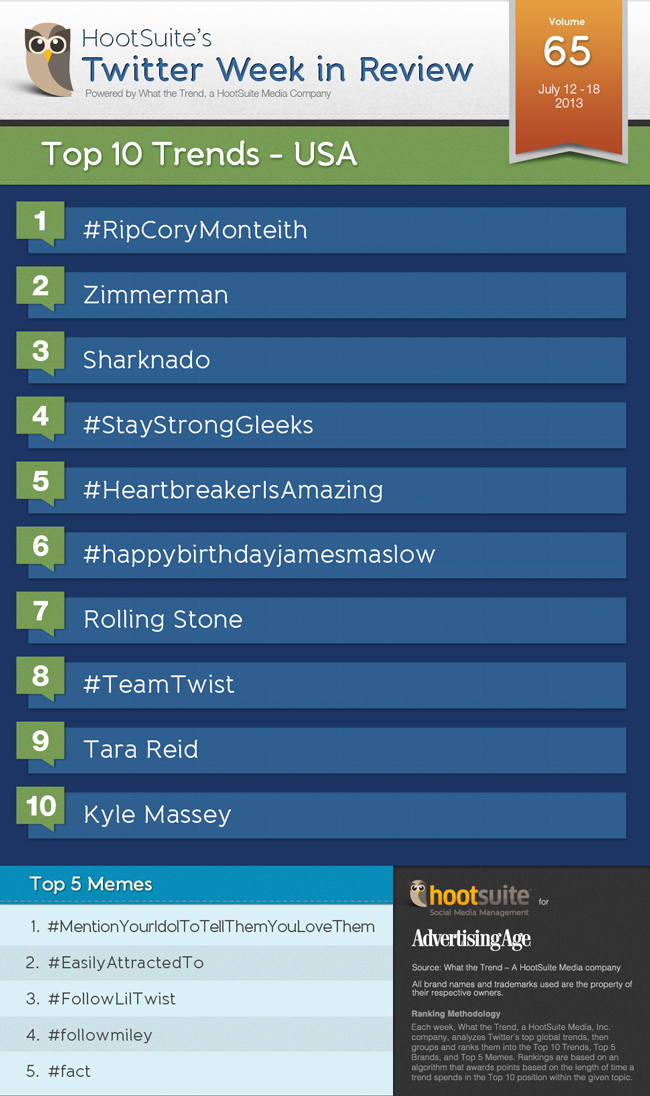 Popular culture trended across the board this week – but for all the wrong reasons. From tragedy, controversy and hoaxes to bad performances and bad calls, here's what happened this week on Twitter trends.
#1: #RipCoryMonteith
Glee star Cory Monteith tragically passed away of a heroin-alcohol overdose last Saturday. 31-year-old Monteith had been candid about his addiction struggles as a teenager, but many friends, family and fans thought he was recently clean. In an interview with George Stroumboulopoulos, Cory shed light on his troubled past saying that "if I can, through my experience, shed light on the way out of a difficult situation that I know many kids are experiencing, just like I did when I was a teenager, that's huge." His death came as a surprise to Gleeks (Glee fans), which is evident in the trending hashtag, #RipCoryMonteith.
Here's Cory Monteith's top 5 performances on Glee:
#2: Zimmerman
After 16-months of trials and protests, George Zimmerman was found not guilty this week on charges of second-degree murder and manslaughter, after admitting to killing 17-year-old Trayvon Martin. This verdict has left thousands divided – either reeling and protesting or consenting the judge's decision. Trayvon's parents believe that had their son been white, he wouldn't have died that night.
On February 26, 2012 Trayvon was found shot and killed in Sanford, Florida. Instead of finding weapons on the boy, police found a bottle of iced tea and a bag of Skittles. Zimmerman claims he killed Martin in self-defense and police didn't arrest him. Within days, public outcry ensued and civil rights groups grab hold of the story. Hundreds marched in the "Million Hoodie March" (because Trayvon looked suspicious in a hoodie) in his honor and in protest of the decision.
The hashtag #NoJustice trended across the U.S. and represents a fight for justice and equal rights. Riots and protests continue.
#3: Sharknado
Snakes on a Plane ring a bell? Put a ridiculous movie plot together with a hilarious title and throw it to the sharks, on Twitter. #Sharknado trended so hard that this recently made-for-TV movie is now launching a sequel. Sharknado 2 is also trending. But what happens when a real Sharknado hits? Where's Tara Reid when you need her?
"We're gonna need a bigger chopper:"
This is how I knew today would be CRAZY. #sharknado pic.twitter.com/8BNogjkR6G

— Mockstar Photog (@mockstarphotog) July 12, 2013
#4: #StayStrongGleeks
Twitterers around the world are telling Glee fans to stay strong after losing one of their leads, Cory Monteith.
#5: #HeartbreakerIsAmazing
Bieb fans rejoice; now you can wear his scent. With the launch of his new fragrance, The Key, Justin Bieber teased his new song "Heartbreaker" in the video. Fans are saying how much they love the song already and talking about how much the actress in it looks like Selena Gomez. Could she be the "heartbreaker"? ;)
#6: #happybirthdayjamesmaslow
Nickelodeon baby star, James David Maslow is an American actor, singer-songwriter, dancer and model. He celebrated his birthday on July 16th and fans celebrated by sharing valentines-like images and tweets.
Also, just wanted to share this tweet of his. Anyone else think it's a tad disproportionate?
Thank you all for getting me to 2 million followers! Ill be following 10 fans over the next couple days as a thanks! Love you guys!

— James Maslow (@jamesmaslow) July 17, 2013
#7: Rolling Stone
With his rockstar-like tousled hair and shiny eyes, you'd never know that The Rolling Stone cover picture was actually Dzhokhar Tsarnaev, the 19-year-old Boston Marathon bombing suspect. Until of course you read "The Bomber" cover line. Publishing the issue on Tuesday, Rolling Stone saw immediate backlash, especially on Twitter.
Tsarnaev is accused of planting the Boston Marathon bombs that killed three people and injured almost 300 others. Warning that this sends a dangerous message to readers, one criminologist said that the cover page glorified the bomber. One Facebook user even said: "I am ending my subscription. This is b*******. Let's honor those who hurt innocent people. Who's next, George Zimmerman?? Rolling Stone is a music magazine, not the Taliban Times."
#8: #TeamTwist
I wish. The hashtag #TeamTwist has nothing do with doin' the twist. Lil Twist rap fans are encouraging others to follow him on Twitter and tagging it with #TeamTwist… dang.
#9: Tara Reid
Tara Reid deserves an Oscar for her outstanding performance in Sharknado.
#10: Kyle Massey
So this is awkward. Kyle Massey got caught in an explosive cancer hoax that trended across Twitter. Healthy, alive and well, Kyle tried to laugh it saying that "everyone's just telling me that there's this rumor going around that I'm dying of cancer… and that I decided to tell the world because I'm on my way out or something." #TooFar.