Top 5 Social Media Webinars ~ HootSuite University Lecture Series Round Up
We're not dreading going back to school, we're celebrating it! During the month of September, we're offering 50% off HootSuite University. See below for details, and explore the HootSuite Campus here for more educational resources.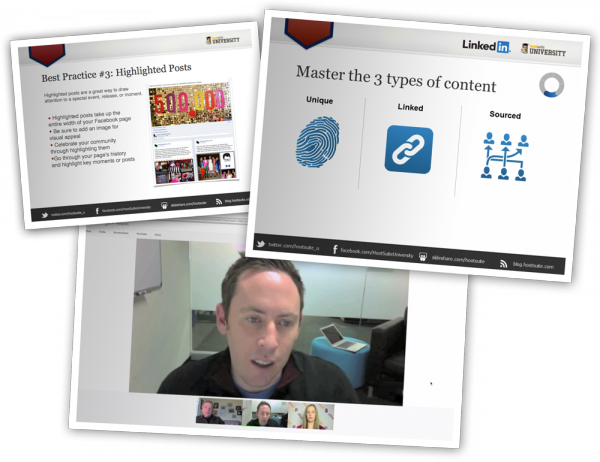 In the spirit of heading back to school, and to celebrate one year of HootSuite University's Lecture Series, HootSuite University is pleased to share its Top 5 Lecture Series of 2012. Learn about growing your business on LinkedIn, selling social to your CEO, best practices for your Facebook brand pages, and more!

HootSuite University delivers best in class education on HootSuite and social media, in order to support the success of our extensive user base. Whether you're a social newcomer or an industry-leading professional, our educational content supports all levels of learning.
But we're not the only ones who understand the importance of social media education. Exactly one year ago, we launched HootSuite University's Lecture Series, in order to showcase the many thought leaders and educators in the social space.
In September 2011, we kicked off what is now a library of 30 Lecture Series presentations, featuring industry leaders such as Joe Fernandez, CEO of Klout, Jacob Morgan, Principal at Chess Media Group, as well as representatives from Weber Shandwick, Edelman, SEOmoz and LinkedIn, to name a few.
By working with these recognized speakers, HootSuite University is able to deliver specialized, up-to-date content on all things social media from the experts who know it best. These Lecture Series presentations are made available to the public for one week upon release, and are then added to HootSuite University's growing library of content for the benefit of enrolled students.
Apply for Your Scholarship Today!
During the month of September, we're offering 50% off one month of HootSuite University. Advance your social media education and take advantage of this limited-time offer!
Tweet the following and we'll tweet back with your coupon:
I'm advancing my social media education & going back to school with @HootSuite_U! http://ow.ly/dkm8d #HootSuiteCampus