Top 10 Global Twitter Trends of the Week ~ Volume 64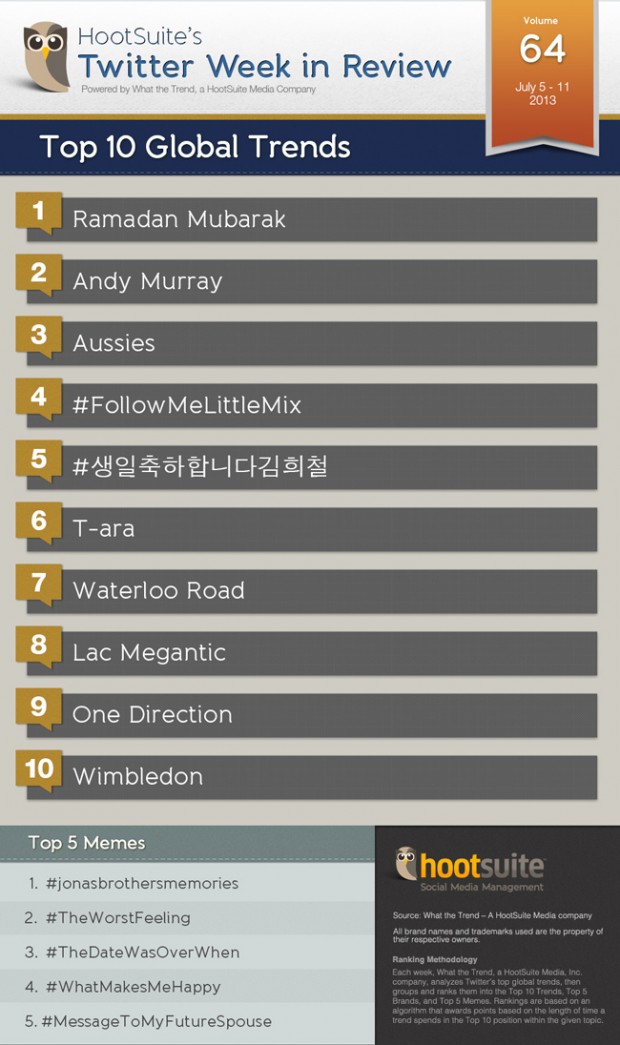 The global Twittersphere lit up this week thanks to Brits, Aussies, Americans and South Koreans. Never before has there been a Twitter trends with so much buzz around popular culture and sports. Here's what the world was chatting about this week.
#1: Ramadan
As the sun rises high in the summer's sky, millions around the world endure the heat without food or water from dawn until dusk. Starting on July 10th this year, this month marks the Islamic holy month of Ramadan. People are spreading good thoughts and prayers around the world, making Ramadan trend globally.
Here's a prayer from last year's Ramadan at Mecca, Saudi Arabia:
#2: Andy Murray
Andy Murray won this year's Wimbledon men's match, becoming the first British men's Wimbledon champion in 77 years. By beating the world's number 1, Novak Djokovic, Murray shock off the quarter-of-a-century bad luck streak for Brits. This match was watched around the world by millions and of course, had Twitter buzzing as a tearful Andy Murray accepted his golden trophy.
#3: Aussies
While basically every Australian national sports team is referred to as "Aussies," we're focused cricket this week. Australian cricket fans are heavily relying on 19-year-old Ashton Agar after his "lifesaving innings of 98" in the first Ashes Test against England. Even Australia's prime minister, Kevin Rudd, said that 12 July should be named Ashton Agar Day. Agar trended across the Australian Twittersphere for nearly 24 hours and helped push "Aussies" to number 3 globally. Turns out that Australia loves a good cricket match.
#4: #FollowMeLittleMix
UK femme fatale pop group, Little Mix, just released their latest album entitled DNA. No different than other pop stars, these girls have fans going gaga across Britain's Twittersphere in the hopes that they'll #FollowThem.
Here's their latest video. What do you think?
#5: #생일축하합니다김희철
South Korean actor and singer in bubblegum band, Super Junior, Kim Hee Chul celebrated his birthday on July 10th. K-pop fans spread the birthday love with the hashtag, #생일축하합니다김희철, which is basically #HappyBirthdayKimHeeChul.
#6: T-ara
Another South Korean pop band made our top global Twitter trends this week. T-ara is a K-pop girl group that are big in Japan and Korea. Interestingly, they use a rotating leader system where a different member calls the shots every year. They had a big week after announcing that one member, Areum, was leaving the group and that Dani would replace her. Fans are discussing the swap on Twitter.
With almost 14 million views in 6 months, these "dolls" are doing something right:
#7: Waterloo Road
Popular British TV drama series, Waterloo Road, aired an episode on July 4th that had Brits buzzing. Apparently the original character and much-loved teacher, Tom Clarkson, played by Jason Done, had a tragic but memorable exit from the storyline this week. Waterloo Road fans were left reeling after Clarkson apparently plunged to his death from the school's roof. Talk about making an exit.
#8: Lac Megantic
Tragedy struck the Canadian town of Lac-Mégantic, Quebec on July 6th. Twenty-eight people are confirmed dead and over 20 more are missing after a train carrying crude oil derailed in Lac-Mégantic. The derailment caused an explosion that flattened the town's downtown core, and forced the evacuation of about 2,000 people. The exact cause of the crash has yet to be officially determined but the company that owns the train has come out saying that an engineer did not properly apply the brakes at an earlier stop, and the unmanned train kept on moving and picking up speed until the accident took place.
Our hearts go out to all those affected by the tragedy.
#9: One Direction
English-Irish boy band One Direction (1D) fans were tweeting to try to help them win a Grammy for their new album "Take Me Home."  Plus these boys basically always trend.
Did you know they're making a movie? Let the trends continue…
#10: Wimbledon
After weeks of trending, Wimbledon has come to an epic close, but the tweets about the event and British hero Andy Murray continue.
Here are the best moments of Wimbledon 2013:
In a while, crocodiles.