Top 10 International Twitter Trends of the Week, Volume 34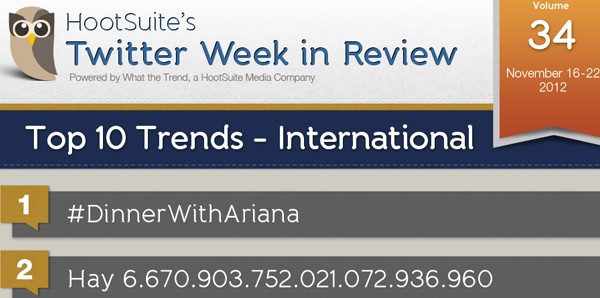 This week's collection of Twitter Trends of the Week could be the most eclectic bunch we have seen to date. Bizarre hashtags aside, it's certainly a breath of fresh air to see that teen pop fans aren't ruling the entire Twitterverse again, though the top spot still went to a tweeny topic. Let's take a look at last week's assortment of the top 10 international Trends of the Week.
Dream Dinner Date
On November 16, America's young sweetheart, singer and actress Ariana Grande, launched a contest in which ten winners get to have dinner with her in New York City. Famous for her role on the Nickelodeon show "Victorious," Ariana is apparently an extremely popular date for tweens. To win, fans had to nominate themselves on Twitter by including #DinnerWithAriana in their Tweet, which skyrocketed the hashtag to number one on our international charts.
Expert Level
And the award for the most bizarre trend yet goes to number two on the charts: Hay 6.670.903.752.021.072.936.960. What's peculiar about this one? Firstly and to state the obvious, the length of this trend doesn't leave much room for Tweeting. Secondly, the meaning behind it is odd. It refers to the 6,670,903,752,021,072,936,960 different ways to solve an 81 celled sudoku puzzle. You could play Sudoko non-stop your whole life and never have the same puzzle. While it is unclear what spawned it; thousands Tweeted to discuss how weird the trend was and to decipher its meaning. Play on.

It's Raining (Equality for) Men
At number ten on our charts is Día Internacional del Hombre, which is Spanish for "International Men's Day…" Go on, you say? Celebrated annually on November 19, this international event (recognized by the UN) focuses on improving men's health and gender relations, while highlighting positive male role models. That, most women could probably read without too much eye rolling. But, it is also a day for men to celebrate their achievements and contributions, mostly in relation to community, family and marriage, while drawing attention to discrimination against them and improving gender equality. And so, for a day, we recognize the plight of men.
Giving Thanks
Moving along, a few days after International Men's Day, everyone can give thanks. In the U.S., Thanksgiving is the fourth Thursday of November, falling on November 22 this year. Thanksgiving and different versions of the Tweet, such as Happy Thanksgiving were trending around the world for the U.S. celebration. On this occasion, people give thanks for all that they have, and funnily enough, it is extremely popular for its association with food, football and shopping. Because we cannot give enough thanks for football and shopping.
Until next week friends… Stayed tuned for our upcoming Trends of the Year, highlighting the top trends and hashtags of 2012.