Top 10 International Trends of the Week ~ Volume 36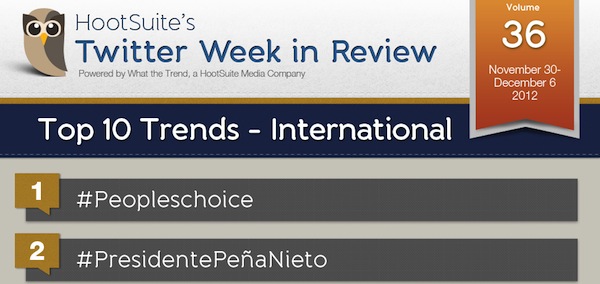 This week's Trends of the Week is comparable to an international bag mixed of nuts. Combining favorite Hollywood celebrities with controversial presidents, royal babies to-be and downgraded upgrades, find out which trends the Twittersphere Tweeted to the top last week.
Who's your favorite celebrity?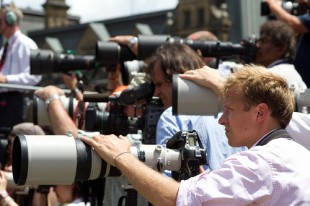 Surprise, surprise… the number one international trend goes to people around the globe supporting their celebrity crushes with the hashtag, #Peopleschoice. The 2013 People's Choice Awards announced their nominees back in mid-November, but the voting skyrocketed over the last week as people began to reveal their secret votes. The award ceremony will take place in January 2013. Let's settle this Bieber vs. One Direction popularity contest once and for all, shall we?
Mexico's Mixed Feelings
Next up on our charts is the hashtag #PresidentePeñaNiet, representing Mexico's brand new president Enrique Pena Nieto. Sworn into office on December 1st after winning the election earlier this fall, he's trended in the Twittersphere since. Unfortunately, most of the Tweets are in protest. According to sources, Pena Nieto brought back the Institutional Revolutionary Party after a 12-year break. This party governed Mexico for 71 years "using a mix of handouts and rigged votes before losing the 2000 and 2006 elections." On his inauguration day, hundreds of protesters threw firebombs at police and smashed windows, and took to Twitter to voice their concerns.
The Upgrade That Wasn't
Another form of protest trended last week as iTunes 11 launched on November 29th. People have been Tweeting their thoughts on the update, many of which are against the new version. Many clever iTunes-users even Tweeted tricks on how to downgrade back to iTunes 10, whose RTs may have helped fuel the trend further. Apparently iTunes' overhaul is drastic enough to spur conversation. People love talking about Apple, but resist change (remember when FB came out with timeline?).
Royal Baby Hoax
For me, this trend is top of the charts. News broke on Monday, Dec. 3 that Kate Middleton and Prince William are expecting their first baby. Taken to hospital for acute morning sickness, news of Kate's pregnancy got out in a rather unexpected way. The staff at the royal family's hospital was fooled by hoax callers from an Australian radio station who impersonated the Queen. Asking questions about intimate details of the Duchess of Cambridge's medical condition, the staff obliged. Since the announcement of the pregnancy and hoax call, #royalbaby trended internationally.
Sadly, after much public scrutiny, the nurse that fell victim to the prank phone call, Jacintha Saldanha, unexpectedly passed away.
Join us next week for our weekly International Trends of the Week.