Top 10 International Twitter Trends of the Week, Volume 45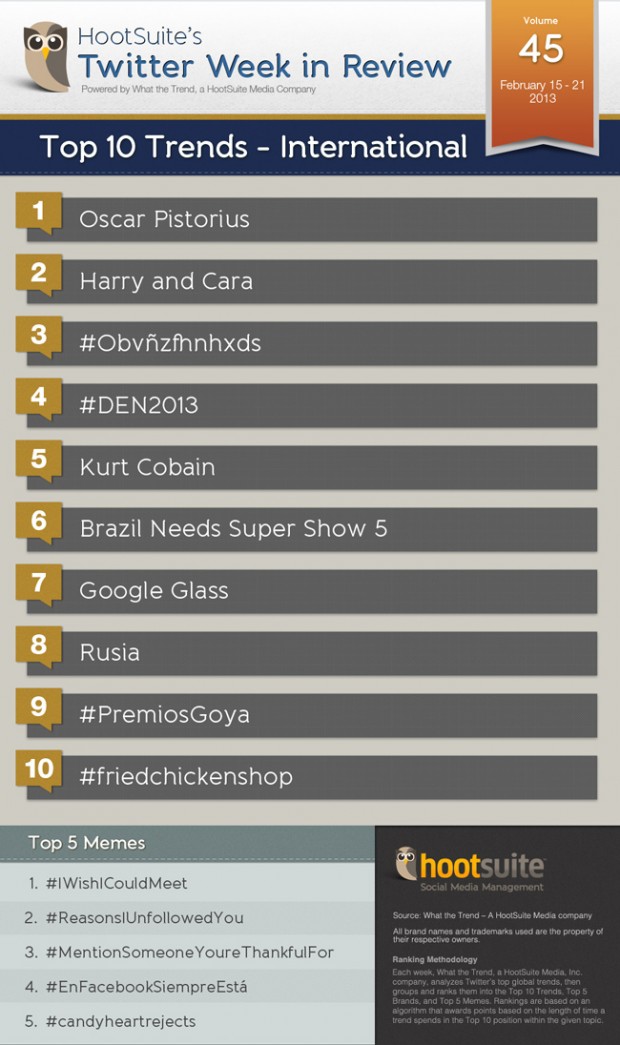 Ever wonder why hashtags like #Obvñzfhnhxds, Rusia (sic) or #PremiosGoya are trending around the world? Us too – which is why we dive into International Twitter Trends of the Week, every week… Without further adieu.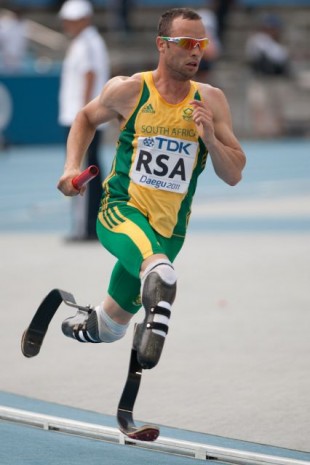 Number one international trend this week is Oscar Pistorius, the world famous South African paralympic and olympic runner nicknamed "Blade Runner" as he competes using leg prosthetics. Unfortunately, this trend is a controversial hot topic of discussion. Once admired and idolized by millions, Pistorius is now in a legal hot-seat pegged for possible premeditated murder.
In the early hours of February 14th, Pistorius claims an intruder had snuck into his home, so he fired multiple shots into the washroom at the intruder. He then realized that the "intruder" that he shot at and killed, was in fact his girlfriend, the well-loved South African celebrity and model Reeva Steenkamp, using the washroom. Pistorius was then arrested and charged with premeditated murder. His court case, the incident and its relationship to South Africa's recent protests against women and violence, have been widely publicized and discussed.
Gossip Twitter Column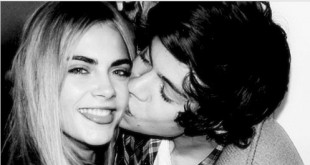 Harry Styles, a singer in the ever-popular British boy band One Direction, and Cara Delevingne, a British fashion model, were seen at a party together. Celebrity gossip never fails to trend, does it? Why should we care that Harry and Cara were partying together? Perhaps we shouldn't, but for gossip sake – Harry and pop star Taylor Swift broke up in part because he was texting other girls over Christmas. Can we blame him for texting his ex, Cara? Apparently he hasn't ever properly gotten over this bombshell and it's fairly clear why.
Twitter Babble
Incumbent president of the Socialist Party in Argentina and former presidential candidate in the latest election, Dr. Hermes Binner, tweeted a mysterious string of letters that oddly picked up speed in the international Twittersphere: #Obvñzfhnhxds. While it's unclear whether the hashtag means anything other than an error, people started using the hashtag and offering humorous guesses as to what it could mean. Which brings me to a conclusion: there is no method to #trends' madness.
#DEN2013
The official hashtag of Spain's State of the Nation Debate, Prime Minister Mariano Rajoy pledged on Wednesday to pull Spain out of its painful recession without relaxing his drive to cut the country's high public deficit. "Spain's head is out of the water," Rajoy told Parliament in his first state-of-the-nation speech since taking office in December 2011. Mr. Rajoy said the deficit had dropped below 7 per cent of gross domestic product last year, still above the European Union's short-term target. So far, the #DEN2013 debate has centered around Spain's s economy and unfaltering austerity.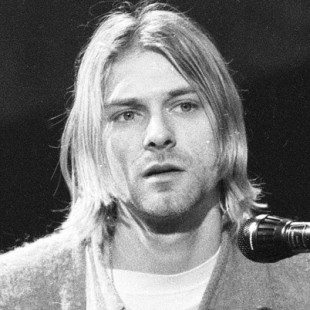 Kurt Cobain
We've seen this before in Twitter trends when fans of late-musicians celebrate birthdays and deaths. On February 20th, Kurt Cobain, grunge heartthrob and leader of legendary band Nirvana, would have celebrated his 46th birthday. Fans across the globe discussed the late singer and guitarist while stories about his life and death circulated in social.
Google Goggles turn Chic
Google has unveiled the first demo video of its much-anticipated Google Glass, dubbing it the future of "wearable technology." Could Glass change the course of technology? The unveiling video showed how these "glasses" can be used to take pictures, record video, share content directly via email or social networks, get information quickly and help your mom text. Other features include weather reports, map directions, quickest routes and hopefully spell-checker.
"Ok Glass, take a picture" or "Text mom" are voice commands to not only prompt actions, but also make us look cool while talking to ourselves. I can't wait for the onslaught of OK Glass bloopers.
View the world through Glass:
What would you do if you had Glass? Answer in social with #ifihadglass – or don't but be sure to check out the thousands of tweets and videos with that hashtag.
We asked some HootSuite employees what they would do if they had Glass. Our answers varied from "see into people's souls" and "put them on a monkey" to "command an entire force of online secretaries across the world to outsource work," "live share a birth," "wear them onstage at our next concert" and lastly, "what wouldn't I do?" It sounds like people are expecting these glasses to work a miracle by forcing them to do cool stuff.
Meteorites for Sale
This extraordinary sequence of events is one to remember. On February 15th, a relatively-small meteor with amazing power flashed across western Siberia's sky at the supersonic speed of 54,000km/hr. Undetected at first, as it hit the Earth's atmosphere it exploded from tremendous pressure and flashed above Chelyabinsk, Rusia (Spanish for Russia). After the blinding flash, the meteor exploded with the force of 20 atomic bombs sending booming shock waves across the city. As the impact spread, more than 1,000 people were injured by blasted windows and hundreds of buildings were damaged or collapsed. More than the injuries, this dramatic event shocked the world and spread like wildfire across social media, YouTube and the news. Apparently so did Russian meteorite sales in ebay… who wouldn't want a piece of a meteor that crashed into earth?
Interestingly, another "cosmic coincidence" just narrowly missed Earth that very same day. About half the size of a football field, another asteroid passed within about 28,000 kilometers of Earth – this distance is between our atmosphere and Earth's orbiting satellites. Although astronomers have anticipated it, the asteroid came terrifyingly close to the earth.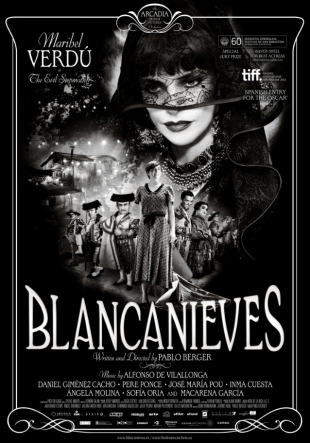 #PremiosGoya
Held this year on February 17th, the Goya Awards, known in Spanish as los Premios Goya, are Spain's main national film awards, and the fourth most important film awards in the world. These awards are considered internationally to be the Spanish equivalent of the American Academy Awards.  Pablo Berger's Spanish retelling of the Snow White story in the silent, black-and-white film 'Blancanieves' walked away with 10 statues, including best actress and top honor award of best picture.
Check out this week's USA Twitter trends for an inside look at what tends to trend in America.