Top 10 International Twitter Trends of the Week, Volume 47

Some weeks, International Twitter Trends of the Week features fun hashtags and awesome news, while others are full of heavy news and important global discussions. This week is the latter. See for yourself why this week's trends mirror world news more closely than others.
RIP Chorão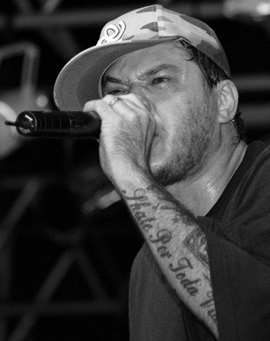 Alexandre Magno Abrão, the popular Brazilian musician behind Chorão, was found dead in his apartment Wednesday evening in Sao Paulo, Brazil. Chorão, whose name translates to "Crybaby" from Portuguese, was the lead singer and last living member of the Brazilian rock band "Charlie Brown Jr." Inspector Itagiba Vieira tells reporters that Abrao's driver found the singer's body on the apartment floor. Reasons of his death are still unknown, but murder has apparently been ruled out – despite his apartment's upside-down state and wounds on his hands and feet. There is wide speculation around a possible drug overdose.
The singer was so popular, that his name appeared in four different top international trends this past week, including the hashtag #LutoChorão which translates into "mourning Chorao."
A Cure for HIV?
A Mississippi baby born with HIV appears to have been cured, scientists announced this week. The child is now two and a half years old and has been off medication for a year with no signs of infection. Because the child was treated with an adult dosage of medication immediately after birth, they believe that stopped the development of infection. While there is no guarantee that the HIV will not come back, tests uncovered only traces of the virus' genetic material. If the child remains healthy, it would mark the world's second reported cure.
While most specialists are excited at what this could mean for AIDS-plagued African countries where babies are born with the virus, other specialists tred more cautiously. Dr. David Margolis, an HIV expert and professor of medicine at the University of North Carolina at Chapel Hill says the way the news exploded hope is unfortunate. According to him, this could be a one-off case and in actuality we are a long way off from a cure.
Famed Venezuelan President, Hugo Chávez Dies
Hugo Chávez, the reigning Venezuelan President since 1999 and said "21st century socialist", died Tuesday at the age of 58 from his battle with cancer. The youngest president in Venezuelan history, Chávez burst into his political career in 1992 by plotting an unsuccessful coup to overthrow the government. After two years in prison, he then formed the Fifth Republic Movement, a political opposition, and successfully ran for president in 1998. The polarizing president was the first of a wave of leftist presidents in Latin America and quickly became a foe of the United States – not to mention his close political and friendship ties with Cuba's famed Fidel Castro. While Chávez had many strong supporters throughout his long presidency, the country was divided in their support.
Chávez's death on Tuesday may mark a renewed alliance with the US in the future of Venezuela. Friday marked the beginning of the funeral processions with a grandiose event with supporters aka Chavistas yelling "Chávez did not die, he multiplied! Chávez lives! The revolution goes on!". And from Iran's Mahmoud Ahmadinejad to Cuba's Raul Castro, about 30 world leaders joined Hugo Chávez's funeral in a last goodbye to the "charismatic but divisive Venezuelan leader who changed the face of politics in South America."
The trending hashtag #MuereChávez translates into "Chávez dies," although his supporters seem to rather shout "Chávez lives on."
Here's a look at Hugo Chávez's political career:
#TselBB10Sensation
As you may or may not know, Indonesians are very active in social media and up on the latest technology. Don't believe me? Then why is Indonesia's leading cellular service, Telkomsel trending internationally? Telkomsel recently announced it would be launching its BlackBerry campaign naming the phone the greatest sensation on BlackBerry and Indonesians, who apparently really want the BB Z10, made the topic trend in the Twittersphere. Oh the power of social for marketing.
According to BlackBerry Z10 marketers, instead of showing what it CAN do, it's showing what it CAN'T do. Let's take a look:
M&G: Take a Wild Guess
What could Twitterers possibly mean by meet and greet (M&G)? Take a wild guess… This recurring weekly trend was largely pushed forward by Justin Bieber die-hard fans that discussed how much they'd like a meet and greet with the pop star. Fans of other popular bands and groups, including boy band One Direction and singer-songwriter American Demi Lovato, have also helped this trend along to the top of the charts.
Venezuelan Baseball Legend Yo-Yo Davalillo Dies
One of the most influential men in the history of Venezuelan baseball, Pompeyo Davalillo, died at 84 years old on Thursday due to renal and respiratory failure. In 1953 he became the fourth Venezuelan to play in the majors, with the Washington Senators, where he played for one season. After that he returned to play 13 seasons as shortstop on Venezuelan team Leones del Caracas and then managed other baseball teams around the country.
Vatican Seat to Fill
February 28th marked the last day as pope for Pope Benedict XVI after his recent resignation. Now that he has officially retired, Benedict retains the style of His Holiness and title of Pope until his role has been filled. The Vatican announced this week Tuesday is the set date for the conclave to begin where they select a successor to Pope Benedict XVI. According to a tour I went on of the Vatican, during a conclave, Cardinals meet from around the world to vote in the next pope. No one can leave the Sistine Chapel until they come to an agreement. Once everyone agrees, all of the votes are burned – along with a chemical – in a furnace and the chemical creates white smoke indicating to the Vatican people that a pope has been selected.