Top 10 International Twitter Trends of the Week, Volume 48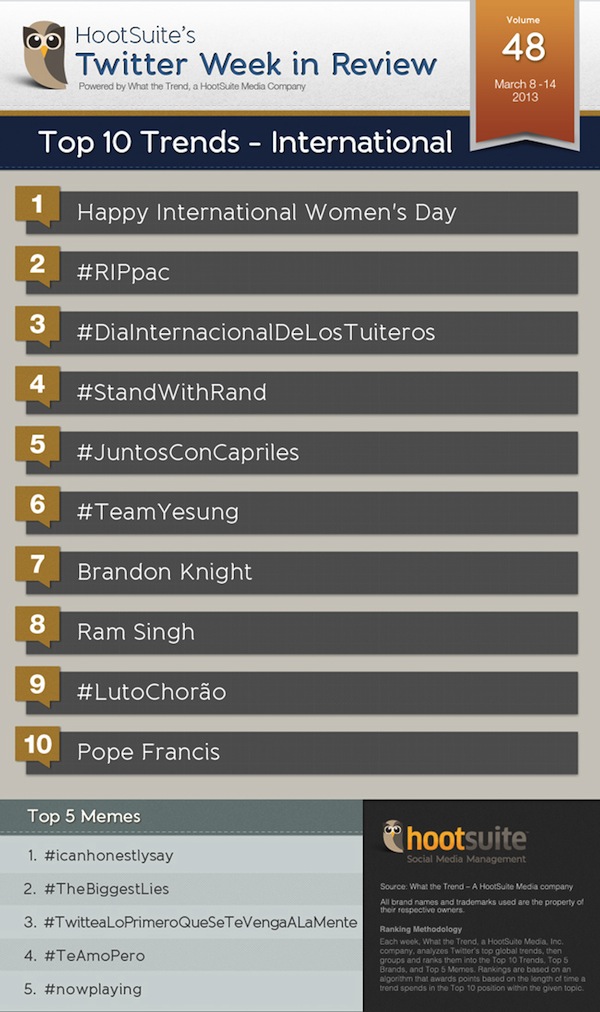 Kudos to all you Twitterers out there this week. Many of our international Twitter trends feature people and groups changing the world one deed at a time. Find out why. (And also why Bieber's hamster Tweet side-stepped angry Twitterers to become the no. 2 trend)
A Day Dedicated to Women
What would the world be without women? Well, if somehow humankind (mankind specifically) could exist, it sure would be a loveless place. Although we should be celebrating more often, once a year – on March 8th – women are celebrated around the globe. So, Happy Belated International Women's Day ladies. Begun in the States in 1909, the holiday was originally called International Working Women's Day. But why just celebrate "working" women? Now all encompassing  celebrations for the day range annually from simple celebrations of respect, appreciation and love to more formal celebrations for women's economic, political and social achievements. People were tweeting to wish all the women in their lives and across the globe a happy IWD. Surprised that it's number one international trend? Don't be. It turns out that women dominate social media networks (and other domains).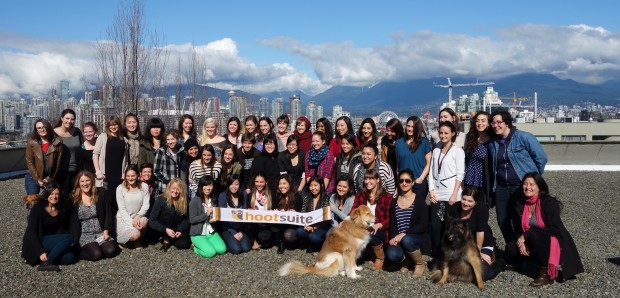 Trending Hamster
Thought you could get away with a Bieber-less trends of the week? Not this week. Trending across major news sites and social media is the news that Justin Bieber's hamster, Pac, died. Now that you're done rolling your eyes – Pac is also being dubbed the most famous hamster in the Twittersphere, such a thing does exist. And with that title comes his final trend. #RIPpac. Bieber actually "controversially" gave away Pac to a mega-fan who is now considered by other Bieb fans to be "practically married to Biebs." While bumbling Bieber fans gushed over the news and offered their condolences, countless Twitterers expressed their anger at how much attention this topic was getting over more worthy news items. Note to those people: If you don't want something to go viral, don't tweet about it.
#DiaInternacionalDeLosTuiteros
Count on the Spanish for getting complicated hashtags to trend internationally… Spanish for "International Day of Twitterers," on March 13th people around the globe, specifically in Latin America, celebrated their fellow Twitter users – or Los Tuiteros.
Get Up, Stand Up
#StandwithRand is now trending for its second week in a row, and with good cause. US Senator Rand Paul sent a simple letter to US Attorney General, Eric Holder asking whether the president had the authority to use an unmanned drone to take out an American citizen on American soil. Holder answered that hypothetically, we could sort of… yes. This tea party senator from Kentucky, then used an old-style filibuster that lasted nearly 13 hours in an attempt to block the Senate's confirmation of John Brennan's nomination to be CIA director. Demanding that the president or Attorney General Eric Holder confirm that Obama Administration's unmanned drone aircraft policy would not be used in the US to kill terrorism suspects.
While a filibuster of any kind is sure to cause a controversial media stir, many can agree the Paul stood up for what he believes the country should stand for. Paul's filibuster is considered a success for several reasons. First, he got the Obama administration to admit that the President doesn't have the power to kill American terrorism suspects on American soil without proper trial. Plus stirring up drone oversight is worth fussing over. And lastly, Rand Paul gave us a lesson on courageous leadership. Standing up against the President for your country takes courage and significant risk. The internationally and US trending hashtag, #StandWithRand shows that the world is offering their support and applause.
#JuntosConCapriles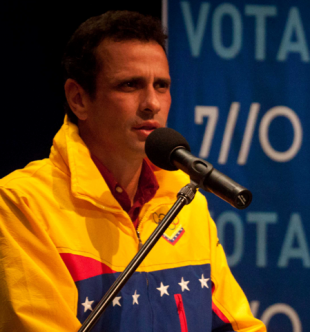 Since the death of Venezuela's well-beloved, hated and controversial president, Hugo Chavez, tides are changing on the country's political coast. Upon Chavez's death due to cancer on March 5th, 2013, his preferred successor Nicolas Maduro has been acting president since. However, Venezuelan political opposition leader Henrique Capriles has demanded a presidential race. After losing an exhausting presidential race last year, Capriles will now run against Maduro. Although the country desperately needs the change that Capriles may provide, many believe that Maduro will win.
Since Chavez's death, Maduro has been campaigning to skeptical crowds stating that "I am not Chávez, but I am his son!,"  in the hopes to prove that he is the "rightful heir." For those favoring the underdog who could bring Latin America hope, this hashtag #JuntosConCapriles, Spanish for "together with Capriles," represents the opposition's growing following.
The Catholic Church's Slum Pope
Last, but certainly not least is the election of the 266th and current pope of the Catholic Church. Born in Buenos Aires, Argentina as Jorge Mario Bergoglio, this previous Archbishop of Buenos Aires was elected on March 13 and named Pope Francis. Ordained as a priest in 1969, Bergoglio became the Archbishop of Buenos Aires in 1998, and cardinal in 2001. Following the widely publicized resignation of his predecessor, Pope Benedict XVI, Bergoglio was elected as the new pope.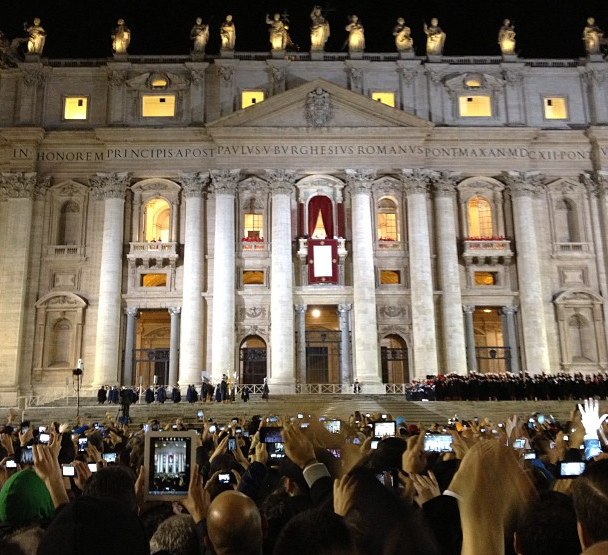 For Argentina's poorest citizens, Pope Francis will always be one of their own – a true "slum pope" as they call him. Throughout his entire career, even as Archbishop, Bergoglio rode to work with the people on the bus. Everything about Francis has been simple but highly symbolic gestures, such as paying his own hotel bill. People are even saying that Francis could be "the next Pope John Paul II" because of his humility and ties to developing countries.
Francis chose his papal name in honour of Saint Francis of Assisi, whose values he holds near and dear to his heart. Founder the Franciscan Order of Friars in 1209, Saint Francis of Assisi was known for renouncing wealth and living in poverty and was seen as a champion of the poor. Pope Francis is also the first Jesuit pope, the first pope from the Americas and the first pope from outside Europe since Pope Gregory III in the 8th century.
Thanks for reading! Want more? Check out what's trending in our USA Twitter Trends of the Week.