Top 10 Global Twitter Trends of the Week, Volume 56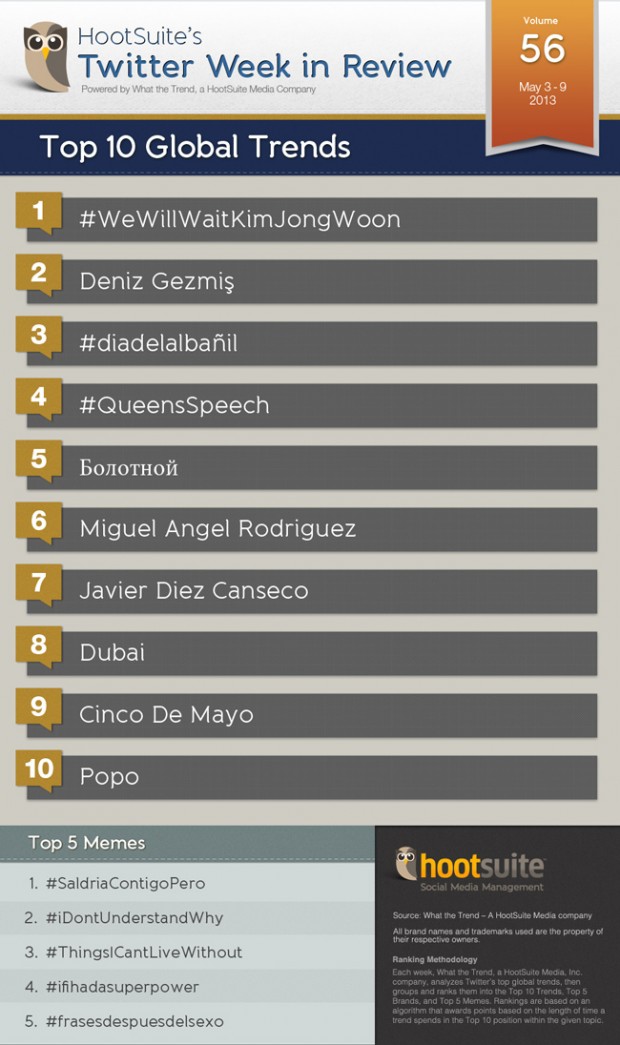 South Korea, Turkey, Latin America, UK, Russia, Spain, Peru, Dubai, Mexico… this week's Global Twitter trends covers Twitterers from all walks of life. Let's zoom in – Google Street View style – and see what they're tweeting about.
#WeWillWaitKimJongWoon
Upon first glance this looks a lot like #WeWillWaitKimJongUn… but, thankfully we're talking about Korean pop band Super Junior's Kim Jong Woon. Confusing, but not to be confused.
Hundreds of fans turned up this week to watch Super Junior singer Yesung, or Kim Jong Woon, enlist in South Korean Army. This military service is mandatory for all South Korean men, although Yesung is just enlisting for a few months of training for now. His millions of fans tweeted to say that they will wait for him. Elvis would be proud.
Gone, but Not Forgotten
Deniz Gezmiş, who passed away in prison at the age of 25 on May 6, 1972, was a Turkish Marxist-Leninist revolutionary and political activist in Turkey in the late 1960s. To many, Gezmiş was considered the Ché Guevara of Turkey. One of the founding members of the People's Liberation Army of Turkey, his significance for the country is apparent forty-one years after his death on our global Twitter charts.
Happy Dia Del Albanil
Just when we thought we'd seen it all trend. On May 3, Latin American countries celebrated Dia Del Albanil, which is literally translated as Happy Mason Day. A day to celebrate builders and construction workers, this random holiday oddly trended enough to grant two hashtags, #diadelalbañil and #piroposdealbanil. The first meaning Happy Masons Day and the second, "compliments of bricklayer."
The Queens Speech
Britain's annual State Opening of Parliament began with Queen Elizabeth II's speech to the House of Lords on Wednesday. A mix of grandeur royal traditions and hard politics, the event is quite the scene. The #QueensSpeech laid out her legislative programme for the year, and naturally had Britain talking. Her reforms of their immigration system and prison probation rose to the top of the government's agenda along with their main priority: economic growth. According to her immigration policy, her government would like to "attract people who will contribute and deter those who will not."
Sounds fair enough. Either way her half an hour speech has people breaking every sentence down meaning for meaning, and trending on UK's Twittersphere.
Болотной
Russian for the "swamp," this refers to a reunion of last year's massive rally in Moscow, Russia, on May 6th. On Monday, about 20,000 protesters rallied in Bolotnaya Square, in support of last year's protest that turned violent on the eve of President Vladimir Putin's inauguration. While many of the protesters are strong opposition activists, many ordinary Russians joined in on the anti-Putin protests for the first time last year and continued the tradition on Monday. This year's protests were tame in comparison to last year where 27 people still face charges that could send them to prison for up to 10 years.
Passing of a Peruvian Political Icon
Javier Diez Canseco Cisneros was a Peruvian politician and member of Congress representing the Socialist Party of Peru (PDD), of which he was a founding President. He passed away on May 4th and subsequently thousands of Peruvians came out for his funeral. According to sources, he was an iconic socialist who was idolized by many in the political sphere. His life was eulogized this week in Lima by leaders across the political spectrum.
Belieb in Dubai
Since the financial crisis, Dubai, a normally economically stable and even well-endowed emirate has been sitting in a cloud of major debt. This week the Dubai Group, an investment company owned by Dubai's ruler, has agreed to a $10 billion debt restructuring with the city's main bank. Discussions of restructure and debt problems have caused Dubai to trend for several weeks in the news.
Likewise, Justin Bieber's bodyguard is apparently facing up to three years in prison after assaulting a Dubai police officer. This is after a mega fan dove on stage and caused a scuffle between him, Bieber, his bodyguards and Dubai's Police VIP Protection Squad…
Popo Erupting
One of the world's most dangerous active volcanoes, began erupting this week. Just next to Mexico City is "Popo" or Popocatépetl volcano, under which 25 million people live at its base. On May 7th, explosive eruptions began spewing out and worrying Twitterers. So far nothing dangerous has happened, but many of Mexico's towns are covered in a thin layer of ash.
Check out this week's USA Twitter trends. Stay tuned until next week.
Want to keep your finger on the pulse? Never miss another tweet or trend with HootSuite's social media management skillz.