Top 10 Global Twitter Trends of the Week, Volume 57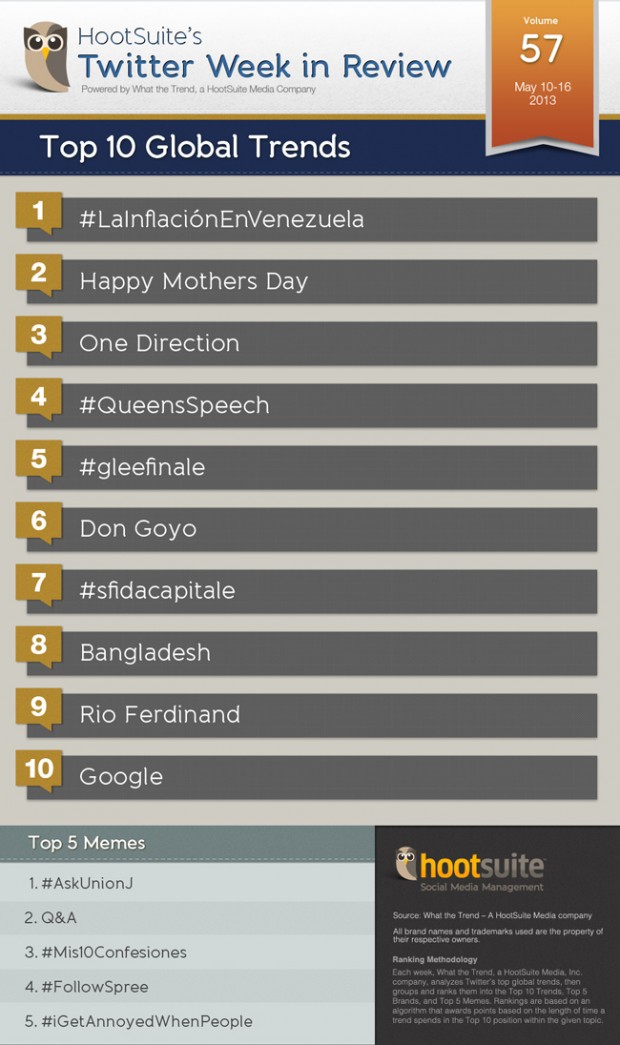 This week's global Twitter trends combine the heavy with the light-hearted. Mixed in with Mother's Day, One Direction and Google's big news are countries making power moves to leave the EU, the end of an era of Western oversight and a fight against inflation and food shortages. That was quite the mouthful, so let me explain.
#LaInflaciónEnVenezuela
Spanish for "Inflation in Venezuela," our number one global trend discusses just that. Venezuela's late president, Hugo Chavez, left more than just a divided country and government behind when he passed away earlier this year. Chavez handed over Venezuela to their new president, Nicolas Maduro, along with its low growth rates and high inflation.
According to the Central Bank of Venezuela's (BCV), April saw the largest increase in consumer prices in several years for Venezuela, on top of a massive peak in inflation and major food shortages across the country. At the highest inflation rates anywhere in Latin America, Maduro has been handed a rather difficult hand.
The country faces an increasingly unstable food supply with peaks in shortages of basic staples such as milk and cooking oil. When supplies are delivered to supermarkets, they are overrun with an influx of customers over-buying and instantly depleting their stock. To make light of a tense situation, many jokes have spawned among Venezuelans, particularly over the lack of toilet paper. Apparently, the "government announced this week it was importing 50 million rolls to compensate for 'over-demand due to nervous buying.'"
Happy Mothers Day
Moms are pretty awesome. And because of this, people around the globe celebrated their mothers this week on Twitter by tweeting #HappyMothersDay. On the second Sunday in May, flower stores and chocolate shops across North America are engulfed with the chaos that is Mother's Day.
Photos of flowers and Sunday brunches are all over Pinterest, and loving pictures of moms with their families spread like wildfire over Instagram and Facebook (and all with good reason). Sure, moms are present in social media, but hopefully that wasn't the only way they were honored.
Here's what one bright young "president" thinks of celebrating moms:
Trending in One Direction
One Direction fans had the young boy band trending this week for several reasons. Their most popular hashtag, #1BIGANNOUNCEMENT, was the public announcement that they would be embarking on a mammoth world tour in 2014. The group revealed the details at a press conference at Wembley Stadium, London, while rocking an array of football colors. After that announcement came the onslaught of Twitterers around the world tweeting at 1D to come to their country – making several different hashtags trend. The uncontainable excitement from 1D fanatics was evident around the world this week…
Is the UK Leaving the EU?
Last week Queen Elizabeth II opened British parliament with a thorough speech that covered the entire year's political agenda. However, the #QueensSpeech is still a hot topic two weeks later, mostly because her speech did not include the EU referendum bill for the upcoming year. Britain's Prime Minister David Cameron promised a bill referendum on the country's EU membership, and since then the Conservatives have drafted up a bill that may just make sure his promise is kept.
115 Conservative MPs are voting for a motion "expressing regret" that it was not put forward. David Cameron's recent ploy to quash a Tory rebellion over the EU has failed. Although both sides seem to support an EU referendum for the UK to leave the EU, the public debate makes Cameron's party look divided.
#GleeFinale
Since day one, this musical dramedy series has been a huge hit on television, and online (the number of YouTube views is out of control!). Gleeks have been breaking out into song and dance after Glee's Season Four came to a close. Besides trending the hashtag #gleefinale, the send-off episode had solid ratings, and FOX has renewed the series for another two seasons. Although Season Four has come to a close, gleeks won't have to wait long – the Fifth Season is starting up again in the fall.
Don Goyo's Hot and Bothered
Mexico's Popocatepetl volcano, aka "Don Goyo" or "Popo," continues to spew ash and other volcanic materials over surrounding towns this week. The volcano belched out a cloud of ash that rose four kilometers (2.5 miles) above its crater on Wednesday evening. While Mexico's deadliest volcano continues to be hot and bothered, Twitterers discuss its latest eruptions and spread news and information. Despite associated earthquakes and explosions, no one has been hurt and authorities are preparing evacuation routes.
The West Meets Bangladesh
Since the collapse of Rana Plaza factory in Bangladesh, the top has been blown off of many western clothing companies who were outsourcing production in Bangladesh. Wal-Mart being one of them, announced Wednesday that it would be terminating its contract with a Canadian-based blue jeans supplier, only a few hours after documents surfaced showing the company had at one point ordered pants from a factory inside Rana Plaza. This eight-story factory building collapsed earlier this month, killing more than 1,100 garment workers.
Not only did this tragic situation shed light on safety standards and ethical questions, but also hundreds of Western businesses, such as the Gap, Abercrombie & Fitch and LL Bean, are forced to get suppliers to improve working conditions. When Rana Plaza collapsed, it hopefully brought with it the end of an era of poor working conditions and oversight.
Google Launches Mega-Updates
Google I/O 2013 Conference, where the crème de la crème of the technology industry get together to launch updates and new products, took place this week. Everything from Google+'s fresh new front page to the exciting future of Google Maps was discussed. With all of Google's exciting new technology updates, Twitterers around the globe discussed each new feature.
Until next time friends. Check out what tended to trend across the United States this week.
Want to keep your finger on the pulse? Never miss another tweet or trend with HootSuite's social media management skillz.