Top 10 Global Twitter Trends of the Week, Volume 58

Everything takes a backseat in social media when disasters hit close to home. Twitterers around the globe sent their support to Oklahoma this week, making the hashtag #PrayForOklahoma an instant trend. Let's see why that and other hashtags made global social news this week.
#PrayForOklahoma
Number one global Twitter trend is #PrayForOklahoma. And people around the globe are doing just that this week.
Those living in Oklahoma and other Southern States are no strangers to tornadoes. However, nothing could have prepared them for Monday's giant tornado – the biggest the area has seen in decades. This devastating monster hit Moore, Oklahoma, (just south of Oklahoma City) the hardest with winds of up to 200mph (320km/h).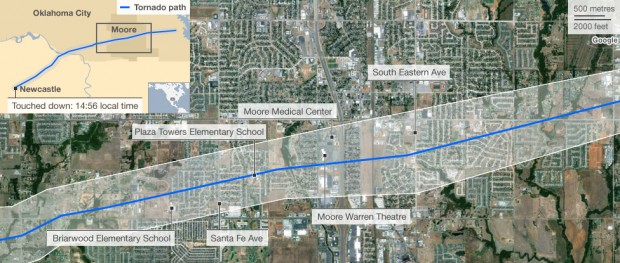 Everything from schools to thousands of homes were destroyed and cars, trees and personal belongings were sent flying across the neighborhood. Those who were fortunate enough to have underground shelters for the most part went unharmed. When they emerged after the storm passed, many were shocked to see war-zone-like destruction where their homes once stood.
While numbers are still coming in as Red Cross and Oklahoma National Guardsmen help with search and rescue, earlier reports suggested that 120 people were injured and 24 killed (10 of them children). Obama stepped in earlier this week to offer condolences and say that Oklahoma was not alone. He is scheduled to visit disaster areas this weekend.
The hashtag #PrayForOklahoma reminds us that when disaster strikes, the world reacts by coming together as one. Offering support and condolences, people came together in every way they know how – including on Twitter and through Red Cross support.
Military Dictator Dies
Jorge Videla, an Argentine former military dictator, passed away in his prison cell on May 17th. Videla was serving a life sentence for crimes against humanity. He came into power in Argentina in 1976 when inflation, corruption and left-wing militants began taking over government. After seven years of military rule, Videla was tried and sentenced to life for ordering the torture, murder and disappearance of thousands of innocent civilians. His passing in prison caused a stir large enough to trend his name globally one last time.
Real's Presidency Up For Grabs?
Real Madrid Club de Fútbol, AKA Real Madrid, is the world's richest by income (and perhaps most powerful) football club. Because of this, it's no surprise that management changes trend globally. Hence why Florentino Pérez Rodríguez, a Spanish businessman, civil engineer, former politician and the current president of Real Madrid, is trending.
Real's latest coaching project brought in coach Jose Mourinho, only to have him leave three years before his contract ends. Real President Florentino Perez broke the news of their mutual breakup on Monday at a conference in the Santiago Bernabeu stadium, Madrid. This news puts Perez in the hotseat at a bad time: at the conference it was also announced that Real's presidency will be up for elections on June 16, 2013. Time to start spending on valuable players Perez…
Xbox One Explodes in Twitter Chatter
Need I really say more? Xbox One was announced on May 21st by Microsoft and Twitterers are buzzing over it. Claiming a "new generation of gaming," Xbox combines the passion of gaming with your entire television experience. What do you think about Microsoft's latest product release? Can't wait, or is this another red ring of death?
Mario Silva
Earlier this week, Venezuelan presidential opposition leader Henrique Capriles suggested that big news would hit Twitter soon. And then it did. In short, a phone conversation between Pro-Chavez politician, Mario Silva and a lieutenant in the Cuban secret police was leaked to the public by Venezuelan opposition. According to sources, the conversation was recorded for Cuba's acting leader, Raul Castro, to brief him on current Venezuelan politics. The conversation discusses corruption and divide in Venezuela's government and military as well as Cuba's stronghold on Maduro's new rule. Since the broadcast, Mario Silva stated that the recording was a "fake" to stir up political furor.
Whether the tape is a fake or not, it certainly has the world talking. "Mario Silva" and "Confessions of Mario Silva" became an instant world-wide trend on Twitter and other social channels.
B1A4 1ST WIN
Rising South Korean boy band B1A4 is gaining momentum and popularity quickly. Since debuting in 2011, B1A4's latest single "What's Happening?" earned them a number one ranking on a Korean music award show this week; hence the 1st win in their hashtag.
Cannes
Cannes Film Festival, one of the largest and most prestigious film festivals in the world, is well underway this week and Twitterers are talking about it. And who wouldn't with the crème de la crème of North American, European and even Bollywood actors flocking to one place? Taking place May 15 – 26th, with the official red carpeted award ceremony on the 26th, the momentum is building as new films hit the festival. Plus Leonardo DiCaprio, Tobey Maguire and Carey Mulligan in Great Gatsby? Say no more.
Toronto's Beloved Mayor?
I certainly hope this isn't the first time Canada has trended globally across the Twittersphere. Toronto's Mayor Rob Ford was allegedly caught on camera smoking crack cocaine. What? No wonder this hit Twitter hard.
Apparently a group of Somali drug dealers attempted to release the video a few weeks ago to the highest bidder but pulled out at the last minute, fearing Ford would just buy the video himself. While it is unclear whether he did in fact smoke crack cocaine, he has a history of bad behaviour, DUI's and photographs with drug dealers to name a few. Whether he smokes crack or not, what does it say about his credibility if thousands of people wouldn't put it past him? Maybe it's time for a reelection, Toronto.
Mark Cavendish's Big Win
And last but not least is Britain's Mark Cavendish, a famed road racing cyclist who timed his finish to perfection to win at the Giro d'Italia this past week.
See you later alligators. Or check out what trended over in America.
Want to keep your finger on the pulse too? Never miss another tweet or trend with HootSuite's social media management skillz.