Top 10 Global Twitter Trends of the Week, Volume 60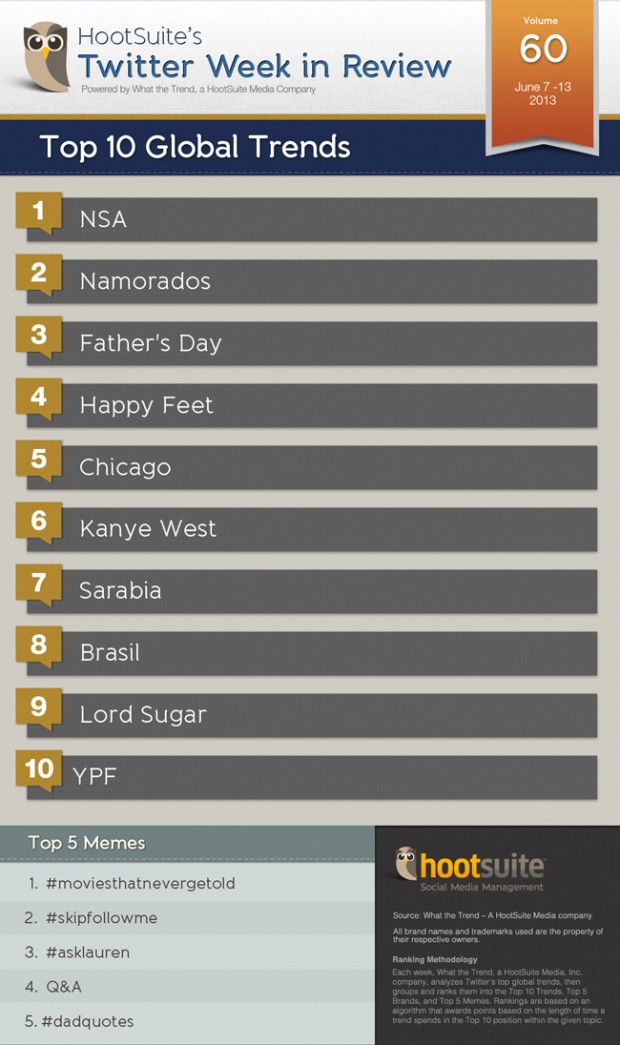 In the midst of possible 1984-like omnipresent government surveillance, life goes on and sports, celebrity gossip, celebrations and politics are discussed by millions around the globe. Lets see what Twitterers from America, Brazil, Argentina, Spain, the UK and worldwide were tweeting about.
Is 1984 Happening?
In George Orwell's 1984, the citizens of Airstrip One are controlled by the tyrannical Big Brother whose ubiquitous government surveillance and public mind control wreak fear and war across the province. Over the last three weeks, sales of the book have peaked across North America. Why? Three weeks ago Edward Snowden was an unknown American. Now, he is considered the world's most famous spy, whistleblower and fugitive, and is responsible for the biggest intelligence breach in recent US history. One of "America's Most Wanted," Snowden leaked National Security Agency top-secret documents over the extent of the NSA's surveillance of US citizens.
Everything from phone records for millions of Verizon customers to Facebook and Skype chats, internet surfing and emails are allegedly recorded by federal investigators daily across the US. Who is Edward Snowden and why is he sharing this confidential information with the world? 29-year-old Snowden, was living happily in Hawaii, working for the biggest spy surveillance organization in the world – the defense contractor Booz Allen Hamilton at the National Security Agency. He was responsible for overlooking the daily surveillance of civilians. So what changed? According to Snowden, he believes that breaching the privacy of US civilians should be known to all and debated publicly.
Since his whistle-blowing, the Obama administration has been forced to answer questions on the extent of government eavesdropping on its citizens, and those of other countries. According to many, NSA's leaks significantly erode people's trust in US government. It also puts many Enterprises under scrutiny, as they gave the government access to private information without proper disclosure. Many people say Snowden is making friends and allies in Hong Kong as activists plan rallies in support of his cause.
Dia dos Namorados
In Brazil, Dia dos Namorados is Lovers' Day or as we know it, Valentines Day. It lands on June 12th in Brazil and Twitterers had it trending, whether to wish their followers a Happy Valentines Day, or to remind their boyfriends to do something special…
World's Best Dad!
Over 25 countries around the globe celebrate Father's Day on the third Sunday of June. How will you celebrate your pop this weekend? After all, he probably taught you how to ride your bike and sit up straight. #HiDad!
Happy Feet Tattoo
When someone says Happy Feet, your mind probably goes to one of two places. Either to the cute dancing penguin movie or perhaps to dancing feet, tap dancing? This past week Justin Bieber's thrown a curveball into the mix by saying he might get a "Happy Feet" tattoo. Twitterers have made it trend as they joke with him about getting a  :) on his foot.
Random thought- I should get a tattoo of a smiley face on my foot and call it happy feet. Haha

— Justin Bieber (@justinbieber) June 12, 2013
Stanley Cup Playoffs Trend Globally
Twitterers showed their true (hockey) colors this week after making Chicago Blackhawks trend. After an intense triple overtime with 3-3 score, Chicago won Game 1 of the Stanley Cup Finals against Boston Bruins. Both teams put up quite the fight and have people discussing the game and the possible Stanley Cup outcomes across Twitter.
Kanye West
Twitterers love gossip, and it certainly shows in trends. Earlier this week Kanye was in the news after a Monreal model and bartender claimed she slept with Kanye – while he was with pregnant Kim Kardashian. Whether this is true or not is unclear, but his publicist is denying it saying she's looking for a publicity boost. Likewise, people are talking about how he says outrageous things, like his explanation for bashing Taylor Swift in front of millions, way back in 2009.
Pablo Sarabia's Assist
Spanish pro footballer, Pablo Sarabia is trending globally this week after Spain's Getafe club  finished top of Euro U21 Group B over second-placed Holland. People are talking about Sarabia's feign to shoot, and then his pass to a  wide open Alvaro Morata, who took sole possession of the tournament's Golden Boot through the first round with his third goal of the tournament in the 26th minute.
Is Brazil Ready for the Confederations Cup?
Hosting the upcoming Confederations Cup, Brasil is under scrutiny from FIFA as only two of the six necessary stadiums were ready during inspection back in December. This Saturday is the World Cup warm up tournament and has everyone buzzing about the games and infrastructure (or potential lack of).
Donald Trump VS. Lord Sugar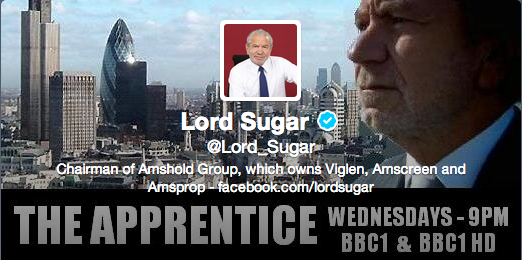 Alan Michael Sugar, aka Baron Sugar is an English businessman, media personality and political advisor in the UK. At an estimated fortune of £770m, Sugar is the Donald Trump of the UK. And, to keep up the persona, Lord Sugar is the Trump of the UK's version of American hit show "The Apprentice."
Argentine Oil Company
Argentine state controlled oil company, YPF, has been in the news recently for a few reasons. Earlier this week they announced the completion of a $490m overhaul of their Lujan de Cuyo refinery in the western province of Mendoza. Also, earlier this week the Argentine Supreme Court lifted an embargo on $19 billion-worth of assets held by Chevron's subsidiary in the Latin American country, allowing YPF to develop the second largest shale oil reservoir in the world, the Vaca Muerta super-field.
The company also reached a deal with New Jersey that may allow it to avoid billions of dollars in potential liabilities related to the contamination of the Passaic River. YPF and a few other companies have agreed to pay $130M to settle claims alleging that they illegally dumped dioxin into the river in the 1950s and '60s. A recent EPA estimate had put the pollution cleanup costs at $1B-$3.4B.
Check out what America's tweeting about this week in our Top US Twitter Trends.
Never miss another tweet or trend with HootSuite's badass social media management tools.