Top 10 Global Twitter Trends of the Week, Volume 65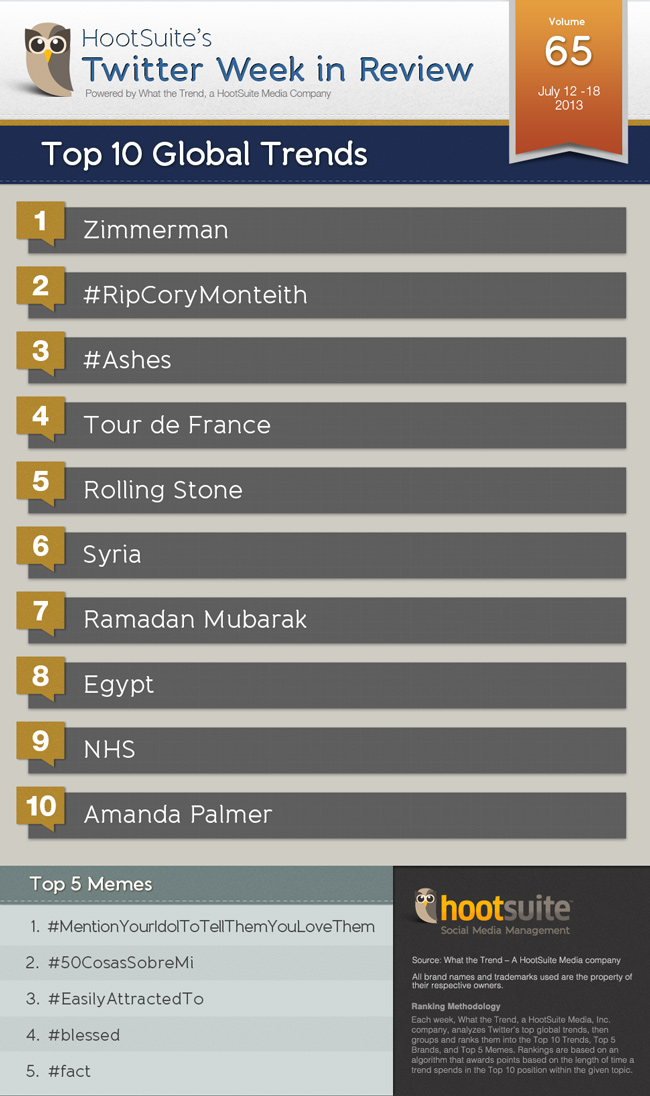 Big news around the world this week means big trends. As America fights for justice, Syria struggles with the worst humanitarian crisis in nearly 20 years, Egypt clashes between pro and anti-government and Muslims fast around the world. And why are we talking about it? Because as events, crises and politics hit the news, they always land on Twitter. Here's our top 10 global Twitter trends this week.
#1: Zimmerman
In America on February 26, 2012, 17-year-old Trayvon was found shot and killed in Sanford, Florida. Police found the boy unarmed carrying only a bottle of iced tea and a bag of Skittles. 28-year-old George Zimmerman was on the scene holding a smoking gun and claimed he killed Martin in self-defense. Within days, public outcry ensued across the States and several civil rights groups backed the controversy. Hundreds marched in the "Million Hoodie March" in Trayvon's honor and in protest of such behavior.
After 16-months of trials and protests, George Zimmerman was found not guilty this week on charges of second-degree murder and manslaughter, after admitting to killing Martin. This verdict has left thousands divided – either reeling and protesting or supporting the judge's decision. Trayvon's parents believe that had their son been white, he wouldn't have died that night.
The hashtag #NoJustice trended globally and represents a fight for justice and equal rights in America. The riots and protests continue.
#2: #RipCoryMonteith
American TV show Glee's star performer, Cory Monteith was found dead after a heroin-alcohol overdose last Saturday in Vancouver, Canada. 31-year-old Monteith had been candid about his addiction struggles as a teenager, but many friends, family and fans thought he was recently clean. In an interview with George Stroumboulopoulos, Cory shed light on his troubled past saying that "if I can, through my experience, shed light on the way out of a difficult situation that I know many kids are experiencing, just like I did when I was a teenager, that's huge." His death came as a surprise to Gleeks (Glee fans), which is evident in the trending hashtag, #RipCoryMonteith. Even One Direction fans sent their love to Gleeks this week.
Here are Cory Monteith's top 5 performances on Glee:
#3: #Ashes
One of the most celebrated rivalries in international sport is between England and Australia for the Ashes Test cricket series. As First Ashes Test day 2 came to a close this week, cricket fans had #Ashes trending while they debated plays.
Let's let the experts discuss the game highlights:
#4: Tour de France
People around the world watch as the Tour de France unfolds, with the final 21st stage just around the corner. British rider Chris Froome extends overall lead at this point, while making "Le Tour" look easy. This week's stage 18 was a dramatic day of racing to Alpe d'Huez with an impressive win by French rider Christophe Riblon.
#5: Rolling Stone
19-year-old Dzhokhar Tsarnaev, accused of planting the Boston Marathon bombs that killed three people and injured almost 300 others, appeared on the cover of The Rolling Stone magazine this week. Tsarnaev looked disheveled like a glorified rockstar. The music magazine instantly received major backlash after publishing the issue worldwide on Tuesday. While this bold move has caused the zine to step back into the limelight, glorifying an accused terrorist sends a dangerous message to readers.
#6: Syria
Syria has been named the worst humanitarian crisis in nearly 20 years by the UN this week. Starting with pro-democracy protests suppressed by the government back in 2011, Syria's civil war has spiralled out of control. On Tuesday, the United Nations warned that an estimated 5,000 Syrians were dying every month, totalling more than 90,000 deaths. The assistant secretary general for human rights, Ivan Simonovic to the UN Security that "in Syria today, serious human rights violations, war crimes and crimes against humanity are the rule."
UN refugee chief Antonio Guterres reported Tuesday that "two-thirds of the nearly 1.8 million Syrian refugees known to the agency had fled since the beginning of 2013, an average of more than 6,000 a day." "We have not seen a refugee outflow escalate at such a frightening rate since the Rwandan genocide almost 20 years ago." As the people of Syria search for safety and flee the war, people around the globe discussed the issue and the UN's news on Twitter.
#7: Ramadan Mubarak
Trending for a second week in a row is the holy Islamic month of Ramadan. This lunar month is one where Muslims around the globe fast without food or water from dawn until dusk. People are taking to Twitter to wish everyone, including those with added struggles like in Syria, a Happy Ramadan.
#8: Egypt
Since the military coup overthrew Egypt's Islamist leader Mohammed Morsi, the tension and divide between pro-Morsi and anti-Morsi has only worsened. Outside Cairo's cabinet building on Wednesday, several hundred pro-Morsi supporters massed, expanding their protests that denounce the new government. After visiting the torn country this week, the EU called for the release of Morsi, who's been under house arrest since the coup. For what it's worth, President Obama also urged the Egyptian military to release Morsi and return to a democratic government.
#9: NHS
Managing risk on the National Health Service (NHS) was a key topic in the second Opposition debate ahead of the UK General Election this week. The House of Common's "discussion" was more like a raging shouting match between UK Health Secretary Jeremy Hunt and Labour's Andy Burnham. It subsequently trended across the British news and Twitter.
#10: Amanda Palmer
Now here's a funny one. After performing live onstage at Glastonbury, rockstar Amanda Palmer's boob-slip landed in the news of the Daily Mail. To get back at the newspaper for only discussing her breast, Palmer (Also known as Amanda F***ing Palmer) wrote a song entitled Dear Daily Mail, Sincerely Amanda Palmer. As she put it, her video of the song was "tweeted by imogen heap, caitlin moran, wil wheaton, russell brand, robert llewellyn, and thousands of other awesome people." Well said.
Over and out.
Check out what America had trending this week across their Twittersphere.