Top 10 Global Twitter Trends of the Week, Volume 66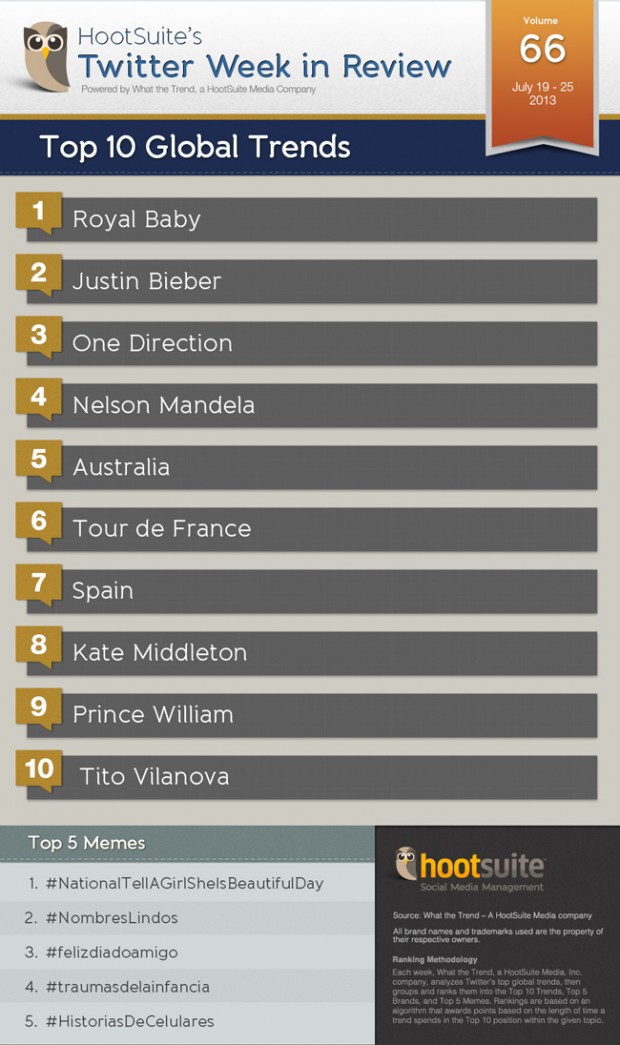 News of the United Kingdom's royal birth sent waves of excitement around the world. Countries celebrated in their own ways and paid tribute to the royal family on social media. In other trends, scandal, tragedy and rumors unfortunately caught the attention of Twitterers around the globe. Here's our top 10 global Twitter trends this week.
#1: Royal Baby
On July 22, the world's most famous baby was born. Kate Middleton, Prince William and the British royal family celebrated the birth of their healthy baby boy and heir to the throne. The baby remained nameless for nearly two days, during which time the bookmakers, press and public had bets going on the little prince's name. It was announced on Wednesday that the royal baby's name is George Alexander Louis. This name is in tribute to the Queen, whose father was King George and her own middle name is Alexandra.
As the world discussed the initial news, potential royal baby names, royal family history and, once revealed, his name, #RoyalBaby trended around the globe. Will this 21st century couple help bring the monarchy into modernity? Interestingly, even though Prince William is royalty, he still has to go back to work after two weeks and resume the royal duties of a future King.
#2: Justin Bieber
Last week MTV launched a Twitter contest where fans were asked to vote for their favorite superstar of the summer with the hashtag #MTVHottest. Since then Justin Bieber's received over 9 million Twitter mentions around the globe. Biebs also released his new single "Heartbreaker," most likely in tribute to his on-off girlfriend Selena Gomez.
#3: One Direction
And we can't forget about these young boys. One Direction is leading the #MTVHottest race with 11 million Twitter mentions. Did I mention that this contest goes on until August 18th? Get ready for a summer of trends run by Lovatics, Directioners and Beliebers.
#4: Nelson Mandela
Despite awful rumors floating around the Twittersphere, Nelson Mandela did not pass away this week. Although he is still in critical condition in the hospital, his condition has improved over the last couple of days. Former South African president Nelson Mandela, who was jailed for 27 years during white minority rule, was hospitalised on June 8 for a recurring lung infection. Giving many Twitterers the benefit of the doubt, hopefully many were only pushing the trend out of deep concern and ignorance. Mandela also celebrated his 95th birthday on July 18th.
Learn more about Mandela's inspirational life:
#5: Australia
Australia could be trending for a wide variety of reasons. And between constant sports updates and politics, we're surprised it doesn't trend every week.
But here's one story out of Australia that Twitterers had trending: Earlier this week, Australia's six-time Olympian Stuart O'Grady announced his retirement after the 100th edition of the Tour de France race. He also admitted to doping during 1998's Tour de France. Apparently unbenounced to his team (how convenient), O'Grady acquired a blood-booster himself during the scandal-plagued 1998 race. This has caused an uproar in the cycling community and on Twitter, especially as this year's Tour de France came to an exciting close.
#6: Tour de France
It was a big week for Britain, with both the arrival of the royal baby, and a second straight year of British winners of the Tour de France. Kenyan-born and UK-raised Chris Froome held onto the yellow jersey ever since the first week of the tour, while Colombian climbing sensation Nairo Quintana locked down both the "King of the Mountains" polka-dot jersey, and the white jersey for best young rider, in his first ever Tour.
Super-sprinter Mark Cavendish finished the tour, but lost his chance for a 5th straight win on the Champs-Elysees to Marcel Kittel. Good thing it's a good week for Britons, or they'd realize that their beloved Cavendish can indeed be beaten. Kittel's 3 stage wins put him in a new class, with Quintana, of young riders to watch out for in the (now very controversial) sport of pro cycling.
#7: Spain
Spain's worst train derailment in 70 years tragically happened on Thursday. One of the train drivers, 52-year-old Francisco Jose Garzon de Amo, is under investigation after surviving the accident that killed at least 78 people and injured 130 more. Spanish investigators are trying to determine why the train derailed and sent eight of its cars into one another, but speeding is most likely the cause. Before the crash, the driver in question allegedly posted an image of the train's speedometer on Facebook, boasting that "it would be amazing to go alongside police and overtake them and trigger off the speed camera."
#8: Kate Middleton
As the birth of the royal baby boy was announced this week, thousands took to Twitter to share their excitement and wish Kate Middleton well. Because it's been awhile since a royal baby was born, everything was shared on social from who visited the new family to what Kate wore leaving the hospital.
#9: Prince William
And then there's the royal baby's daddy. People were discussing how the next-heir-to-the-throne looked as a modern dad, while sharing pics of him holding little Georgie. Too soon for nicknames?
Here's how the rest of the world celebrated the birth of the royal baby:
#10: Tito Vilanova
Former Spanish footballer and FC Barcelona manager, Francesc "Tito" Vilanova i Bayó is recovering from cancer treatment. While he battles the life-threatening illness, Barcelona announced that they will continue to pay him the £6.5m-a-year salary of a manager. Whether to discuss the news or this decision, footballers had him trending globally.
Want to keep your finger on America's pulse? Here's what they tweeted about this week.