Top 10 Global Twitter Trends of the Week ~ Volume 72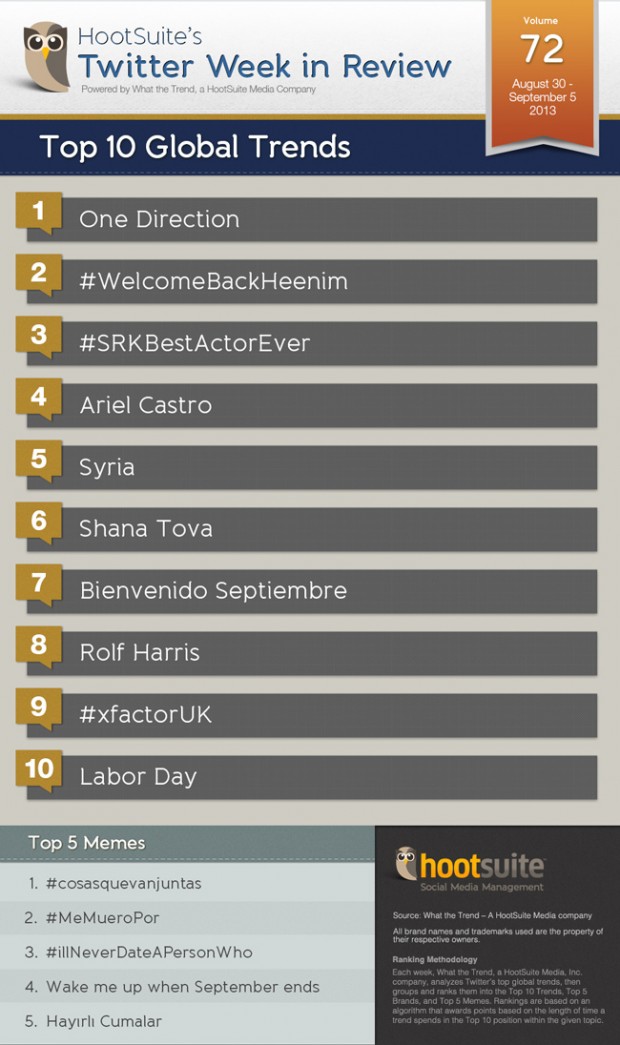 There are over 300 million tweets sent from around the world every day. And millions more search queries. Twitter is a source for news and conversations, so what is everyone talking about this week?
While pop cultural bands One Direction and Super Junior stole the Twitter trends show this week, American and International politics, holidays and scandals snuck in to thousands of conversations around the globe.
#1: One Direction
These young pop stars sure know how to work the trends. Broken up into several top trends around the globe, each One Direction star had the band trending for different reasons. Liam Payne celebrated his birthday this past week and had millions wishing him a #HappyBirthdayLiam. Likewise Harry and Cara trended globally after being spotted together at a movie theatre and leaving fans wondering if they're back on. Without diving into 1D's day-to-day lives, let's just say that these boys have been busy and fans share their every move on Twitter.
#2: #WelcomeBackHeenim
Next up is our Super Junior KPop band member, Kim Heechul who was just released from his year long mandatory stint in the army. It was announced on August 29th that Heechul will receive an award that acknowledges him as an exemplary public service officer during his service at Sungdong, Korea. Millions of Super Junior fans shared the hashtag #WelcomeBackHeenim.
#3: #SRKBestActorEver
Bollywood fans around the globe, especially in Saudi Arabia, took to Twitter this week to vote up their favorite B-town actor, Shah Rukh Khan (SRK) as one of the "25 Greatest Living Indians." Since then, he's been trending as Twitterers discuss everything from his new cool style to his upcoming film "Happy New Year."
#4: Ariel Castro
Perhaps one of the most notorious prisoners behind bars in the United States, Ariel Castro committed suicide this week in his Cleveland, Ohio cell. Castro was only a month into his life sentence for kidnapping, raping and imprisoning three women for over a decade in his home. Questions have been raised as to how he managed to hang himself in the cell while under protective state custody.
"As horrifying as Mr. Castro's crimes may be, the state has a responsibility to ensure his safety from himself and others." —American Civil Liberties Union of Ohio Executive Director Christine Link.
#5: Syria
As Russia greets world leaders with small chat and smiles, this year's G20 Summit in St Petersburg kicks off with difficult topics, including the debate about action in Syria. British scientists recently revealed traces of sarin in the alleged bombings in Damascus, Syria. This news may back Obama administration enough to move forward with a limited attack on Syria, although it will have to be approved first by the US Congress.
#6: Shana Tova
This week, people around the globe celebrated the Jewish New Years, Rosh Hashanah. Many world leaders, including Obama and the Pope, and Twitterers alike wished everyone a "Happy New Year" with the Hebrew phrase "Shana Tova."
#7: Bienvenido Septiembre
"Bienvenido Septiembre," Spanish for Welcome September trended as Twitterers celebrated the new season and the 1st of September.
#8: Rolf Harris
Rolf Harris, 83-year old Australian entertainer with a lifelong career in British children's television, has been charged with 13 offences under Operation Yewtree. His offences include nine counts of indecent assault on girls dating as far back as the 80s and four counts of creating indecent images of a child last year. This scandal rippled across the news and hit Twitter hard, just as BBC radio stations announced that they will no longer play his records. Harris will appear in court on September 23rd.
#9: #xfactorUK
This famed reality TV show already has a tendency to trend globally after each episode, however this past week One Direction's star appearance helped the hashtag #xfactorUK even further.
#10: Labor Day
Celebrated across North America on the first Monday in September, Labor Day weekend is pop culturally associated with holiday fun, beer and BBQs. Historically, Labor Day is an annual celebration of the American labor movement, although Canada picked up the holiday for good measure. The rest of the world (aka more than 80 countries), celebrates Labour Day, or International Workers' Day on May 1st.
Speaking of the United States, here's what trended across America's Twittersphere this week.