Top 10 Global Twitter Trends of the Week ~ Volume 74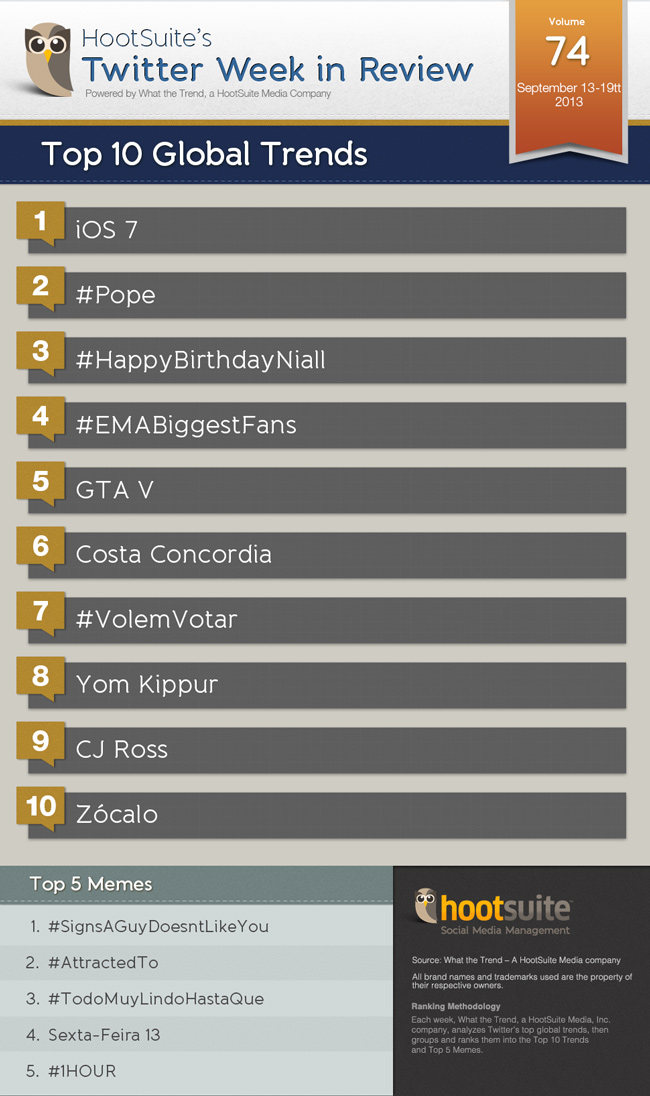 There are over 300 million tweets sent from around the world every day. And millions more search queries. Twitter is a source for news and conversations, so what is everyone talking about this week?
This week Apple launched iOS 7, their biggest revamp since the iPhone's debut, the Pope made some massive statements on the Roman Catholic Church and a larger-than-Titanic cruise ship was pulled from Italy's ocean. That, and other global Twitter trends:
#1: iOS 7
Considered Apple's biggest revamp since iPhone's 2007 debut, the iOS 7 update has been much anticipated for months and heavily discussed since its September 18th launch. This complete overhaul includes some 200 enhancements to its design and features, making the mobile OS less cluttered and more visually appealing. But while this overhaul changes practically every feature, it by no means changes the way in which we communicate and go about our daily lives.
Some of the updates include a design overhaul with a new color palette, refined typography and translucent layered interface, and feature updates like a control center, AirDrop for iOS and smarter multitasking features. As a number one global and U.S. trend, iOS 7 is clearly one hot topic for everybody.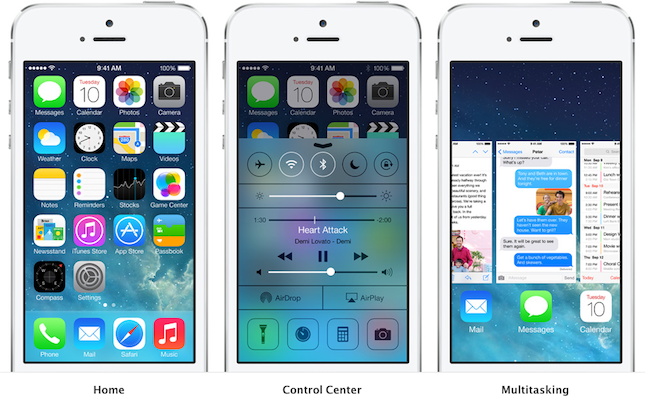 #2: #Pope
So Pope Francis is turning out to be one cool guy. In an interview Thursday, the Pope said that the Roman Catholic Church is too focused on gays, abortion and contraception. Pope Francis said that they are so "obsessed" with those issues that it's detrimental to the church's mission of being "home for all." "The church has sometimes locked itself up in small things, in small-minded rules… The people of God want pastors, not clergy acting like bureaucrats or government officials," said the Pope. Clearly, this news has rocked the Twittersphere as opinions run wild and debates ensue.
#3: #HappyBirthdayNiall
Boy band One Direction member Niall Horan celebrated his 20th birthday on September 13th and millions of fans worldwide wished him a hbd on Twitter.
#4: #EMABiggestFans
Let's sit back and watch this one trend globally for weeks. Any hashtag that represents Bieber, Miley Cyrus, Katy Perry, One Direction and Taylor Swift to name a few is bound to trend hard.  Fans around the globe have been voting up their favorite music celebs for MTV EMA 2013 in Amsterdam with this hashtag. Polls close in 51 days and counting…
#5: GTA V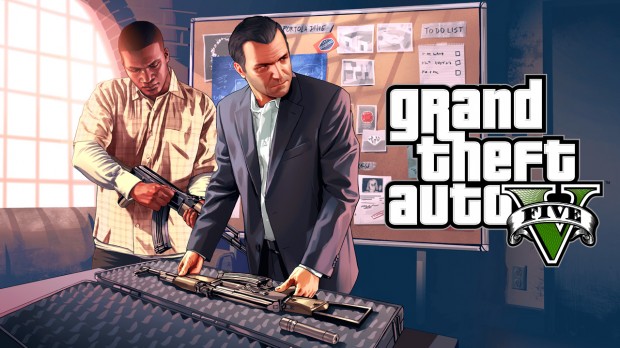 Gamers, see you in another lifetime. Unleashing a whole new world of gaming, Grand Theft Auto just released its latest and much anticipated update – GTA V. Not only is the game now played by 3 main characters and perspectives, entire worlds and lifestyles are built up around each of them. Racking up $800M in its first day of sales and hitting $1B after three days: "We believe this marks the fastest that any entertainment property, including video games and feature films, has reached this significant milestone," Take Two noted in its announcement. "We're looking for 23 million units of games sold by March 2014 and we won't change that, but $800-million in the first day is phenomenal," said Mike Hickey, an analyst at the Benchmark Company. These projections don't even take Brazil or Japan's launches into consideration.
#6: Costa Concordia
In January 2012 the cruise ship Costa Concordia maneuvered too close to the Tuscan island of Giglio, hitting the rocky sea bed, prompting an evacuation of more than 4,000 passengers and crew and leaving 32 passengers dead. Since then, the ship has lain partly submerged off the island – until this week. Beginning a $800 million salvage operation, the 114,500-ton ship (bigger than the Titanic) was pulled upright by huge jacks, cables and platforms. Once the water has been thoroughly pumped out, it will be towed away for scrap.
News sources and Twitterers in awe of the salvage had the operation trending:
#7: #VolemVotar
On Wednesday, hundreds of thousands of people joined hands to form a 400 km human chain across the northeastern region of Spain in support of Catalan independence from Spain. Others showed their support with the hashtag #VolemVotar. Catalonians are pushing for a referendum vote to separate from the rest of Spain, however Spain has apparently rejected the separatists requests for a vote.
#8: Yom Kippur
Yom Kippur, or the Day of Atonement, is the holiest day of the year for the Jewish people. This year, it took place from September 13-17 and is usually observed with an 25hr period of fasting and intensive prayer around the world.
#9: CJ Ross
With over two million PPV buys in the U.S. and record numbers in Mexico, the Floyd Mayweather Jr versus Saúl 'Canelo' Alvarez boxing fight trended internationally, to say the least. After a clear win by Mayweather, but a close score of 118-113 ended with the judge calling it a draw, fans turned to Twitter to vent and bash judge CJ Ross' decision. After receiving so much flack on Twitter for calling the fight a draw, CJ Ross announced she was taking a timeout from judging boxing. ESPN lead boxing analysts called her "criminal" and "corrupt" on live TV.
#10: Zócalo
Mexico has been struggling with teachers' protests and strikes for a while now, with regular marches and blockades adding to the already tense situation. This week, thousands of riot police retook Mexico City's central Zócalo plaza from striking teachers. As expected, the teachers didn't take this move lightly. These violent clashes included police ducking from missiles thrown at them by protesters who had built barricades and makeshift weapons with metal rods, planks and broken paving stones. Police used tear gas, water cannons and force to push the teachers out of the historic plaza.
Check out what trended across America's Twittersphere this week.