Top 10 Global Twitter Trends of the Week ~ Volume 79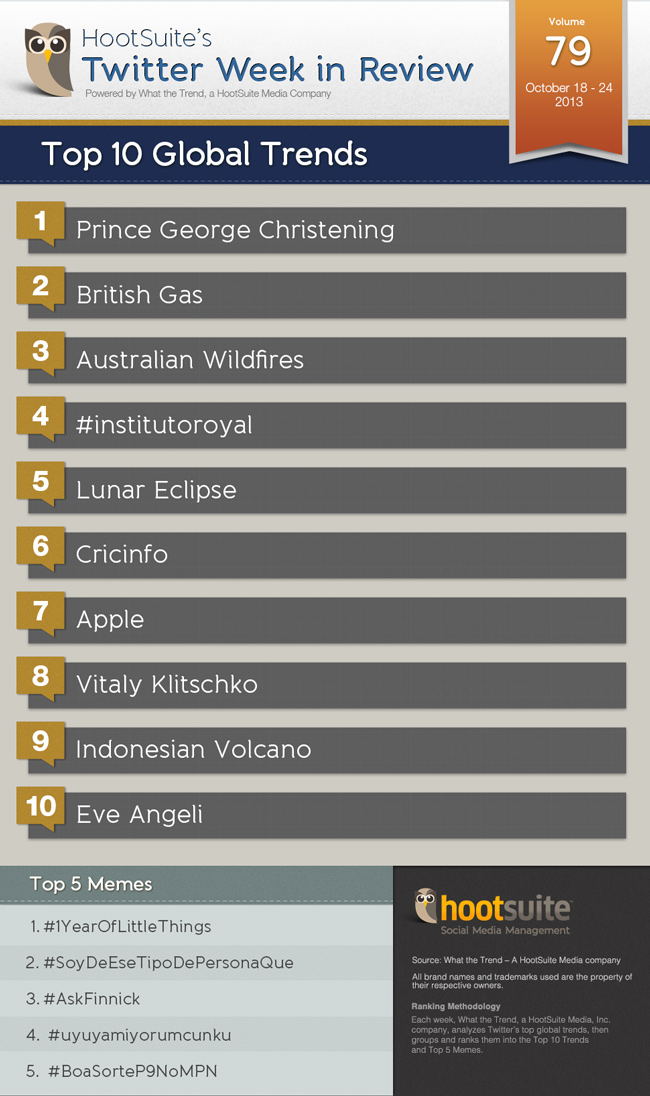 There are over 300 million tweets sent from around the world every day. And millions more are search queries. Twitter is a source for news and conversations, so what is everyone talking about this week?
This week's Global Twitter Trends were all encompassing. Covering Great Britain, Australia, Brazil, Ukraine, Indonesia and a greater part of the globe – thanks to a lunar eclipse, the global Twittersphere was lit up this week as people discussed the news and debated opinions. Of the Top 10 Global Trends, here are a few of my favorites:
#1: Prince George Christening
In London this past Wednesday, 3-month-old Prince George was christened with water from the River Jordan. Dressed in a lace gown designed in the 1840s, Prince George's christening was a truly historic event. Prince George, third in line to the British throne was held by his father, Prince William, and in the presence of his grandfather, Prince Charles – all three of Britain's future kings. Although the Queen was present, she let young Prince George have the spotlight for the day.
People in Great Britain and beyond took to social media to share images and share their thoughts on the historic event.
#3: Australian Wildfires
Wildfires raging through New South Wales, Australia, have claimed more than 200 homes since last Thursday. Flame heights in excess of 20 to 30 meters were fanned by unusually high temperatures and strong winds. A plane dousing the wildfires just south of Sydney, crashed into a national park on Thursday, killing the pilot and adding to the fires. One other man has been killed in an effort to save his home. The state government declared an emergency to order evacuations and avoid more deaths. News updates and public outreach flooded social media.
#4: #institutoroyal
Last weekend in Sao Paulo, several animal rights activists broke into the Instituto Royal laboratory and released 178 beagles that were being tested for adverse effects of pharmaceutical drugs. The following day, hundreds of activists clashed with Brazilian police outside of the laboratory. According to police reports, about 500 activists hurled rocks and set fire to a police car and two local news cars. The police responded with tear gas and pepper spray. News updates, videos and photographs of the clash landed on Twitter and had people discussing the controversies of animal testing.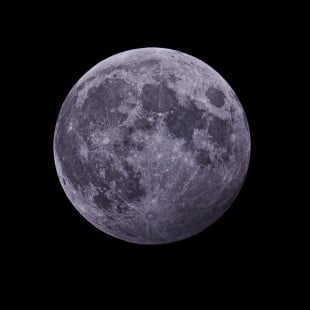 #5: Lunar Eclipse
On Wednesday October 19th, a lunar eclipse took place, where the sun, Earth and moon all align. While skygazers in Europe, Africa and the Middle East had the best show, people around the world could watch the eclipse online with live streams and videos.
#7: Apple
Fall is the season for updates and must-haves. While Apple released their Retina MacBook Pro, the new OS X Mavericks update and the new Apple iPad Air, those aren't the only reasons why Apple trended. In a letter to Apple CEO Tim Cook, Billionaire Carl Icahn praises Cook's leadership but asked them to begin an immediate $150 billion buyback offer. Icahn's stake is now 4.7 million shares, making his total roughly worth $2.5 billion, a source told CNBC. His criticisms are directly towards the size and timeframe of Apple's buyback program, saying that it should be much bigger and immediate.
#8: Vitaly Klitschko
World heavyweight champion Vitaly Klitschko was elected into Ukrainian parliament last year as head of the opposition Udar party. This week he announced, much to the chagrin of the ruling Party of Regions and its allies, that he would run for presidential election in 2015. This news sent shock waves through Twitter and landed itself at number 8 in our global trends.
#9: Indonesian Volcano
Mount Sinabung in western Indonesia erupted on Thursday, releasing a column of dark volcanic material 3 kilometers (nearly 2 miles) into the air. Villages, farms and trees below the 2,600 meter (8,530 foot) volcano were covered in thick gray ash, but no one was hurt. The eruption has prompted authorities to evacuate more than 3,300 people – after more than 15,000 people were forced to flee another eruption last month. After laying dormant for three years, Mount Sinabung is now spewing ash and smoke, while lighting fires on its slopes.
Check out what trended in our Top 10 USA Twitter Trends this week.