Top 10 Global Twitter Trends of the Week ~ Volume 82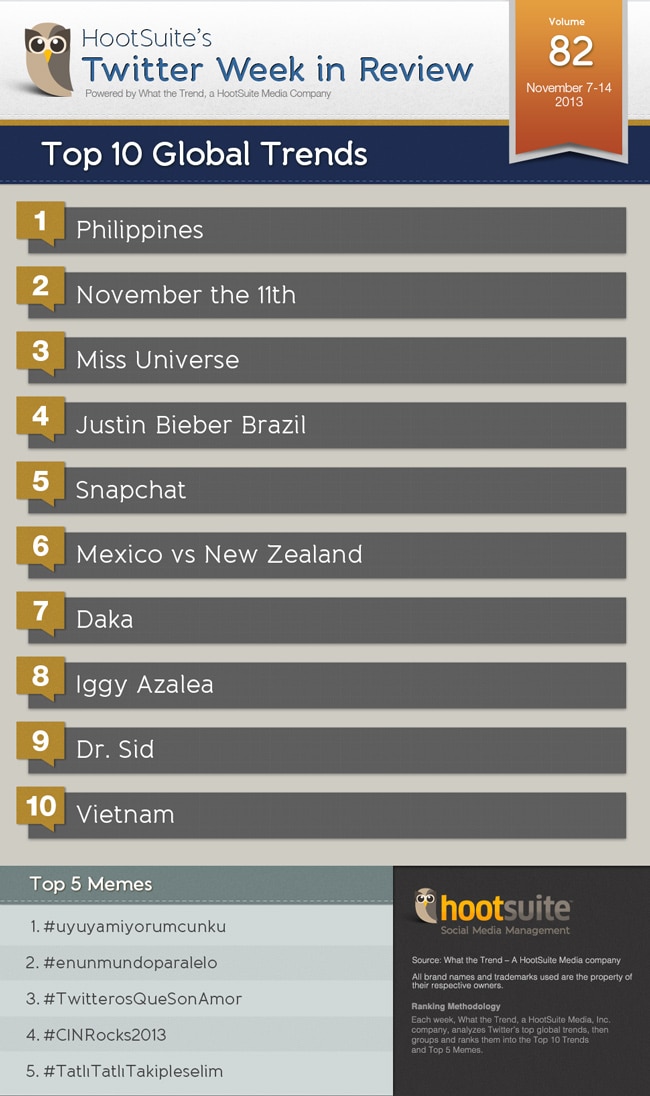 There are over 300 million tweets sent from around the world every day. Because Twitter has become such a major source for global news and conversations, we pull weekly trends to discover what the world is talking about. Here's some of the highlights:
#1: Philippines
Super Typhoon Yolanda (or Haiyan) is unanimously considered one of the world's strongest storms ever in recorded history. With an average strength of 195 mph (314 kph), Yolanda left absolute destruction in its wake. This superstorm affected an estimated 9.5 million people, displacing at least 600,000 people, flattening cities and leaving countless bodies in the wreckage. As the storm passed the Philippines and lost momentum nearing Vietnam, survivors take to the streets to start picking up the pieces.
While authorities had prepared for the storm and moved thousands into schools and hospitals to wait out the storm, nothing could have prepared them for this super typhoon. Mass burials begun on Wednesday in the worst typhoon-stricken city of Tacloban, Philippines and death toll is already in the thousands and continues to rise.
U.S. Marines and Philippine air force have begun flying in emergency supplies, while private relief organizations assist with medicines in an attempt to suppress spreading illness. The UN appealed for $301 million to help with the devastation – especially in the hardest-hit islands of Samar and Leyte, Philippines.
Our hearts go out to all those affected. Here's some ways in which people can help.
First UK kits arrive in Philippines as Typhoon #Haiyan survivors "desperate" for aid http://t.co/byz69sFxei & pic.twitter.com/ASMsyl2KGm

— BBC News (UK) (@BBCNews) November 13, 2013
#2: November the 11th
November 11th is known around the world as a day to remember. In Commonwealth countries, Remembrance Day is observed as a memorial day that marks the end of World War I (November 11th 1918) and all those soldiers who fell in battle. In the United States, Veterans Day is also observed on this day and honors all those who served in the U.S. Armed Forces. While Veterans Day celebrates all those who served, it's not to be confused with U.S. holiday Memorial Day (last Monday in May) that remembers all those who died in service to their country.
#3: Miss Universe
This trend is proof that while an estimated 1 billion people from 190 countries watched Miss Universe unfold on TV, they also tweeted about it. Gabriela Isler, Miss Venezuela was crowned Miss Universe 2013 on Saturday night in Moscow, Russia. Having the pageant in Russia also caused an array of controversy surrounding its anti-gay laws – including Isler's own views of having transgendered contestants compete:
Miss Universe doesn't think transgender contestants should compete in Miss Universe http://t.co/XOkG1XyxSM

— Huffington Post (@HuffingtonPost) November 14, 2013
#4: Justin Bieber Brazil
So, Bieber had a good time in Brazil… After apparently getting his "friends" to sign waivers to not record or disclose their partying to the press, 27-year-old Brazilian "model" Tati Neves did just the opposite. Sharing a video of Justin sleeping in bed and blowing a kiss to the camera, Neves opened up a whole can of worms on just how innocent young Bieber is while on tour. In a recent interview with Brazilian network Globo TV's Fantastico program, Neves said that Justin is a "marvellous and unforgettable" lover. I guess what happens in Brazil, doesn't necessarily stay in Brazil.
Since then, Bieber's been caught and charged with vandalism in Brazil after spray painting a barely-passable "graffiti" monkey on a hotel wall.
BREAKING: Bieber charged with vandalism in Brazil. http://t.co/JoWhNJjejf

— Complex (@ComplexMag) November 8, 2013
#5: Snapchat
After declining a $3 billion offer from Facebook, social app Snapchat should ask themselves: Was that a good move? Unlike Instagram, Facebook, Twitter or even Pinterest, Snapchat's lack of history, user feeds or profiles means that users have less invested and are more likely to drop off with little hesitation. Not to mention that Snapchat doesn't actually make any profit yet. It might be the hot spot for youth today, but what about tomorrow?
Here's ten reasons why IVP invested in Snapchat (although "We Love LA" isn't a proper reason).
#7: Daka
Thousands of bargain-hunting Venezuelans lined up for what seemed like Black Friday at electronics chain and Best Buy equivalent known as Daka. This comes after Venezuela's President Nicolás Maduro ordered a military "occupation" of the chain's five stores. Maduro has been seizing many businesses to force them to lower their products to "fair" prices. Some are calling this Maduro's socialist "economic war."
#8: Iggy Azalea
Instead of flashing paparazzi at MTV Europe Music Awards in Amsterdam a million-dollar-smile, Australian rapper Iggy Azalea flashed her private parts. But this hilarious wardrobe malfunction of the year hardly ruffled Iggy. Taking to social media, Iggy "cleared up" the rumours, although most aren't satisfied with her response.
#9: Dr. Sid
Judging from Twitter, I can only imagine how many music lovers across Africa have been pumping Nigerian rapper Dr. Sid's new hit single since its release this week.
#10: Vietnam
Vietnam trended globally for multiple reasons this past week. The most obscure of them all is thanks to a rare Saola, dubbed the "asian unicorn," which was sighted for first time in 21st century in Vietnam. Likewise, on November 13th 1982, the Veterans Vietnam Memorial was dedicated in Washington D.C.. Lastly, Vietnam trended as the world waits for the weakening Super Typhoon Yolanda to hit Vietnam.
PHOTO: Vietnam prepares for Typhoon #Haiyan as full extent of damage in Philippines unknown http://t.co/5oQekut0Zh pic.twitter.com/7DZprCyDDk

— BBC Breaking News (@BBCBreaking) November 9, 2013
Still here? Check out what trended over on America's Twittersphere this week.