Global Twitter Trends of the Week, Vol 89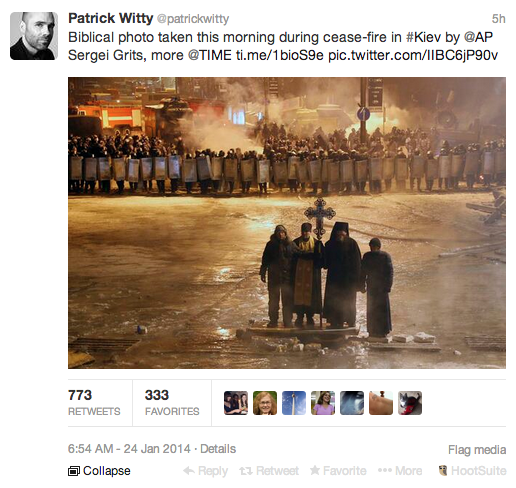 There are over 300 million tweets sent from around the world every day. Because Twitter has become such a major source for global news and conversations, we pull weekly trends to discover what the world is talking about. Here are some of the highlights:
Top Twitter Trend of the Week: Ukraine
Protesters and anti-government demonstrators in Ukraine are expanding their protests after talks between the opposition and President Yanukovych stalled on Wednesday. Opposition leaders emerged from the talks explaining that the President did not give concrete answers to their demands, and told supporters to be ready for a police offensive. Earlier that day, at least three protesters had been killed—two from gunshot wounds.
Vitaly Klitschko spoke to protesters on Kyiv's Independence Square "Today they (the police) are preparing to clear us out of the 'Maidan' (Independence Square)." Klitschko also stated "We must do all we can to stop them clearing us out." Twitterers around the world showed their support by spreading updated news, as well as the stories from inside the mob of people. Twitter, as well as other social media networks, are a great place to watch this historic protest take place in real time. Follow along to see more images, stories and hopefully a resolution.
Blessed are the peacemakers… Priests in Kiev step into line of fire to stop deadly protests http://t.co/A4mIO8XA7p pic.twitter.com/14fnES5ayu

— Zachary Foster (@doyoufoster) January 24, 2014
The EU is threatening action in the Ukraine after 3 protesters are killed pic.twitter.com/HJhbTazilJ — Newsweek (@Newsweek) January 23, 2014
Top Sports: Australian Open 2014
Twitter has been full of talk about the 2014 Australian Open this week, and most importantly the face-off between Tennis legends Nadal and Federer. Rafael Nadal ended Roger Federer's resurgence at the Australian Open on Friday, and advances to his 3rd Australian Open Finals. Twitterers loved discussing the play-by-play, as well as voicing their opinions after the match had ended.
Rafa Nadal says a blister on his hand is affecting his serve, but he'll be fine with the rest of his game #bbctennis pic.twitter.com/eyaXKbM4Wy

— BBC Sport (@BBCSport) January 24, 2014
Nadal has won 23 of 33 career matches against Federer. If Roger's Superman, Rafa's kryptonite.

— ESPN (@espn) January 24, 2014
Top YouTube Trend: #FuerzaAutoDefensas
Vigilantes in the western Mexican state of Michoacan got together to defend themselves from one of the most powerful Mexican drug cartels, the Caballeros Templarios (Knights Templar). These vigilantes carry guns and call themselves self-defense groups as they patrol the streets. They claim that since the government has failed to protect them from these dangerous cartels, they are forced to protect themselves. They had taken over several communities when the Mexican Army reportedly clashed with the militia group, killing a number of their members.
Since then, a YouTube video has emerged of the meeting of the army and the militia and has gone viral- pulling in over 1.5 million views in the past week. The hashtag #FuerzaAutoDefensas has also been seen all over Twitter, as people try to spread awareness of the growing problems and complicated situation.
Video: Citizens of #Michoacán battle terror of cartels, government #fuerzaautodefensas http://t.co/ThmvZ7QC2v pic.twitter.com/l4p861h4oi

— Peter Haden (@HadenMedia) January 19, 2014
#Michoacan #FuerzaAutodefensas pic.twitter.com/mIOLDvjJHP

— Los Autodefensas (@LosAutodefensas) January 20, 2014
Top News: Tyler Oakley

You may not have heard of him, but his name is trending all over the world… all because of one Tweet. First of all, Tyler Oakley is a YouTube personality, Twitter superstar, One Direction fan and openly gay advocate for LGBT youth. This next part is where things get confusing… Over the weekend, Liam Payne (of One Direction) sent Willie Robertson of Duck Dynasty a Tweet telling him that he admired his family dynamic and enjoyed the show (Willie's dad, Phil, recently got into some hot water over a homophobic remark made in GQ magazine). Tyler then commented on Liam's Twitter Account, "Wow. Very confused and disappointed by this @Real_Liam_Payne Tweet. This literally changes everything."
You guessed it; shortly after sending that message, Tyler was cyber-attacked by hundreds of thousands of One Direction fans. Tyler later decided to quit Twitter, after explaining that he misinterpreted the original Tweet. Most recently, the YouTube star added another video to his collection: What do you think about this situation? We would love to hear your opinion in the comments below!
Being a fan of someones show and the way they still hold a family together doesnt mean i am ok with all they say.

— Liam Payne (@Real_Liam_Payne) January 18, 2014
I'm taking a break from the Internet for a minute. Getting some crazy death threats and stuff. Sending love to y'all, I'll see you soon. :]

— Tyler Oakley (@tyleroakley) January 19, 2014
Interested in what happened in the United States this week on Twitter? Check out our USA Top Twitter Trends of the Week.