Top 10 Twitter Trends of the Week by Ad Age and HootSuite (USA), Volume 41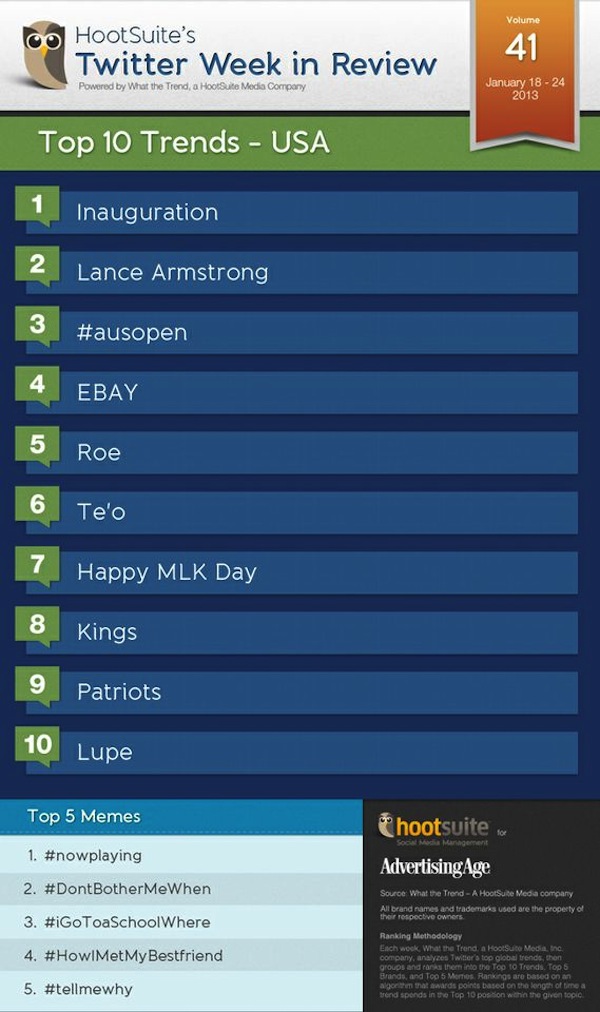 What event was tweeted about so much that it caused Twitter significant issues? And why is USA's trends of the week (ironically) more worldly than the International trends? Well, while Bieber and One Direction rule the global Twitterverse, political and controversial hot topics and events tend to mega-trend in the States. But let's take a closer look at a week in the Twittersphere in the US. (And then check out this week's International Trends of the Week.)
How 1.1 Million #Inauguration Tweets Almost Broke Twitter
On January 21st, U.S. President Barack Obama's second inauguration took place at the 57th Inauguration Ceremony in Washington, DC. For the event, there was a reported 1.1 million inauguration-related Tweets that day, which is not only  impressive, but also enough to slow Twitter down substantially.  Apparently, this influx of tweets was even enough to cause the social network significant issues for at least six hours for many people. Turns out that Obama deserves his almost perfect Klout score (99!) for engaging his Twitter audience around the world.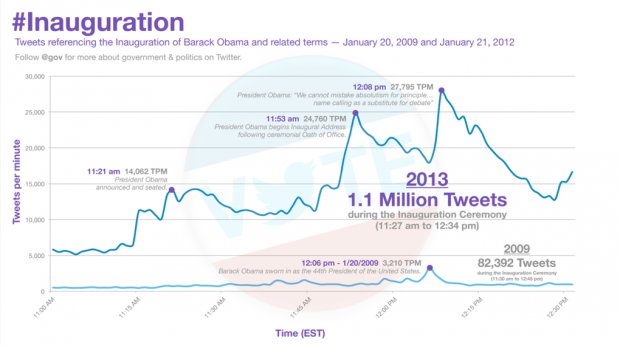 1.1 Million #Inauguration -related Tweets during #Inaug2013 ceremony. Total for 2009 = ~82k.

— Twitter Government (@gov) January 21, 2013
Lance Armweak
As we are hopefully all in the loop by now, the infamous cyclist Lance Armstrong has been a big trender lately because of his confession to doping. After years of denial, lawsuits and blackmails, Armstrong spilled the beans in a matter of minutes in an interview with Oprah Winfrey. While everyone knew it was coming, the interview was still heavily discussed on Twitter (and everywhere else). Apparently, over 28 million people world-wide watched the interview. Looks like this is one story that he'll have to stick to.
#ausopen
This year's official hashtag for the Australian Open, #ausopen has been a big Twitter hit since the tennis tournament begun on January 14th. On the men's side, a recent match between Roger Federer and Andy Murray pronounced that the latter will play Novac Djokovic for the championship. While on the women's side, the final match will be between Victoria Azarenka and Na Li. Follow the hashtag #ausopen for all the 'Grand Slam' juicy details.
Te'o's Gal that Wasn't
Now here's a weird story… News broke last week that Notre Dame football player, Manti Te'o's girlfriend, who was widely reported to have died from cancer, never died. In fact, she never existed, but was a social media fabrication. All great lies come end (*ahem Lance*), don't they? In interviews, his relationship was revealed to be a hoax in which allegedly fooled even Te'o himself. Te'o has since claimed that he too was duped by the online prankster, but many people doubt that story. Maybe he was duped, but what does that say about his dating style?
Sorry, but poor old Manti is a completely deluded, ridiculously naive knucklehead. Someone has to say it.

— Piers Morgan (@piersmorgan) January 24, 2013
Check out this week's International Trends of the Week. And tune in next week for another look at what US Twitter trends caught the attention of Twitterers.