Top 10 Twitter Trends of the Week by Ad Age and HootSuite (USA), Volume 45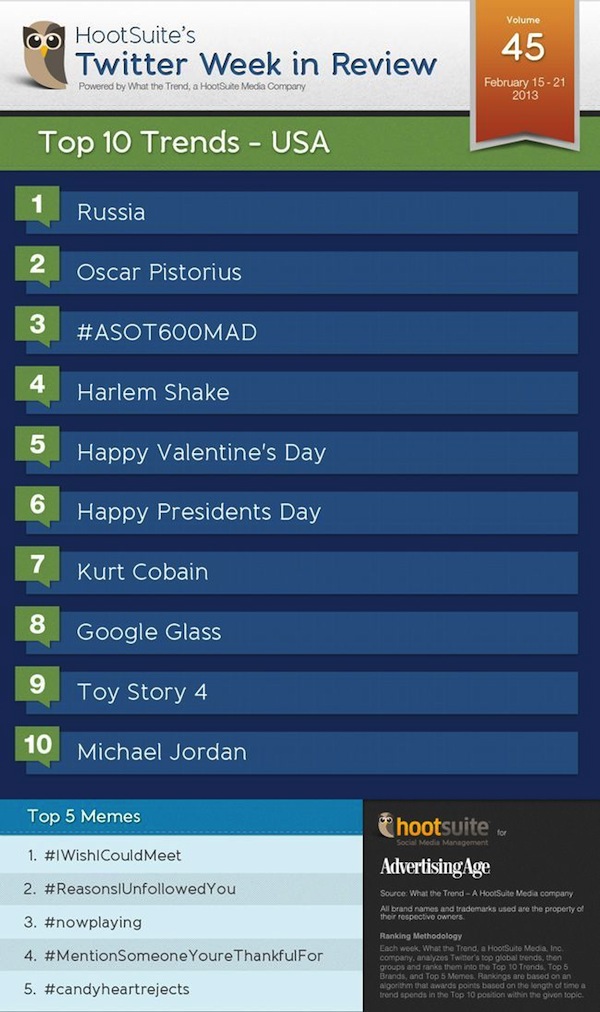 This week was a big one for American Twitterers. From buying Russian meteorites on ebay to Harlem Shaking around the office and OK Glass, recording and sharing it – find out why these tweets are going down in the Twistory books.
Russian Meteorites for eSale
This extraordinary sequence of events is one for the history and astronomy books. On February 15th, a small meteor with amazing power flashed across western Siberia's sky at the supersonic speed of 54,000km/hr. Undetected at first, as it hit the Earth's atmosphere it exploded from tremendous pressure and flashed above Chelyabinsk, Russia. Naturally, a giant fireball lighting up the entire sky brought hundreds of people to their windows.
After the blinding flash, the meteor exploded with the force of 20 atomic bombs sending booming shock waves across the city. As the impact spread, more than 1,000 people were injured by blasted windows, damaged buildings and flying debris. More than the injuries, this dramatic event shocked the world and spread like wildfire across social media, youtube and the news. Apparently so did Russian meteorite sales in ebay… At the time of this piece, bids are as high as CA$4,100 for a chunk of meteor.
Interestingly, another cosmic coincidence narrowly missed Earth just a few hours later. About half the size of a football field, another asteroid passed within about 28,000 kilometers of Earth – this distance is between our atmosphere and Earth's orbiting satellites. Now that's a close-shave.
Here's a news video explaining the cosmic coincidence: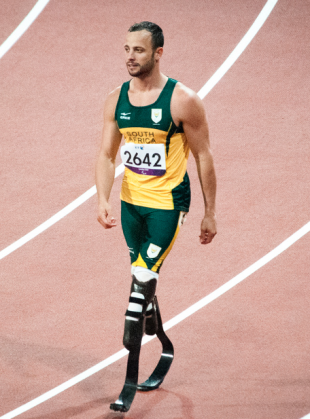 Shooting in the Dark
Oscar Pistorius, the famous South African paralympic and olympic runner affectionately nicknamed "Blade Runner" as he competes using leg prosthetics, is a controversial hot topic of discussion. In the early hours of February 14th, Pistorius claims that an intruder had snuck into his home and so he fired multiple shots in their direction. He then realized that the "intruder" that he shot at and killed, was in fact his girlfriend and popular South African model Reeva Steenkamp, using the bathroom. Pistorius was then arrested and charged with premeditated murder. His court case, the incident and its relationship to South Africa's recent protests against women and violence, have been widely publicized and discussed.
A State of Trance
Dutch trance producer and DJ, Armin van Buuren, hosts the popular 15-year-old radio show 'A State of Trance.' In February, March and April 2013, Armin will travel the globe with his 'A State of Trance 600  – The Expedition' world tour, touching down in cities such as New York, Beirut, Kuala Lumpur, Minsk, Mexico City and Sao Paulo. #ASOT600MAD is the official hashtag of his Madrid date. With an estimated 20 million listeners, divided over 26 countries and over 40 radio-stations on top of globally through satellite and internet radio-stations, discussions about tour dates are sweeping across social as excitement builds.
Harlem Shake Meme
Brooklyn producer Baauer's viral hit "Harlem Shake" is the number one song in the US for several reasons. Since changes were made in the multi-platform formula that determines the Billboard Hot 100 – YouTube streams are now a deciding factor. What does that have to do with the Harlem Shake? Everything. This near-wordless track went from YouTube sensation to a historic hit because home-made music videos became a widespread internet meme. The meme portrays one person dancing in a room until the bass drops and then the room is full with people dancing wildly. Countless people, groups, organizations and companies (including HootSuite) have filmed their own versions of the meme.
Google Glass
Google has unveiled the first demo video of its much-anticipated Google Glass, dubbing it the future of "wearable technology." Could Glass change the course of technology? The unveiling video showed how Glass can be used to take pictures, record video, share content directly via email or social networks and get information quickly. Other features include Skype-like video chats, and important information such as weather reports, map directions and quickest routes.
How do you get this information? The wearer voice commands "Ok Glass, take a picture" or "Text mom." Talk about being ultra-connected. Personally, I can't wait for the onslaught of OK Glass bloopers…
Let's jump over to Google Glass' marketing pitch. What would you do if you had Glass? Answer in social with #ifihadglass – or don't but check out the thousands of tweets and videos with that hashtag.
We asked some HootSuite employees what they would do. Answers varied from "see into people's souls" and "put them on a monkey" to "command an entire force of online secretaries across the world to outsource work," "live share a birth," "wear them onstage at our next concert" and lastly, "what wouldn't I do?" It sounds like people are expecting these glasses to change lives, as well as communication.
Join us for a look at International Twitter Trends of the Week.