Top 10 Twitter Trends of the Week by Ad Age and HootSuite (USA), Volume 52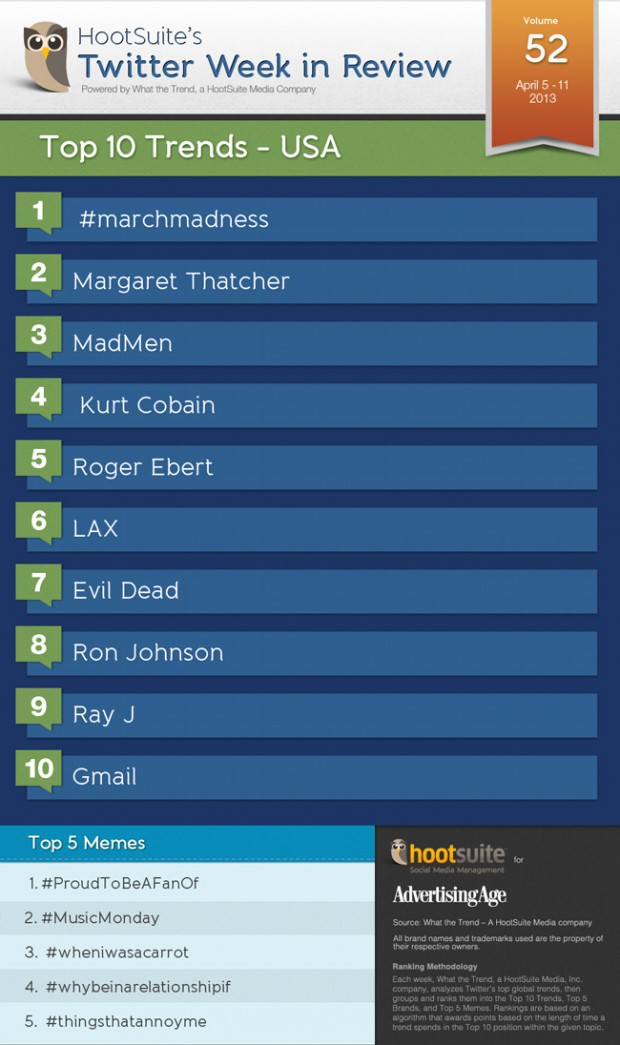 This week's American Twitter trends is like a mini-peephole into which the world can view American culture. From basketball's finest championship games to discussing favorite television shows, box office movies and pop culture icons – this week's Twitter trends could have trended any other week in the U.S. and no one would have been the wiser. Let's take a look at what had Americans buzzing this week.
#MarchMadness
The NCAA's annual college basketball championship tournament, aptly dubbed "March Madness," always draws a big audience and plenty of "watercooler" discussion. This year's tournament was no exception, with television viewership numbers at its record highest in 19 years, to say nothing of the fact that the tourney has been trending on Twitter almost all month.
And unlike some previous years, where the champs are all but crowned before the jump-ball due to predictable mismatches, this year's tilt was a nail-biter, with Louisville besting Michigan 82-76. Sports Illustrated's Michael Rosenberg even called the game "cathartic…beautiful." That's a big change from the Kevin Ware injury (who trended last week after getting flattened) that was anything but.
Here are the highlights:
The Iron Lady Falls
Margaret Thatcher, the former and first female Prime Minister of Britain from 1979-1990, passed away on April 8, 2013. Thatcher was nicknamed the "Iron Lady," because of her uncompromising politics and tough leadership style known as Thatcherism. Her death was widely discussed in Twitter, while both respects and disrespects were publicly paid. In fact, many Twitterers even suggested that Twitter turn on a filter to stop the flood of harsh comments and prevent a social media war. 
While his opinion as one of "Thatcher's children" holds more credit than others, English big-mouth Russell Brand's obituary for Thatcher gained its share of backlash from those who think they knew her better.
"Her refusal to stand against apartheid, her civil war against the unions, her aggression towards our neighbours in Ireland and a taxation system that was devised in the dark ages, the bombing of a retreating ship – it's just not British."
"I do not yet know what effect Margaret Thatcher has had on me as an individual or on the character of our country as we continue to evolve. As a child she unnerved me but we are not children now and we are free to choose our own ethical codes and leaders that reflect them" – Russell Brand, the Guardian.
Since her controversial passing, besides the obvious war of opinions, there's a frenzy of tweets revolving around #nowthatchersdead. This confusing hashtag sparked a controversy that Cher had died, and reference to Thatcher was lost on many… #trendsoftheweak
Mayhem for Mad Men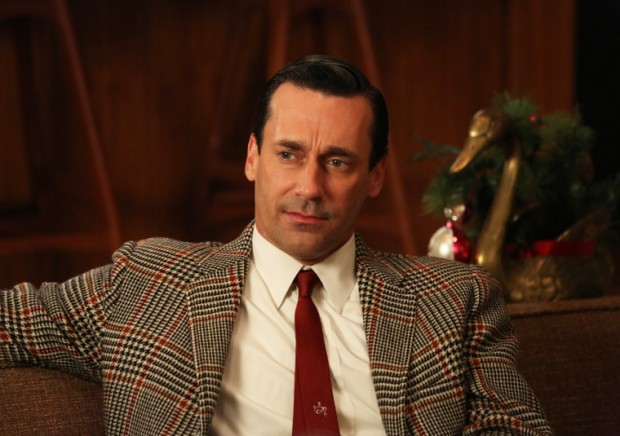 Mad Men, a popular American TV show on the AMC network premiered its sixth season last Sunday evening. Set in New York City in the 1960s, Mad Men revolves around several characters working at an advertising agency on Madison Avenue. The show has received acclaim based on its historical authenticity and quality of the acting, directing, and writing. Drawing 3.4 million viewers with this year's premier, Mad Men has everyone talking about this season's new campaigns, new roles and unsettling news. Between Mad Men and Game of Thrones, time piece TV series seem to be the "big cheese" these days.  
Farewell Siskel & Ebert, Too
One of the most renowned American film critics, Roger Ebert, sadly passed away from his battle with cancer on April 4, 2013, at age 70. Leaving behind a 46-year legacy of determining the fate of blockbuster films, he and Siskel (who passed away in 1999) were famed for "Two Thumbs Up" reviews when films knocked their socks off. Ebert left the public with a "Leave of Presence" – a goodbye and thank you letter (aka blog post) to all the readers who supported his work over the years. The post was widely circulated across the internet in support of his final words when his voice failed him.
Not-So Lax Committees
An airline battle may be brewing over at LAX – the United States' 3rd largest airport. While U.S.'s shaky airline industry is still dusting off its knees, a proposal to expand and move LAX's northermost runway 260 ft. closer to the bordering Westchester and Playa del Rey neighbourhoods is underway. LAX's executives say the move is necessary to improve safety and operational efficiency. This move into residential neighborhoods hasn't been met without a fight from the area's residents, however. Despite the resistance, the Trade, Commerce and Tourism Committee and Planning and Land Use Management Committee voted 5-1 in favor of the expansions. Sounds exciting LA.
Evil Dead's Resurrection
Even though its debut in 1983 may seem like just yesterday to some, Evil Dead first terrorized cabin goers more than three decades ago. Premiering in theatres April 5, 2013, was the remake of Sam Raimi's low-budget 1983 horror classic, where demons returned for more. The movie made an estimated $26 million, debuting in the number 1 weekend box office spot. I couldn't get through the trailer, but maybe you can:
Google Biblical Babble
What do you get when you spot the word "Babel" embedded in a leaked Google code screenshot? An instant techie onslaught of articles and speculation. And that's exactly what happened this week. Screenshots of rumored app "Google Babel" were leaked in the media. According to major speculation, "Google Babel, the forthcoming unified messenger service from Google that's all but confirmed thanks to a number of screenshots, bug reports, developer forum posts and more, is now being said to only include Google Talk, Google Hangouts and Messenger in its initial release. Google Voice integration, apparently, is on the back burner." Bug reports have been found that reference the name "Google Babel", meaning it may be released in the near future. While this is exciting news if a Google app is in fact coming down the pipeline to update Gmail, but for now – its just a bunch of nerds nerding out (us included).
Check out what trended (politics and celebrity deaths) across the globe this week in International Trends.