Top 10 Twitter Trends of the Week by Ad Age and HootSuite (USA), Volume 53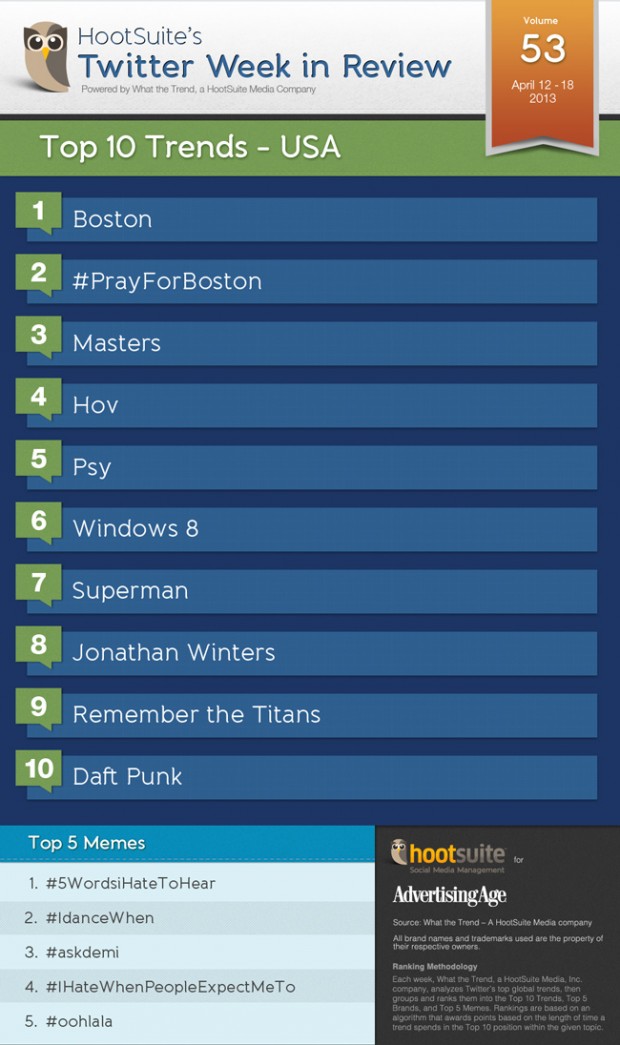 While international Twitter trends discussed world news, disasters and controversial events, this week's U.S. trends mixed the hashtags up a bit. Boston's unfortunate terrorist attacks took the top two Twitter spots (not surprisingly), but the rest of this week's trends discussed big pop cultural news and exciting sporting events.
#PrayForBoston
Attracting over 500,000 spectators and approximately 30,000 participants every year, this year's 117th Boston Marathon ended tragically. On April 15th, two bombs went off near the finish line of the marathon, tragically killing three people and injuring over 150 others.
These events immediately flooded Twitter as people used social media to try and find loved ones, offer their condolences, and even try and help the investigation by sharing police requests and video links. The hashtag #PrayForBoston and Boston in general was widely used across the globe by those offering their support and condolences to everyone in Boston following the tragic bombings at the marathon.
"What the world saw yesterday in the aftermath of the explosions were stories of heroism & kindness, generosity & love." —President Obama

— Barack Obama (@BarackObama) April 16, 2013
Statement from Thomas Grilk, Executive Director of the Boston Athletic Association:
"[…] Boston is strong. Boston is resilient. Boston is our home. And Boston has made us enormously proud. The Boston Marathon is a deeply held tradition – an integral part of the fabric and history of our community. We are committed to continuing that tradition with the running of the 118th Boston Marathon in 2014."
Since the event, news of Boston has continued to flood social media as police track down the terrorist suspects and issue residents in Boston's outskirts to stay indoors and away from harm.
2013 Masters
Founded in 1933, The Masters is one of the "big four" annual golf tournaments. This year's tournament was held from April 11th-14th. Winning this tournament is life changing for whoever wins; this year's winner was Adam Scott. Becoming the first-ever Australian to win the title, Adam Scott put end to more than a half-century of Australian misery at the Masters. "We like to think we're the best at everything. Golf is a big sport at home, and this is the one thing in golf we hadn't been able to achieve," said Scott. "It's amazing that it's my destiny to be the first Australian to win. It's incredible."
Fred Couples and Tiger Woods also trended highly on Twitter this past week as the Twittersphere analyzed their performances.
The Carters Visit Cuba
American rapper Jay-Z aka "Hov" trended this past week for several reasons. Celebrating his and wife Beyonce's 5th wedding anniversary, the couple went to Cuba and subsequently caused quite the stir. Because of the US's embargo with Cuba, it is illegal for Americans to visit the country. This celebrity visit stirred up so much controversy that President Obama "finally" stepped in to say "my understanding is, I think they went through a group that organizes these educational trips (loophole) down to Cuba. This is not something the White House was involved with. We've got better things to do"…
Another reason Hov was in the news is because he was selected as one of TIME Magazine's 100 most influential people in the world (along with Obama, Rand Paul and Jennifer Lawrence), earning him a spot on the cover of the magazine as well. NYC's Mayor Michael Bloomberg wrote in Time Mag, "Jay Z embodies so much of what makes New York New York. A kid from a tough neighborhood who grows up in public housing, overcomes lots of bad influences on the street, never lets go of his dream, makes it to the top — and then keeps going, pursuing new outlets for his creativity and ambition."
Not-So-Gentlemanly
Psy, famed for his outrageous "Gangnam Style" YouTube sensation, recently released a new song and accompanying video. "Gentleman" has over 160 million views and tied the record set by a video of the Russian meteor for fastest clip to hit 100 million views, taking only 3 days to accomplish that feat. Ironically the music video for "Gentleman" is banned in South Korea (Psy's home country) because of his "ungentlemanly" gestures toward public property and basically everything in the video.
If you're not already one in 160 million, have a look for yourself:
The Upgrade that Wasn't
While Microsoft has recently reported healthy profits of almost 19% increase year-over-year, they don't owe their success to their newest launch, Windows 8. Taking a hint from basically zero sales, Microsoft is reassessing Windows 8 – as are the consumers. And until the price and features are just right, the consumer's dollar still lies in the hands of competitors Google and Apple. Of course with the release of any tech product or upgrade, there is alway much discussion in Twitter, including how to downgrade back to Windows 7…
Superman
Need I say more? I know where I'll be on June 14.
Passing of a Beloved Comedian
American Comedian Jonathan Winters sadly passed away at age 87 on April 12th. At the dawn television, Winters was first on the scene and became famous for comedic improvisation, inspiring the likes of Jim Carrey and Robin Williams.
Here is a tribute video:
Will Daft Punk "Get Lucky" with their New Album?
Renowned tech duo Daft Punk are releasing their new album "Random Access Memories" on May 17th. A teaser video for "Get Lucky" was released during Saturday Night Live, prompting the Daft Punk duo to trend on Twitter. A series of videos have been released by Vice featuring interviews with the various artists who collaborated with Daft Punk on the album, including Pharrell Williams and Giorgio" Moroder.
Here's a preview to Get Lucky:
Want to dive into controversial global news? Check out this week's International Trends of the Week.