Top 10 Twitter Trends of the Week by Ad Age and HootSuite (USA), Volume 56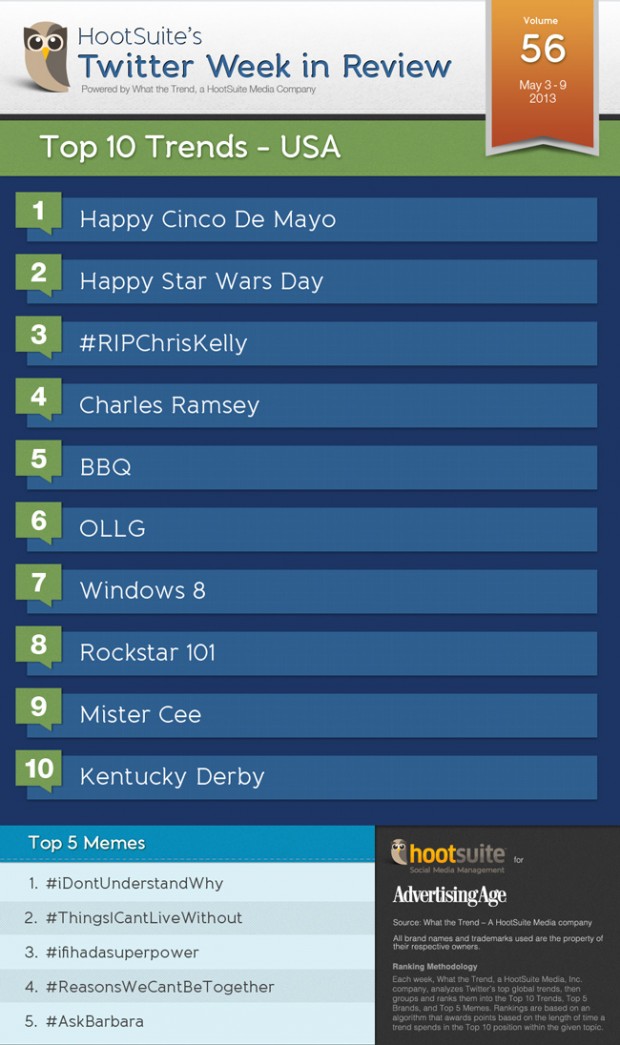 Overall it seems like America had a pretty good week. Between Cinco De Mayo and Star Wars festivities to BBQs, Kentucky Derby and local heroic excitement, this week's USA Twitter trends encapsulates a mix n' match of culture and local news.
Happy Cinco De Mayo
From dinner parties to parades and festivals, Cinco De Mayo (Spanish for the 5th of May) draws a large celebratory crowd across North America and Mexico every year. Not to be confused with Mexican Independence Day, Cinco De Mayo commemorates freedom and democracy for Mexican-Americans during the first years of the American Civil War. Today, it is a celebration in many communities in the U.S. of Mexican heritage and pride. But generally, it has become yet another great excuse to eat great food and celebrate with loved ones.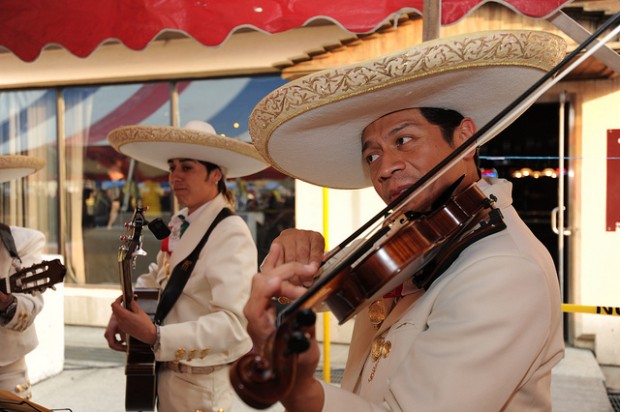 People took to Twitter to wish their followers a 'Happy Cinco De Mayo' both in tweets and twitter pics / Instagrams with that hashtag.
May the 4th Be with You…
Yes this trend happened. And we even helped push it along… Star Wars mega fans came out in full force (see what I did there?) to expose their inner Jedi and wish everyone a 'Happy Star Wars Day.' Because of the pun, May the 4th is widely considered a Star Wars holiday where die hards celebrate the culture and honor the films. The three good ones (IV to VI), anyway.
#RIPChrisKelly
Both #RIPChrisKelly and Kris Kross trended this week after the American rapper Chris Kelly was found dead in his home in Atlanta on Wednesday. The rapper rose to fame in the early '90s as half of the young rap duo, Kris Kross. Unfortunately, drugs may have been involved with the 34-year-old rapper's demise. At his funeral on Thursday, the MC was honored by his Kris Kross rap partner Chris Smith, as well as his mentor Jermaine Dupri and fellow rap-artist Da Brat.
Charles Ramsey, Humble Hero Becomes Megastar
After nearly a decade of being held captive and abused in a Cleveland, Ohio home, three women were rescued this week by an unsuspecting neighbor. Ariel Castro, the man who held them captive in a makeshift prison, lived next door to Charles Ramsey for a year. According to Charles, he was home Monday, eating his McDonalds, when he heard Amanda Berry's scream. He went over to his neighbor's home and helped her escape by kicking down the door. After that he made a now famous 911 call.
Ramsey has become quite the hero since then. The FBI was offering a reward for anyone who found one of the missing women. When that was brought up, Ramsey said that the women themselves deserve the money, after what they've been through. Since then, Ariel Castro is facing kidnapping and rape charges after police say he held the three women captive for a decade. He is now on suicide watch in prison, and perhaps facing execution.
Like many others in a trend of local news interviews, Charles Ramsey's interview with the press is blowing up YouTube. And so is the remix of what he says…
BBQ Season
The sun is out and people across North America are pulling out their BBQs… and are tweeting about it. But who doesn't love BBQ'ing and the culture that comes with it? Beers, beef, burgers, buddies and BBQs; count America in.
One More Bieber Fan
Justin Bieber's "One Less Lonely Girl"… mega fans must have OLLG trending again. Tweens are tweeting about how much they love him and want him to sing that song to them. Bieber's also been in the news lately for a several funny reasons including when a fan bulldozed him over on stage in Dubai, and when he was banned from Omar because he takes off his shirt too much. OLLG's love it.
Windows 8 Flop
What do watermelons and Windows 8 have in common? We're not sure either, but together, they sure make for one bizarre Microsoft update commercial…
The highly anticipated Windows 8 update launched several months ago with Microsoft boss Steve Ballmer "betting the company" on the product's success. Turns out its first launch was a bit of a flop. Sales plummeted and now Microsoft is releasing compromising updates to make the "futuristic" update less confusing for users. For whatever reason, these updates and odd commercials have Windows 8's trending this week.
Rockstar 101
Global superstar Rihanna's well underway on her Diamonds world tour. Promoting her seventh album entitled Unapologetic, this tour is her fifth major world tour and her most elaborate yet. Rockstar 101 is one of her hits on the album, and fans have it trending across the map.
The Most Exciting Two Minutes in Sports
150,000 Kentucky Derby fans came out to watch the "most exciting two minutes in sports" last Saturday at Churchill Downs racetrack in Louisville. Between those exciting two minutes of race time and big-name stars like Kid Rock, Robert Griffin III and country star Martina McBride (who sang the National Anthem) who made an appearance, the Kentucky Derby has Twitterers buzzing.
Check out what's trending in our Global Twitter Trends of the Week.
Want to keep your finger on the pulse? Never miss another tweet or trend with HootSuite's social media management skillz.