Top 10 Twitter Trends of the Week by Ad Age and HootSuite (USA), Volume 60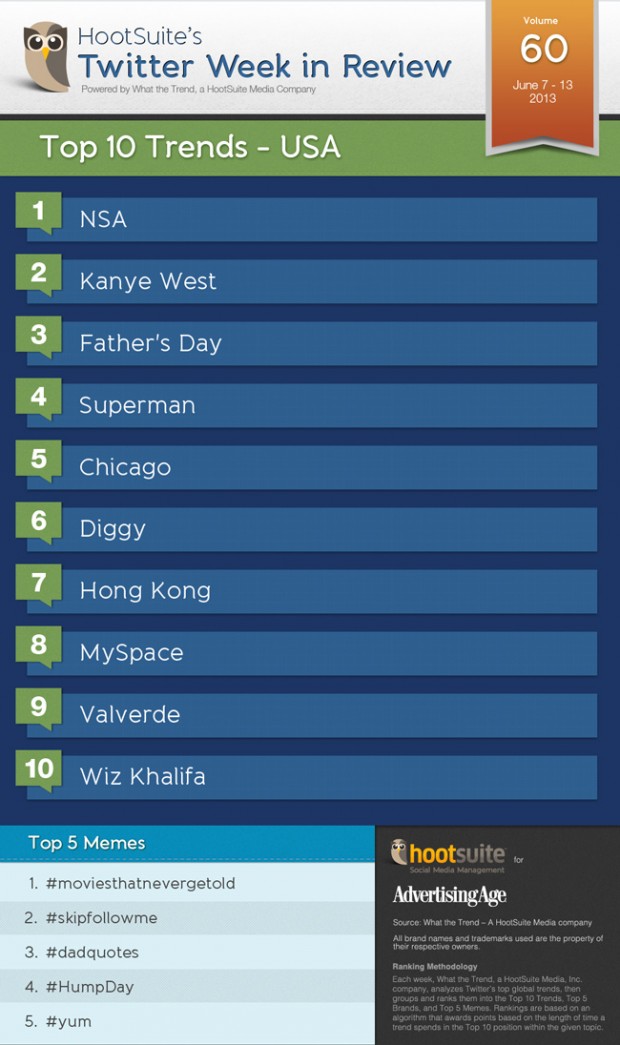 With the US government watching our every move, they may already know that Kanye West may have cheated on Kim and that Myspace got an overhaul. But let's whistleblow on what people are talking about in our Twitter Trends of the Week, to let the public get the inside scoop too.
1984?
Three weeks ago Edward Snowden was an unknown American. Now, he is considered the world's most famous spy, whistleblower and fugitive, and is responsible for the biggest intelligence breach in recent US history. One of "America's Most Wanted," Snowden leaked National Security Agency top-secret documents that detailed the extent of the NSA's surveillance of US citizens.
Everything from phone records for millions of Verizon customers to Facebook and Skype chats, internet surfing history and emails are allegedly recorded by federal US investigators daily. Who is Edward Snowden and why is he sharing this confidential information with the world? 29-year-old Snowden, was living happily in Hawaii, working for the biggest spy surveillance organisation in the world – the defence contractor Booz Allen Hamilton at the National Security Agency. He was responsible for overlooking the daily surveillance of civilians. So what changed? According to Snowden, he believes that breaching the privacy of US civilians should be known to all and debated publicly.
Since his whistle-blowing, the Obama administration has been forced to answer questions on the extent of government eavesdropping on its citizens, and those of other countries. According to many, NSA's leaks significantly erode people's trust in US government. It also puts many Enterprises on the chopping block as they gave the government access to private information without proper disclosure.
What will happen to Edward Snowden is still unknown as he is "hiding" in Hong Kong (which is also trending on Twitter). Many people say Snowden is making friends and allies in Hong Kong as activists plan rallies in support of his cause. On a side note, sales of George Orwell's 1984 book have skyrocketed since NSA's spying became known. Coincidence?
Kanye West
It seems like all Kanye West has to do is fart to trend globally across Twitter. Earlier this week Kanye was in the news after a Montreal model and bartender claimed she slept with Kanye – while he was with pregnant Kim Kardashian. Whether this is true or not is unclear, but his publicist is obviously denying it, saying she's looking for a publicity boost. Likewise, people are talking about how he says outrageous things, like his explanation for interrupting Taylor Swift in front of millions in 2009.
Global Father's Day
Over 25 countries around the globe celebrate Father's Day on the third Sunday of June. How will you celebrate your pop this weekend? #HiDad!
Superman of the Century?
A few months ago Superman trended because the YouTube trailers were released. Now that the movie is out in theatres, it's trending for a second time – and with good reason. Before moving forward, it's interesting to note how significant a role that YouTube plays in the marketing for Blockbuster film releases. How many YouTube trailers do you watch before you find the perfect flick? #TrailerHype
Anyway, Superman came out and people are "reviewing it" like mad across the Twittersphere. Some are even going as far as saying that Zack Snyder's Man of Steel gives this century the Superman we were waiting for. Of course this completely discredits Brandon Routh in 2006's Superman Returns, but who saw that anyway? We were all too busy watching The Da Vinci Code.
Tommy Hawk Fans
Twitterers showed their true (hockey) colors this week after making Chicago Blackhawks trend hard and fast. After an intense triple overtime with 3-3 score, Chicago won Game 1 of the Stanley Cup Finals against Boston Bruins. Both teams put up quite the fight and have people discussing the game and the possible Stanley Cup outcomes across Twitter.
Diggy says: "Do what makes you happy"
Son of Rev. Run of Run-D.M.C. and nephew of Russell Simmons, Diggy Simmons had a bit of a leg-up when he decided to pursue a rap career. Now, young Diggy's teamed with Coca-Cola on "106 & Park" to help other artists launch their own careers. Fans are excited about this and the chance of winning a flight to NYC to watch Diggy perform. "Surround yourself with things that make you happy. Nothing else matters," says Diggy. Of course, being handed a career makes things a tad easier.
MySpace 2.0
Remember MySpace? My coworkers tell me it was a popular social network a few years ago, before Facebook times. I think I remember listening to some music on it once or twice.
Compared to what it is now, yesterday's MySpace was like the Windows95 of music sites. Now a social music site, Myspace (lowercase s) has relaunched and finally looks like a modern social network. Here's a fun fact: "News Corp bought Myspace in 2005 for $580m. In 2006 Google signed a $900m deal to sell ads on Myspace; by 2007 it had 300m registered users worldwide and was being valued at $12bn. By November 2010 the user figure had fallen to 91m." In 2011, Justin Timberlake bought the ailing social network for $35m and we've finally seen some action on it. What goes around comes around?
Haven't seen the new space? Check it out and let us know what you think.  These guys clearly like it:
Let's see what Twitter trends made our top 10 global list this week.
Never miss another tweet or trend with HootSuite's badass social media management tools.