Top 10 USA Twitter Trends of the Week, Vol 73 by HootSuite and Ad Age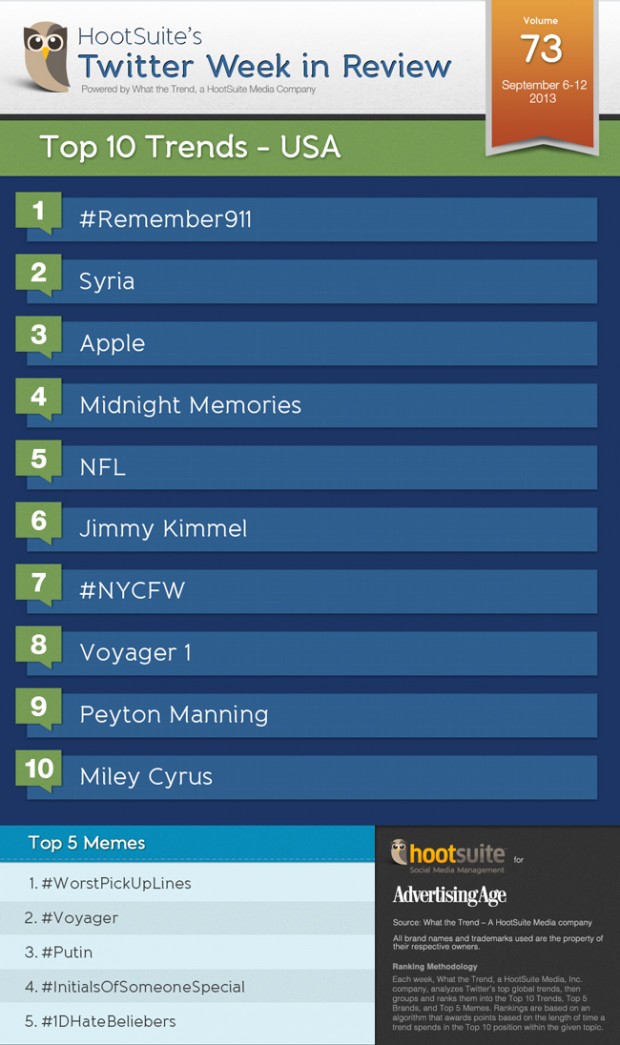 With hundreds of millions of daily tweets and search inquiries in the United States alone, Twitter is rich with conversations and news updates. Our USA Twitter Trends of the Week capture the top 10 discussions and break them down trend by trend.
People are making power moves this week and it certainly shows on Twitter. As world leaders iron out agreements with Syria, Apple released their new line of fall products, One Direction became undoubtedly the biggest boy band on the planet, Jimmy Kimmel proved an interesting point and it was announced that Voyager 1 officially left our solar system. Read on…
#1: #Remember911
On September 11th this week, Twitterers across the United States opened their hearts in memory of the victims from the attack on the World Trade Centers on September 11, 2001.
#2: Syria
In the eleventh-hour before an attack on Syria, it was interrupted by Moscow's proposal that Syria give up its chemical weapons stocks. Although Syria applied on Thursday to sign up to the global ban on chemical weapons that would spare them of an attack, Washington is skeptical of whether Damascus will give up its arsenal of poison gas. "President Obama has made clear that should diplomacy fail force might be necessary to deter and degrade Assad's capacity to deliver these weapons," U.S. Secretary of State John Kerry said.
#3: Apple
'Tis the season for tech companies to race to get their hot new fall products on the shelves. This season's potential "must-have?" Apple announced their new iPhone 5S and iPhone 5C this week, on top of their new and improved operating system, iOS7, which will be released to the public on September 18th for free. Besides the improved design of iOS7, they've improved security, control, camera features and iCloud features.
What do you think? Like the changes?

#4: Midnight Memories
Tired of One Direction? Get used to it, because after this week, there's no doubt that they're the biggest boy band on the planet – perhaps ever. On September 9th, their new album "Midnight Memories" went on presale only, and has already topped charts worldwide… Whoever said album sales is dead isn't up on their trends.
#5: NFL
Surprise, surprise. Here's another annual trender. Ladies, sit back and enjoy the NFL season with TV dinners, beer and boys. This past Sunday was the first Sunday Night Football of the season and Twitterers jumped on the first opportunity to talk about their favorite colors and players rockin' them.
#6: Jimmy Kimmel
Jimmy, Jimmy, Jimmy… you sure fooled us this week. After news sources and social media  networks across North America shared a major "Twerk Fail" video to the point of virality, Jimmy Kimmel announced that he was behind it and that the video was a spoof. The twerk dancer was in fact a stuntwoman who helped Kimmel prove two points. One: that making a viral video is actually quite simple. And two: that the news should not only double check their sources, but should actually be focusing more on "you know, like….the news" – Kimmel. #Touché.
Here's that video:

Fooled you once, can't fool you again? Not so fast, only days later:
#7: #NYCFW
The Semi-Annual Mercedes Benz Fashion Week in New York City was September 5th to 12th, is one of four major fashion weeks held worldwide.
#8: Voyager 1
1977 was a big year for space fantasies. Not only was that the same year that the original Star Wars film came out, Voyager 1 and Voyager 2 were sent out to explore the outer planets. This week, it was confirmed that Voyager 1 officially left our solar system around mid-August 2012. As the first human-made object to ever leave our solar system and enter interstellar space (space between the stars), Voyager 1 is making global headlines. Now more than 18 billion kilometers from the sun and hurtling through space at 61,000 km/hr, this plutonium-powered probe transmits data collected through its sensors via a 23-watt transmitter (which is less than your refrigerator bulb).
#9: Peyton Manning
Returning to the football field this past Sunday, Peyton Manning tied the NFL record for touchdown passes, throwing 7 passes in one game. This week Peyton will face his little brother in the Meadowlands, the Giants' home field. Will Peyton and the Broncos take a win over Eli, and break into our Top Twitter Trends for next week? Guess we'll just have to wait and see.
#10: Miley Cyrus
No surprise here. Miley Cyrus just released the music video for her new song, "Wrecking Ball." As if her MTV performance wasn't bad enough, in the video a Sinéad O'Connor-esque Cyrus licks a sledgehammer and the chain of a wrecking ball, which at times she rides nude. Filmed by the famed sexy photographer Terry Richardson, I'm not surprised how risqué the video is, although I did expect more thumbs ups.
Check out what trended globally this week.