Top 10 USA Twitter Trends of the Week, Vol 78 by HootSuite and Ad Age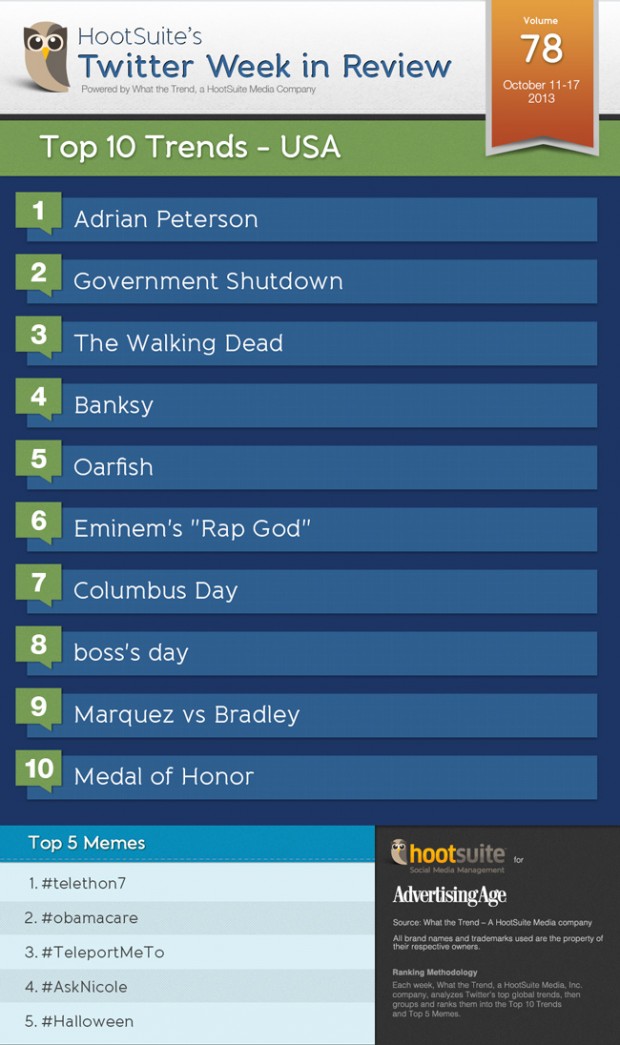 With hundreds of millions of daily tweets and search inquiries in the United States alone, Twitter is rich with conversations and news updates. Our USA Twitter Trends of the Week chart captures the top 10 discussions and break them down trend by trend.
This week in trends, the US tweeted about tragedy, television, graffiti and… a rare fish? The US government was yet again included in tweets across the country, and a "Rap God" has appeared on the scene. Check out what else Americans were tweeting about this week, as we highlight some of the top Twitter trends in the US:
1: Adrian Peterson
Social media users took to the web to support and send condolences to Adrian Peterson this week. Peterson's 2-year-old son passed away on October 11th from injuries sustained from an aggravated assault, Sioux Falls S.D. police confirmed to NFL Media. The accused attacker (and boyfriend of the child's mother) Joseph Robert Patterson, was charged with aggravated assault and aggravated battery of an infant in Sioux Falls.
"A lot of people won't ever understand the situation that I'm in and see it the way I'm seeing the situation," Peterson explained  "It's tough, but I'm able to deal with that and got a good supporting cast around me that's been supporting me through this tough time."
See what Adrian Peterson had to say on the subject:

2: Government Shutdown
Is it really any wonder that the Government Shutdown is trending again this week? The US government stumbled back to life on Thursday morning after President Obama and Congress ended a 16-day shutdown. Federal agencies were finally able to deliver services, reopen public facilities and welcome hundreds of thousands of employees returning to work. The political standoff in the nation's capital ended just minutes before a midnight deadline when the government's ability to borrow money would have expired.
Republicans conceded defeat on Wednesday by agreeing to finance the operations of government until January 15 and raise the nation's debt limit through the middle of February. The Senate was the first to pass the legislation, in which the House followed at about 10:15 PM.
"The first government shutdown in 17 years is now over." —President Obama

— Barack Obama (@BarackObama) October 17, 2013
3: The Walking Dead
Who wouldn't want to watch a brave group of humans facing swarms of flesh-eating zombies? The 16.1 million viewers of The Walking Dead Season 4 opener on Sunday were all over Twitter, posting nearly 40,000 tweets about the show in the first minute of the East Coast broadcast. The show also drew 10.4 million young adults (18 to 49), making it the top show in all of TV so far in the new season, including prime-time NFL football.
Keep an eye out for zombies on the loose in your neighborhood in the next coming weeks. With Halloween right around the corner, they're going to be popping up just about everywhere…
4: Banksy
U.K. street artist Banksy has been causing a stir across social media networks as he continues his month-long "residency" in New York City. Last weekend, he had a street vendor sell some of his pieces for just $60 each (Banksy original prints have been known to sell for up to $40,000). With each addition of art that he makes across the city, more people are guessing where he will turn up next.
Most graffiti and street art appreciators are loving his time in the Big Apple, which has included everything from turning a delivery truck into a mobile garden, to posting a video of Dumbo being shot down by Syrian rebels, to creating a (fake) slaughterhouse-bound truck with squealing stuffed animals inside. However days, or even hours, after his art has gone up, people deface it. What's next, a graffiti war? Let's hope not.
Another Banksy gone.. The back door from the night vision horses car has been stolen overnight #banksy #banksyny pic.twitter.com/tCQinxtWVO

— StreetArtNews (@streetartnews) October 13, 2013
5: Oarfish
An Oarfish? What? This 18-foot long creature made waves on Twitter this week, after a marine science instructor's late-afternoon snorkel off the Southern California coast last Sunday discovered a gigantic oarfish. For those that haven't seen it yet on Twitter, the oarfish is an elusive deep sea creature that the science world knows little about.
After a 15-minute swim dragging the 400-pound carcass, the instructor needed help to lift the fish's massive body out of the water at Toyon Bay, California. The fish carcass is being preserved in ice, and has had some tissue samples sent to fish experts from University of California at Santa Barbara, to study its DNA and diet habits. This is where I definitely do not make a sushi joke.
6: Eminems "Rap God"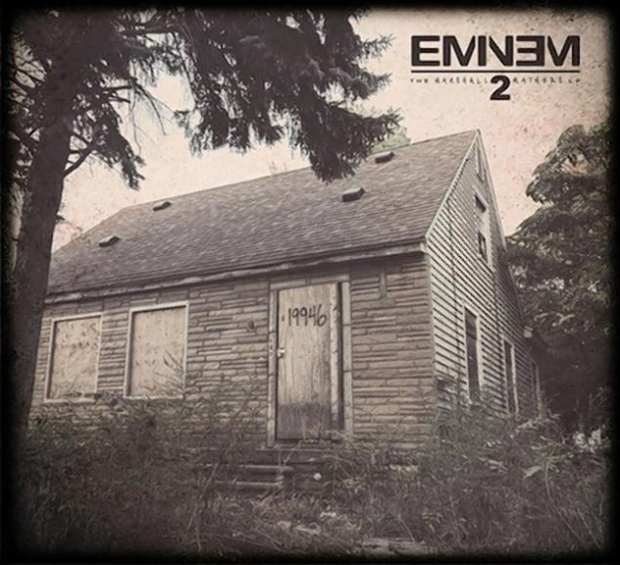 Sorry Kanye, it looks like there is a new "Rap God" in town. Eminem released his new single "Rap God" and had the twittersphere talking. In the six-minute track, Eminem surveys his competition in the hip-hop world, and comparing himself to all others he concludes, "I'm beginning to feel like a rap God." Lucky for him, the video is proving his point: within two days of being released, the track has hit more than 10 million views on YouTube.
Em  runs circles around both the synth hook and mid-tempo beat, offering counter-rhythms that could make most other MCs tie their tongues in defeat. For all the Eminem fans out there, get ready… his new album, The Marshall Mathers LP 2, is being released November 5.
Interested in what is going on around the world? Take a look at our Global Trends.